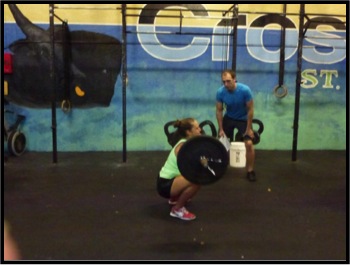 Over the course of the academic year, Jessica Murphy, an upper elementary schoolteacher at V.I. Montessori School and Peter Gruber International Academy, has been involved with an athletic program called Crossfit St. Thomas U.S. Virgin Islands. CrossFit is an international strength and conditioning program spanning those who enjoy a tough workout to elite and professional athletes worldwide.
Murphy recently competed in the CrossFit Open, a five-week worldwide competition where she placed 44th in the Latin America Region out of more than 800 women. Her fitness classmates as well as her students were very excited to hear the results of each week and cheered her on throughout the competition.
Over the weekend of June 5, she will be representing St. Thomas, U.S.V.I., in the CrossFit Regionals competition in Guayaquil, Ecuador. Many people in the St. Thomas and VIMSIA communities are part of this CrossFit community, either as participants or supporters: Dr. Brad Kappel and Caribbean Chiropractic; Randolph Maynard a fellow CrossFitter; Eilet Smith, class parent and spectator; Jenn Irwin, CrossFit owner and guest IA Enrichment teacher; and many more.
CrossFit St. Thomas is also committed to teaching children about healthy life styles and exercise through their CrossFit Kid's program. Murphy will be demonstrating a CrossFit training session for the upper elementary students and community from 12:30-1:15 p.m. on Tuesday, May 21, at V.I. Montessori School and Peter Gruber International Academy.
Follow the CrossFit Team at games.crossfit.com during the competition. For more information, contact Jessica Murphy at 775-6360.