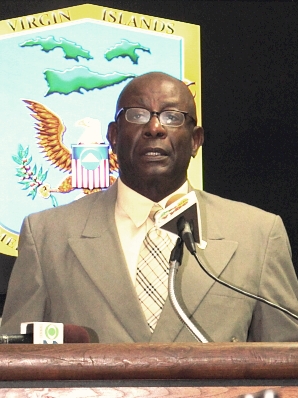 In an effort to improve the communications infrastructure amongst first responders, the Virgin Islands Territorial Emergency Management Agency presented the Virgin Islands Police Department with 108 new handheld radios Friday, which will be divided equally between the districts.
The radios were purchased using a $100,924 grant from the Department of Homeland Security.
VITEMA Director Elton Lewis said his agency had long known that the VIPD was short on working radios and, when the grant became available, he was more than happy to help.
Lewis said that, at times when money is scarce in the government, agencies must "find innovative ways to support each other with one common goal in mind, to work together and serve the people of these Virgin Islands."
Lewis said the new radios were waterproof and more durable than those currently being carried by officers. He also said the radios would promote the goal of creating a uniform radio system for all first responders in the territory.
"Radio communications are vital to get the word out," he said. "And certainly it can save lives."
Police Commissioner-designate Rodney F. Querrard thanked Lewis for the donation and said they would greatly aid the officers who received them.
"Everyone will think your firearm is the most important tool in your toolbox when it comes to law enforcement. That is not a fact. The most important tool in our toolbox are these things sitting right here: radios," he said.
Querrard said the donation would not be enough to replace all the department's old radios. He said the new radios would be distributed first to officers whose current radios are not working well or to those who are sharing radios.
The presentation took place at the VITEMA building on King's Cross Street in Christiansted. Also in attendance was James Parris, acting police chief of the St. Croix district.