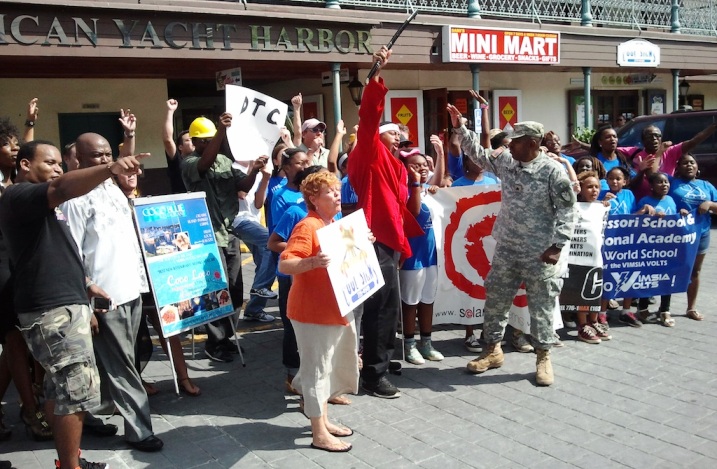 Bruce Flamon only has 60 seconds. But he plans to make them count.
Flamon shot another one of his wacky signature commercials Friday in front of American Yacht Harbor to promote First Friday Business Expo, a gathering of local businesses.
Businesses may face an unforgiving economy but they are hoping to make it through by banding together. The event will be held the first Friday in June, June 7, at Coco Blue located in Red Hook. The event starts at 5 p.m. and ends at 8.
Flamon instructed a large group of business owners, employees and students from the V.I. Montessori School & Gruber International Academy to gather in a half-circle. It was about 83 degrees and the students were restless from holding signs.
Flamon tried to get the crowd to rehearse simple lines while he rehearsed his own. Most of his instructions were drowned out by nearby traffic and loud car speakers. A camera crew from TV2 shot the commercial.
"All of this for a minute-long commercial," said Flamon, a local businessman and driving force behind promoting next month's expo. "It's a lot of work but it's for a good cause."
Some business owners see the promotion of the First Friday Business Expo as helping to mitigate the beginning of the offseason while dealing with the effects of a tough economy.
Steven Boswell, director of operations for Coco Blue, sees the immediate benefits from First Friday firsthand.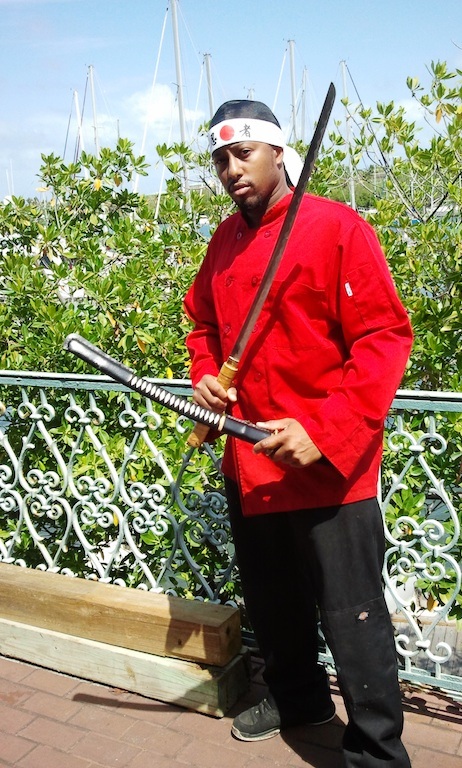 He said the first event had 30 or 40 people attending. "Now it's like 300 plus." Boswell manages Coco Blue, Havana Blue at Morning Star Beach Club and SandBar on Morning Star Beach. "It helps everybody in a different way," he said.
Jenna Broome works for Lattes in Paradise, a popular coffee shop in Red Hook. She said the offseason coincides with the summer months when there are more hurricanes and most would-be tourists are already experiencing warm weather in their hometowns. "So this is appreciated," Broome said.
Chris Kuhn, co-owner of FatBoys Bar and Grill, says: "Fortunately for us, when it does slow down we still do well." Kuhn points to his inexpensive drink specials as one of the ways they stay competitive in a struggling economy.
"For whatever reason, we've developed into a local hangout spot," Kuhn said.
Flamon rehearsed with the group for about an hour before the camera crew arrived. He shouted orders while wearing an army combat uniform, a boonie hat and combat boots.
The commercial features Buddha Sushi owner Taj Siwatu dressed as a sushi chef wearing a hachimaki and holding a katana. Mike McKay held a sign promoting his coffee shop, Lattes in Paradise, and students held other various signs for local business owners.
Flamon said the attendance during First Friday has improved since they began running commercials six months ago. He estimated last month's event brought 10 times the amount of people the event started out with last year.
Flamon said more than 30 businesses participated last month. The new one-minute commercial is scheduled to run on TV2 and CNN, said Julien Baa, senior account executive at TV2.
First Friday will also be a fundraiser for V.I. Montessori School & Gruber International Academy. Previous events have raised funds for Pistarckle Theater and the College Preparatory Learning Center.
There is no cost for the event and raffle prizes include one-night free stays at Magens Point Resort and passes to Coral World Marine Park. Complimentary hors d'oeuvres by Coco Blue and Buddha Sushi will be served. There will be a cash bar, music by Full Circle Band and DJ Temp, and a special performance by the Montessori Glee Club.