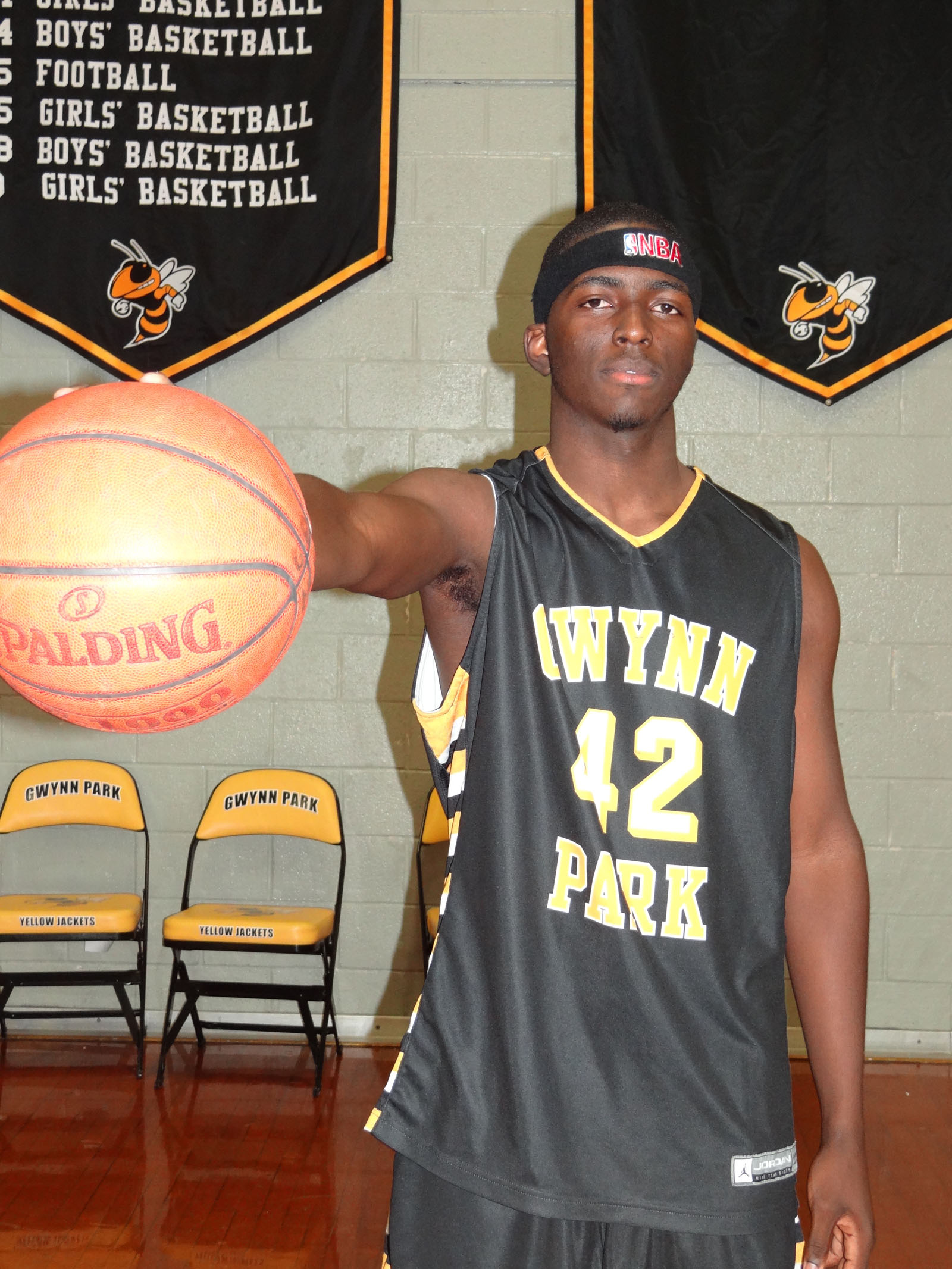 On Friday, May 3, Virgin Islands basketball player Alex Ackhel Bazil signed a four-year full scholarship to Washington Adventist University (WAU) in Maryland, making good on a promise he made to his mother years earlier.
"It was an emotional moment for me," Bazel said of Friday's signing. "For me to leave out of Savan, come here and now be going to college for free," he said. The 18-year old has been getting noticed since he left St. Thomas for Maryland in 2011 – a move that he said changed his life for the better.
At Gwynn Park High School, Bazil broke the basketball team's record for the number of blocked shots – with a total of 298. This season he was named the team's MVP and earned the most rebounds for the season. His work earned him the title of "Best Defensive Player in Prince George's County." The 6'6" 240-pounder also made Maryland's all-star team this season. In 2012 he played for the Virgin Islands National Team.
"I went from being a good player to a great basketball player," said Bazil, who was known for his defensive play at Charlotte Amalie High School on St. Thomas but soon learned to diversify. "I've developed my game," he said. "I can shoot, dribble and play two to three different positions."
Patrick Crarey, WAU athletic director and basketball coach, said when he saw Bazil play at a tournament in December, he knew WAU had to get him. "He was the best player on the floor," Crarey said, noting that Bazil was playing against Division I students. "We fell in love with him," Crarey said. "Ackhel is not a flashy player. He is a blue-color, hardworking player." Crarey said. Once he found out that Bazil's character matched his play, he knew he would fit perfectly at the small Christian institution. Bazil is expected to be a starter at Washington Adventist University, where he will major in criminal justice.
Bazil said that he chose WAU because of Crarey's personal interest in his development. Other schools that were recruiting him included West Virginia State University, Virginia Commonwealth University, Salisbury University and Baltimore City Community College.
Sheniko Frett, who became Bazil's legal guardian to allow him to live and attend school in Maryland, said he is proud of what the young athlete was able to accomplish in such a short time. When he left St. Thomas as a tenth grader, Bazil had a grade point average (GPA) of 1.7 and 48 absences from school. Frett said that Ackhel now has a GPA of 3.4 and zero absences. "Ackhel's success just goes to show the amazing potential of many of our children in the Virgin Islands, once given an opportunity," Frett said. Ackhel is the last of three V.I. high school students to whom Frett became legal guardian, allowing them to live and play basketball in Maryland. All have gotten four-year athletic scholarships.

"I really wasn't the best student," Bazil said, reflecting back on his high school days on St. Thomas. "I wasn't in the best environment," he said, noting Savan, the tough inner-city neighborhood where he was raised. In Maryland things changed. "When I started to take basketball seriously, I started to take school seriously," he said. Although his transition to the states was challenging, he said that the move was one of the best decisions he has made.
"When I was 14, I promised my mom that she would not spend a penny on me for college," Bazil recalled. Now that his promise has come through, he said his mom is overcome with emotion. "Every time I talk to my mom she cries," he said.
"I don't even have the words to express myself," Gloria Bazil said of her son's accomplishments. "I'm just so glad about it."
"I wish him well," said Mrs. Bazil. "I know he will do well. He's a lover of basketball, and he's always promised me that he's going to the top," she said. "I have confidence in him, and he has confidence too," she said. "I just want him to continue to be good."
Bazil will graduate from Gwynn Park High School on May 22. He will begin his first semester at WAU in August. His career goal is to become a law enforcement professional. His ultimate goal? "I'm doing all of this for my mother," Bazil said. "I just want to make my mom happy."