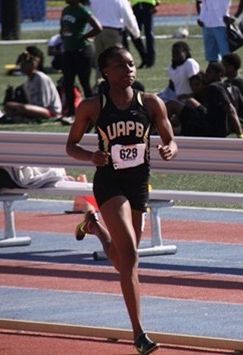 Congratulations are pouring in for V.I. National Track and Field Team member Ninfa Barnard, a senior and honor student in the pure sciences at the University of Arkansas Pine Bluff because of her record performance at the Southwestern Athletic Conference Track and Field Championship. She had a busy weekend as her results included first place finishes in the 800m, the 1500m and the 5000m, earning her the SWAC MVP award as the meet's most outstanding performer, according to a press release issued Wednesday by the Virgin Islands Track and Field Federation.
Just last week, she ran a V.I. record 2:09.70 in the 800m at the Ole Miss Invitational and Multi Events meet in Oxford, Mississippi. That performance and her 800m race at SWAC was an early indication of what was to come. She eased to victory to win the 800m title in 2:15.16, putting her ahead of Shaquina Phalo of Alabama A&M, 2:16.00, and Krissle Nicomb of Jackson State, 2:16.26. She came back to run the 1500m and win that event also with a time of 4:37.47, another V.I. National Record. That victory came over Kenyan Joyce Chumbo of Mississippi Valley State University, 4:41.11, and Artrallia Latrane of Alabama State University, 4:41.93. She topped off her last conference meet with a win in the 5000m with time 17.50.38, a personal record, and again over Chumbo, 18:05.27, and Lasaine, 18:55.54.
Barnard is a graduate of the St. Croix Educational Complex High School where she was an honor student in the pure sciences. She dominated her events on the track and cross-country but did not run on her high school team and did most of her training in the grass at the University of the Virgin Islands, St. Croix Campus, and the Drive Inn Criquet Field. She was coached by Keith Smith, Bronze Medal winner in the 1991 Pan American Games and MIreille Smith, All-American in the 1500m at Maryland Eastern Shore University.
For information, logon to: http://virginislandstrackandfield.org or e-mail: isv@mf.iaaf.org or call: 643-2557.