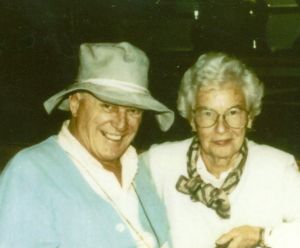 Andrew Glass of Georgetown Apartments, Wheeling, West Virginia passed to the next world and joined his beloved wife, Jane, on April 18, surrounded by his family. He was 90 years old. His death occurred at Liza's Place (Valley Hospice), Wheeling. He was born on Dec. 22, 1922, in Pelham, New York, son of the late Andrew and Dorothy Varner Glass Rownd.
He was a graduate of Triadelphia High School, Class of 1940, and a 1947 graduate of the Wharton School of Business at the University of Pennsylvania. He served with the 66th Infantry Black Panther Division during World War II.
He met Jane Lyman of White Hall, Illinois, at the Wheeling Little Theater in a production of "Joan of Arc." They were married in Jacksonville, Ill. In April 1948 and raised their family of eight children in Vandergrift, Penn. Upper St. Clair in the South Hills of Pittsburgh and St. Thomas, U.S. Virgin Islands.
Following a family tradition, which began with LaBelle Iron Works in South Wheeling, Andrew pursued a successful career with U.S. Steel. In 1967, he embarked upon a new career as the editor and publisher of "Here's How," the oldest guide book in the U.S. Virgin Islands, which he operated until 1994 when he retired to Wheeling with his wife, Jane, who passed away in 2005.
He enjoyed the company of many old and new friends in Wheeling, and his growing extended family. He also relished a glass of scotch, a good cigar and a strawberry milkshake. He lived his life with a sense of adventure, a sense of humor and an open heart.
He was a member of Christ United Methodist Church where he was a member of the Joy Group. He served as the president of the St. Thomas, Virgin Islands Rotary Club and was a member of the Wheeling Rotary Club. He also was a member of the Blue Pencil Club.
In addition to his parents, he was preceded in death by his wife, Jane Lyman Glass, and a brother, Alexander Glass.
He and Jane were the proud and loving parents of their eight children: Andrew Glass and his wife, Joann Hill, of New York City; Alexander Glass and his wife, Trina, of Charleston, S.C.; Mary Chapline Glass and her husband, Allan Renz, of Califon, N.J.; Joseph Woodward Glass of Finleyville, Penn.; Jonathon Clyde Glass and his wife, Robyn Holstein-Glass, of Brookeville, Md.; Mark Houston Glass and his wife, Melody, of Bethesda, Ohio; Katherine Kern Glass of Bluemont, W.V.; and Sarah Baker Glass Sundstrom and her husband, Brad, of Two Rivers, Alaska; eight grandchildren: Katherine Elvira Glass, Dorothy Jane Glass Sethares, Andrew Glass III, Linden Andrew Hans Renz, Sara Holstein Glass, Adam Harrison Glass, Taylor Tecumseh Glass and Madison Rose Glass; sister, Dorothy Hall Swinehart of Charlottesville, Va.; four great-grandchildren: Jacob Robert Sethares, Brody Alexander Sethares, Stella Rain Sethares and Lillian Monroe Glass; and ten nieces and nephews.
Friends will be received for a memorial visitation on Sunday, April 21, at the Kepner Funeral Home, 900 National Road, Wheeling, W.V. (304-232-2732), from 2 p.m. until the time of the memorial service at 4:30 p.m. with the Reverend Margie Carr officiating. Interment will be at the convenience of the family in Greenwood Cemetery, Wheeling.