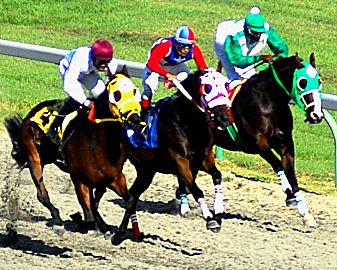 Crucian Jockeys Kevin Krigger and Victor Lebron will wear silks carrying the Tourism Department's mocko jumbie logo when they race in the May 4 Kentucky Derby.
"We are extremely proud of these talented Virgin Islands athletes and pleased that both were very willing to partner with us to promote the USVI," Tourism Commissioner Beverly Nicholson Doty said in a statement Monday.
Tourism spokesman Allegra Kean Moorehead said the department didn't know specifically where the logo would be displayed.
The territory's tourism logo on their clothing will be seen by viewers around the world because the event is broadcast live on television, radio and the Internet.
According to the statement, the Tourism Department jumped on the opportunity to support Krigger and Lebron as they make history as the first Virgin Islanders to qualify for the prestigious Kentucky Derby.
In conjunction with Krigger and Lebron's participation in the Kentucky Derby, the Tourism Department launched a marketing campaign focused on the horse race. Beginning April 29 and leading up to derby day, the department will air St. Croix-specific television ads in the Louisville and Los Angeles markets on NBC affiliates.
Additional initiatives will take place at Churchill Downs on May 3 at the Kentucky Oaks and May 4 at the derby. They include a branded kiosk in the Derby Fan Zone allowing the Tourism Department to interact with thousands of race-goers, through public address system announcements on both race days, ads on the Churchill Downs Simulcast Network, and banner and tile ads on both the Churchill Downs and Kentucky Derby websites.
Additionally, the Tourism Department will hold a sweepstakes with the prize a trip to St. Croix valued at $5,000. It includes airfare, accommodations at the Buccaneer Hotel, dining, activities and retail certificates, spa treatments, and a gift bag.
"Our presence at Churchill Downs will not only demonstrate our support for Kevin and Victor but is also a great opportunity for the USVI to showcase St. Croix," Doty said. "The exposure to the destination over the two-day period is invaluable."
Krigger qualified for the derby by winning the Santa Anita Derby in April on Goldencents. Lebron rode Frac Daddy to a second place finish at the Arkansas Derby qualifying for a coveted spot in Kentucky.