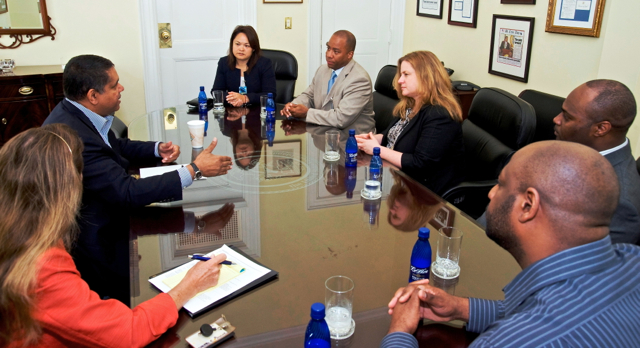 Officials of the federal program providing most of the funds for the Virgin Islands Next Generation Network said the program is on target, after a five-day tour and project review that included visits to sites where the high-speed Internet connectivity is being installed.
According to a news release issued Saturday by Government House, Gov. John deJongh Jr. met Friday with the officials of the Broadband Technology Opportunities Program following their review. During the meeting at Government House on Friday, the officials reported on their weeklong visit and the execution of a strategy that has addressed various phases of the multi-million dollar project.
"I am pleased that within the last year the leadership at the Virgin Islands Next Generation Network has been successful in demonstrating that this major development project for the territory is on target," deJongh said. "The members of the BTOP team were able to see the level of ongoing construction activity and they also visited public computer centers and spoke to those participating in the program."
The BTOP team received updates throughout the week on fiber installation and construction on all three islands, including reports on: purchase and installation of equipment, development of fiber access points, the opening of seven public computer centers, opening the Small Business Administration business hub on St. Croix, job training and placement activities, execution of contracts with a training vendor, digital literacy train-the trainer session and development of a marketing campaign to include community outreach.
DeJongh said he was pleased the review team had the opportunity to review in great detail the advances that have been made by viNGN to move the project along steadily to completion.
"This is a significant economic development project for the Virgin Islands, with this trip they got an opportunity to see the impact of Larry Kupfer and his team in making positive advances and the commitment of board members to the organization and the vision of what viNGN means to the community. We are on steady progress towards successful implementation of high speed internet connectivity throughout the Virgin Islands."
The viNGN is funded by a grant under the American Recovery and Reinvestment Act stimulus awards through the National Telecommunication Information Administration.