A Friends of V.I. National Park program to help St. John's beleaguered beaches begun last year at Maho Bay Beach is branching out this year to include Cinnamon Bay, Francis Bay, Trunk Bay, and Hawksnest Bay beaches.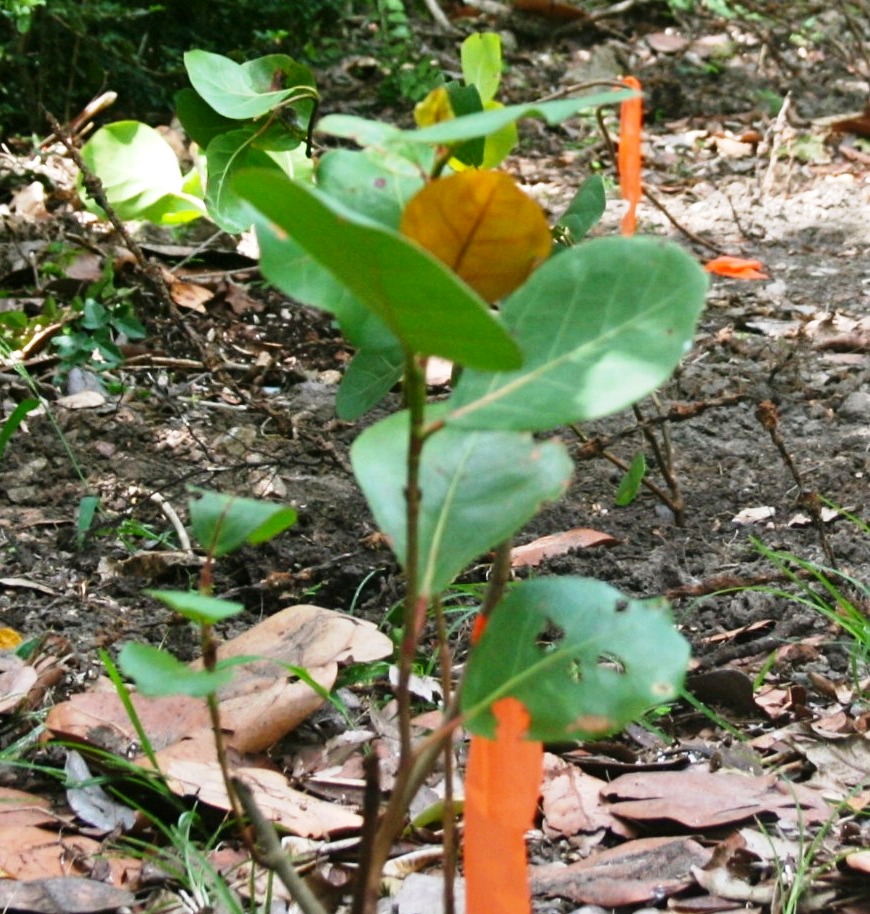 These popular north shore beaches have suffered from erosion, people and deer. "Deer have become a major problem," according to Gary Ray, a St. John-based restoration ecologist who owns Virgin Forest Restorations.
Ray has the contract to help alleviate the problem.
The project started at Maho Bay because it suffered mightily from people parking on the beach along the seaward side of the North Shore Road. The park installed posts to block access to those areas before Ray starting planting about 30 plants in the gaps made by continuous parking of cars that spanned decades.
Planted sea grapes predominate, but Ray said he's also planted orange man jack, false nutmeg, barbasco and caneel. All are native species.
There have been challenges, Ray said, discussing a large storm that came through last fall. About three plants were buried in sand and didn't recover, he said.
"And weed whacking did in a few of them," Ray said.
He said the weed whacking was done by a contractor and efforts are ongoing to make sure that doesn't happen again.
And then there were the deer, which "munched" on every sea grape Ray planted. He said that he's installed temporary fences on about six of them.
"They're starting to recover," he said.
He said he plans to make more substantial cages to further solve the problem.
Ray has started work at Cinnamon Bay, planting about 18 sea grapes east of the park's Archeological Museum that sits right at the beach. Erosion from the ocean is a huge problem at this beach, and big boulders installed years ago prevented the museum from being demolished by the sea.
According to Ray, there is less deer damage at Cinnamon Bay, possibly because there are people around more of the day than at other beaches. This location is home to Cinnamon Bay Campground.
Ray plans to expand the project to the western end of the beach where erosion damage is severe.
"There's no sand left in that area," he said.
At Hawksnest Bay, people who forged paths through the sea grapes that fringe the beach rather than keeping to the official paths have caused problems. Ray said Trunk Bay suffers from a similar problem.
At Francis Bay, a huge genip tree died, which left a big gap in the vegetation surrounding the parking lot. Planting will begin at these locations once the spring rains start.
About 75 percent of the restoration work at those beaches will be done with sea grapes, with other native species also used, Ray said. The native species are better able to control erosion while discouraging invasive exotics. Areas of shade and new walkways will be created to ensure foot traffic doesn't damage the area.
The program has long-term implications for St. John.
"The main attractions of St. John are our beautiful beaches and the national park. If our beaches are eroded, it will not only hurt us environmentally, but will negatively impact tourism – a major economy here," Park Superintendent Brion FitzGerald said.
The work is being done with a $15,250 donation from Eco Serendib Villa and Spa, a St. John villa. Friends development director Karen Vahling said the villa sets aside money from reservations at the property as a way to give back to the community.
"When we learned the challenges of obtaining a government grant to protect our beaches from erosion, we approached Eco Serendib Villa and Spa as they have a program that allocates funds from reservations to protect against beach erosion. Eco Serendib agreed not only to continue their support but also to fund the entire project," Friends President Joe Kessler said. "This kind of social responsibility sets an excellent example for others in the community."
Eco Serendib owner Harith Wickrema, who is also president of Harith Productions and faculty member of Temple University's School of Tourism and Hospitality Management, said he hopes others follow his example.
"It is our hope that other villa owners embrace the beach restoration project with a minimum contribution of one dollar a day from rental income," Wickrema said.
For more information on the Friends, call 779-4940 or visit www.friendsvinp.org.