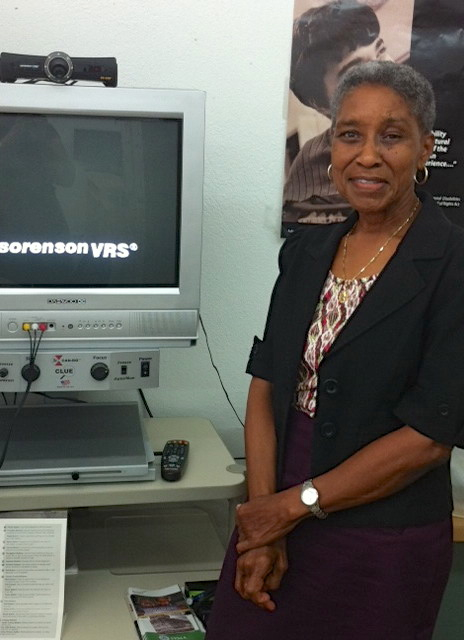 If you call Felecia Brownlow's home phone and get her answering machine, you will be greeted by a voice with a smile in it, but also by an admonition: "I can't take any more assignments, so please keep it light."
The message is small protection for a woman who doesn't seem to be able to say "no" to any request for help, and whose name has become pretty much synonymous with community service.
For more than 30 years Brownlow has been the director of the Virgin Islands Association for Independent Living, a non-profit organization serving people with physical, cognitive and emotional disabilities throughout the territory.
Her work runs the gamut; she manages a staff of five and many volunteers, coordinates programs, administers grants, represents the group in public forums advocating for awareness and rights, and conducts sensitivity awareness training in schools and for community organizations. She's also hands-on with individual clients, at times taking on the role of chauffeur, counselor, personal shopper or whatever else may be needed.
Off the job it's a similar story; much of Brownlow's "free" time is spent volunteering in church and civic groups.
Born Felecia Adams, she grew up on St. Thomas in a close-knit family, surrounded by friends.
"All in the neighborhood knew each other," she said. "When my mother made a pot of cereal, everyone ate from it."
Most people got along most of the time, and if they didn't, "Fel" didn't have to worry. Her brothers protected her.
She graduated from Charlotte Amalie High School in 1962 and went on to earn a bachelor's degree in psychology from Bloomfield College in Bloomfield, New Jersey. She met her husband while she was still a student and lived with him in Hawaii and then in Berkeley, California.
The marriage lasted only a few years, and Brownlow returned to St. Thomas. But she had gained some valuable experience while she was in Berkeley. In the late 1960s and early '70s soldiers were returning from the Viet Nam War, many of them with disabilities. There were demonstrations and riots on some campuses as young men reacted to the lack of accessibility at colleges and universities. Berkeley responded by opening its facilities.
By the time Brownlow was working for the V.I. Social Welfare Department, the forerunner of the Human Services Department, she was acutely aware of many disability issues and how they affected a large number of Virgin Islanders. When she learned the federal government was prepared to help address those needs by making a large grant to an appropriate local non-profit, Brownlow joined a small group of people to found the V.I. Association for Independent Living. By 1980 it was up and running with federal money and with Brownlow as its director.
Today it serves 213 clients and, under federal guidelines, provides four core services: information and referral; advocacy including teaching self-advocacy; training in independent living skills; and peer counseling. Currently it is celebrating National Disability Awareness Month.
"A lot of our referrals are people with low vision or who are blind," Brownlow said. The territory's high rate of diabetes is a factor in that demographic. Also "we have a large deaf population."
Brownlow learned sign language on the job because she needed it to be able to communicate with clients and some staff.
Stroke patients make up a significant number of association clients and seem to benefit a lot from peer group meetings.
Crime victims – particularly victims of gun violence – are an increasing portion of clients. Brownlow said many times the first item to address is the anger the victims feel; they need to overcome the drive for revenge so they can channel energy to recovery and regaining independence. If their condition is the result of gang activity, they may find themselves rejected by family and isolated in the community, making independent living all the more important.
Brownlow noted a number of improvements. Advances in technology have provided tools to aid people with disabilities, such as machines that scan typed text and turn it into audio, and computers that make the opposite transformation, from voice to text. Federal and local legislation has mandated public accessibility. And the general population has become more sensitive to the rights and needs of people with disabilities.
With a hint of pride, she said she recently encountered a man who told her he had attended an awareness forum at the Housing Authority at which she described difficulties people can encounter just walking on a sidewalk. "He said, 'I don't park on the sidewalks anymore. You really put something in my head.' "
Brownlow is used to being identified with her job. In fact, she generally steers clear of fundraising for any other cause because she doesn't want people to be confused about her priorities.
But she does a lot of other work for a lot of other groups.
A major interest is Iota Phi Lambda, sometimes called "The Green and White Society" which Brownlow joined in 1982.
"Besides the camaraderie and the friendship that I gained, they've got a lot of programs," she said.
The group is very involved in observing American Education Week; each year its members do something special for teachers. One year it may be providing apples – real or decorative – for teachers; another it may be treating them to breakfast.
In February the sorority takes to the airways with a Black History Month contest for students; it awards prizes to student winners.
Perhaps its biggest annual project is the Academic Cotillion and related mentoring program. Each sorority sister mentors one of the high school girls, called "Gems," who is "coming out" that year. In turn, each of the Gems mentors a younger girl. Young men get into the action as escorts at the Cotillion and often providing some of the entertainment for the evening.
"You can't fix everybody's problems," Brownlow said. But she thinks the mentoring program is extremely positive. She still keeps up with some of the young women she has mentored over the years.
Brownlow is also very active in her church, volunteering at events for the Catholic diocese and especially for her parish, Sts. Peter and Paul.
Then there's her work helping to organize activities for the CAHS Class of '62.
"They're my life-saving force," she said of her classmates and friends. "We meet regularly and we travel a lot."
From June to September, you can find Brownlow every Saturday, all day Saturday, at Magens Bay, picnicking with the "Beach Girls." There's a core group of about 10 women and a few more who drift in and out of the group. She has to think about it to remember how they all met.
"We don't have a direct connect" like school or work, she said. But somehow they have come together. "We've been doing this for years," she said. "We used to take our kids when they were little."
Brownlow has two sons and two granddaughters, ages 14 and nine.