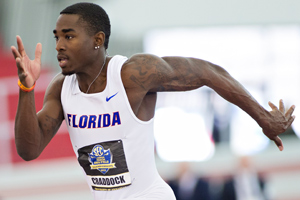 Eddie Lovett, a junior at the University of Florida, is in the ranks of all-time great Virgin Islands track and field athletes (pending). On Saturday, he won the NCAA National Indoor Championship 60-meter hurdles with a time of 7.50, ranking him at number two on the IAAF World Ranking. His performance adds to his career honors including: four-time NCAA All-America, two-time Southeastern Conference 60m hurdles champion, SEC Men's Indoor Freshman Track and Field Runner of the year, 2011 First Team All-SEC (Indoors and outdoors), All-SEC (First Team Indoors, Second Team outdoors), according to a press release issued Sunday by the V.I. Track and Field Federation.
In his short career, Lovett gained fame as a high school track star in Florida and the winning the 2010 state championship in the 110m hurdles, and he became the state record holder in the event. His 2010 time in the event was the fastest in the U.S.A., the fastest in Florida high school history. As a freshman, he won the Pan Am Junior Championship in the event and set a record of 13.14, breaking the previous record by an astonishing .30 seconds. He was the youngest competitor in the USA Olympic Trials in 2012, advancing to the semi-finals.
Lovett is now fourth all-time in collegiate history and brings home Florida's first 60-meter hurdle title in program history. It's the second hurdle crown in Florida school history, as Earl Diamond won the 55-meter hurdles at the 1989 NCAA Indoor Championships.
"I felt pretty good," Lovett said. "Yesterday, I just wanted to work on my start. I made it up in between the hurdles, and I did the same today. It wasn't the best start like I wanted, but I made it up at the end. I'm just happy. If I got my steps and technique right, it would all fall into place."
1] Eddie Lovitt is the son of St. Croix's Edward Williams (deceased), former Minor League Baseball player.
2] Lovett has applied for a transfer of his eligibility from the U.S.A. to the Virgin Islands and plans to represent the territory in international competition, including: The IAAF World Championships, The CAC Games, The Pan American Games and the Olympic Games.
3] Lovett joins David Walters in the ranks of 2013 college championships (Walters won the NAIA 60m title last week.