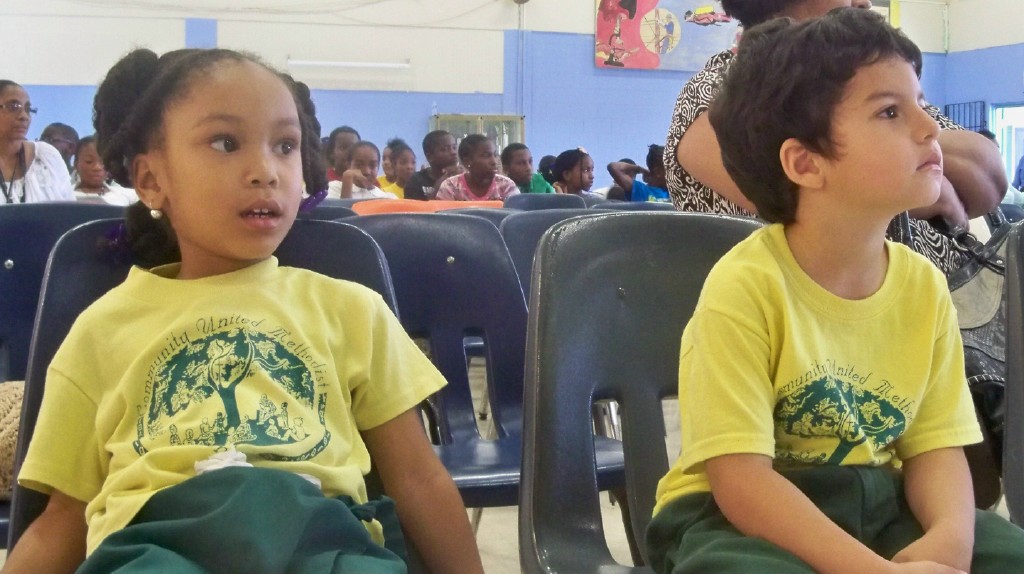 Victor Borge would have approved of the Listen & Learn Program at Claude O. Markoe Elementary School Friday. Visiting musician Solon Pierce gave a piano presentation to children and seniors in the program named for the late pianist, comedian and entertainer.
Borge once resided on St. Croix and lent his talents to raise funds for charities. The Victor Borge Listen & Learn program began as a companion program around 20 years ago to the Landmarks Society Candle Light Concert series to present classical music to local children and seniors.
In the audience was James Colias, who worked with Borge from 1976 until he died in December 2000 at age 91. Colias said Borge would definitely approve of the students and seniors listening to live piano music together at the school.
"Borge was an early supporter and believer in education and teaching the discipline of music to children at a young age," Colias said. "I think Mr. Borge would be very happy with the association of music exposed in this subtle educational way to the students and seniors."
Pierce played music by Gunnar Johansen, a friend of Borge's; Franz Schubert and Scott Joplin.
With fingers tapping on knees, as if they were piano keys, the children quietly listened to Pierce perform songs like Joplin's "Pineapple Rag." One girl had her hands on her hips and was wiggling in her seat to the uptempo music.
"It was nice to actually hear and see him play the piano," Prisila Carmona, fifth grade student said, "I like how the piano sounded."
Around a dozen senior citizens from the Department of Human Services Richmond Senior Center had joined more than 100 students in the school cafeteria for the program.
"It's so nice to be here for this show," Regina Joseph, local senior said. "Ive been to other Listen and Learn programs and I was really looking forward to this." Sarah Noble, another senior, said she really liked the ragtime music Pierce played. She added she wished she could learn to play the piano.
Phyllis Ryan, music teacher at Claude O. Markoe, said Listen & Learn is a wonderful way to expose students to music they don't usually hear.
"It's a great program presenting live music to children who may not have the chance to hear or see live classical music performed." She said they also learn about and hear a mixture of local cultural music and worldwide disciplines. She added music programs are a good outlet for the students.
The Landmark workshops are open to schools, summer programs and senior citizen centers and are held at the Island Center for the Performing Arts, local schools and at the Estate Whim Museum. It has grown to include an array of opportunities to learn about music, dance and song as taught by tradition-bearers from the Virgin Islands and beyond.
"We bring out directly to the students world class musicians to share about their careers and to perform," said Sonia Jacobs Dow, executive director of the St. Croix Landmarks Society.
According to the Landmarks Society website, Pierce has performed extensively as a solo and collaborative artist and given master classes in the U.S., Canada, and Europe. He performs in his native Wisconsin, including appearances with the Festival City Symphony of Milwaukee and the Madison Symphony, and in television (nationally syndicated Music da Camera) and radio broadcasts for Wisconsin Public Radio, Radio Denmark in Copenhagen, Iowa Public Radio, and the WFMT network, Chicago.
The program is funded by proceeds from the Landmarks Candle Light Concert series along with major funding from the Virgin Islands Council on the Arts. Other sponsors are Sonya Ltd., The Palms at Pelican Cove, FirstBank, Marshall and Sterling, Seaborne Airlines, Budget Rent-a-Car and Borge's family, the Michael and Sanna Feirstein Family Fund.