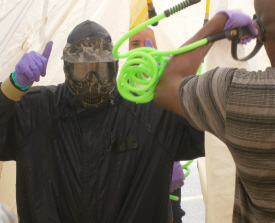 It may seem far-fetched to prepare for a nuclear or chemical weapons incident in the V.I., but that was exactly what local police and Bureau of Corrections officers were up to Friday at the former Evelyn Marcelli School.
The officers were part of a weapons of mass destruction tactical operations training led by the Academy of Counter-Terrorist Education at Louisiana State University. The course trains officers in tactical law enforcement response to a chemical, biological, radiological, nuclear and explosive device or hazardous materials incident. It provides both detailed technical information and hands-on application of actions required for the safe and effective conduct of tactical operations in first-responder scenarios.
A group of 23 law enforcement students took part in an hour-long scenario that required subduing a number of armed suspects, clearing the crime scene, field-testing a mysterious container for possible chemical contaminants and partnering with fire department officers for safe removal. The officers from each department volunteered for the specialized training which took place at
Officers were also led through a field decontamination tent equipped with high pressure shower units used to isolate and remove possible chemical exposure.
"Because of the high number of tourists we see each year on St. Thomas, this type of first responder training is a must," said V.I. Police Captain Kendelth Wharton. "We look forward to these training sessions and see them as vital in our job to better protect our community."
Friday's field training followed three days of classroom studies that included the identification and testing of such bio-related threats as anthrax, nerve agents and radioactive exposure. The course was coordinated by VITEMA and funded by a Department of Homeland Security grant.
"While our local police department is not currently equipped with these chemical field testing kits, it is our hope that with additional training like we have had this week, we can see this practice in the near future," said V.I. emergency management training coordinator Irwin Mason.
The next scheduled training sessions will address agriculture terrorism threats and are scheduled for April.