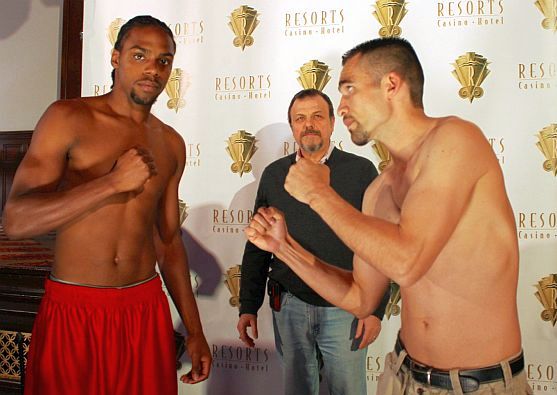 From participating in national press conferences to meeting their opponents at the official weigh-in Thursday at Atlantic City's Resorts Hotel, the territory's 340 Boxing champs have spent the last few days gearing up for their Friday appearance on ESPN2's popular "Friday Night Fights" card.
A few weeks ago, it was announced that all three of 340 Boxing's professionals – John Jackson, Julius Jackson and Samuel Rogers – would be fighting on the card, but company managers said Thursday that the opponent slated for Julius Jackson – Roberto Jose Acevedo, who is 7-0 with 4 knockouts, out of Puerto Rico – pulled out at the last minute leaving only John Jackson and Rogers facing off Friday in six-round bouts that are anticipated to air on the sports network beginning at 10 p.m.
According to the official fight card, John Jackson (14-1 with 13 K0s) will be fighting against Francisco Alexis Pena (7-1 with 5 KOs), while Rogers (12-0 with 7 KOs) will be facing 29-year-old Ivan Ziglar (7-2-1 with 4 KOs) from Virginia Beach, Va. The four met for the first time during the weigh-ins Thursday, and 340 Boxing managers said afterward that Jackson weighed in at 154 pounds and Rogers at 153 pounds. Both will be fighting in the junior middleweight category.
"So far, this whole experience has been amazing," 340 Boxing principal Jose "Tony" Rosario said Thursday. "The guys have been doing what they need to do to get prepared and we are just waiting to go on Friday."
Rosario added that Julius Jackson has also been booked to fight next Saturday at the Hard Rock Hotel & Casino in Panama City, Panama.
Headlining Friday's fight card is Victor "Mermelada" Cayo (31-3 with 21 KOs) and Emanuel "Tranzforma" Taylor (16-1 with 11 KOs). Cayo is no stranger to the territory, having boxed in at least one of 340 Boxing's earlier "Boxing in Paradise" fight cards against Arturo "El Silencioso" Morua.
According to the sports blogs, Cayo has won his last three fights (three by knockout), while Taylor has won his last two, including a six-round victory over Philadelphia-based Raymond Serrano (18-2 with 8 KOs).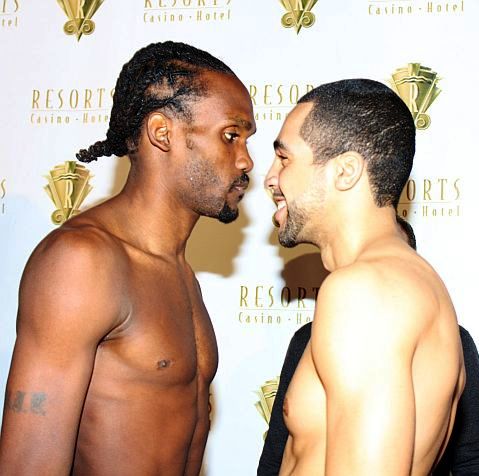 The co-main event Friday, a WBC USA-NBC heavyweight title fight, will feature a highly anticipated 10-rounder between the undefeated Magomed "Mago" Abdusalamov (16-0 with 16 KOs) and Puerto Rico-based Victor Bisbal (21-1 with 15 KOs), who has won his past 16 fights.
Along with the main events, 340 managers said Thursday that they also expect Jackson's and Rogers' fights to be televised, depending on the pace of the card. The Source will provide details on the outcome of the fights as they become available.