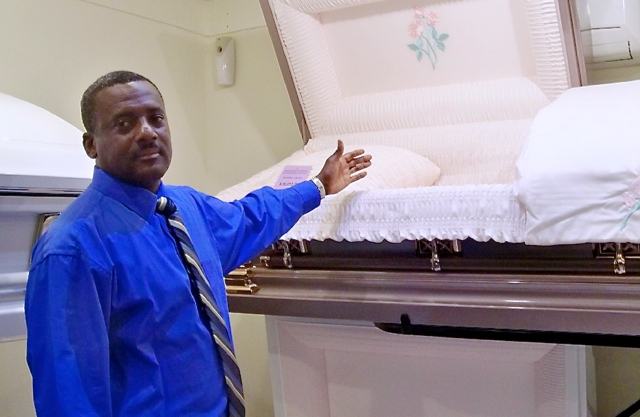 Up until a year ago people on St. Croix had only one choice when it came time to plan a funeral for a loved one. Then Divine Funeral Services opened last February, giving people an option.
"I couldn't believe there was only one funeral home here," Eldon Rey, funeral director at Divine said. "People should have a choice."
Rey, originally from Anguilla, said his family and friends on St. Croix informed him of the situation and encouraged him to provide his services, to fill the gap left when Thomas/Hyll Memorial Chapel funeral service went out of business around five years ago, leaving only one funeral home on the island.
From beginning to end, Rey offers many choices in the process of arranging funerals, even unusual choices.
One of the options he offers is the viewing of the deceased in a drive-up window. The window is in one of the viewing rooms behind burgundy colored vertical blinds. Behind the blinds are remote controlled shutters The room is dark and small track lights shine on the open casket. The widow isn't open to the general public. The family gets remote controls for the shutters for their own use to spend time with the loved one night or day.
"This window is helpful in the grieving process for those who may have flown in at night and want to see the deceased as soon as possible," Rey says. "It's impossible for the staff to be here 24 hours a day to help those grieving."
Funerals can be expensive, but Rey says Divine works with the families of the deceased.
"We offer a dignified funeral affordable by all," Rey says.
In fact, that statement is written above the door of the funeral home. He offers a wide range of prices and packages, and provides funerals for babies free.
There is a full-fledged florist shop and floral designer on staff. Folks can buy suits and fancy dresses for burial, and he has a selection of caskets and urns in stock. He adds they are a one-stop-shop.
Rey does everything that concerns the bodies, including embalming, hair and makeup. He has eight employees, all locals that he trained in the business.
Rey is adding a state of the art crematorium in June that will have monitored emission controls. He says cremation costs less then a regular, traditional funeral, but right now people have to pay extra to have the body embalmed and then shipped to Puerto Rico for cremation.
"Cremation is the way of the future," Rey adds. "But island folks aren't accustomed to cremation. There is still the old folks mourning tradition of the traditional funeral with the body laid to rest in a casket."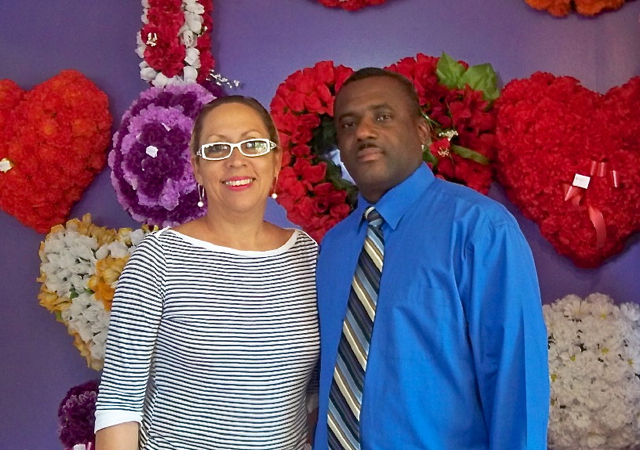 He says the most challenging part of the job is meeting with a difficult family and and trying to please them.
"We always find a way to design a package to keep people happy," Rey says.
Rey is a second generation funeral director and has been in the business for 30 years, beginning at his father's funeral home on Anguilla.
"I was only 10 when I did my first removal," Rey says. Removal is when the funeral home goes to remove the deceased from his home or place of death. "It was a natural choice for me to become a director."
He studied at the American Academy McAllister Institute of Funeral Services in New York, where he earned an associate's degree in mortuary science. He is licensed in New York and New Jersey. He worked as a funeral director in New York at his first Divine Funeral Services home. He says he liked the definition of divine so that's how he came up with the name. He came to St. Croix in 2009 to begin the process of opening the funeral home.
"I decided to get out of the hustle and bustle of the city and bring my services to the islands where it was really needed," Rey says.
Divine Funeral Services is at 129 Peter's Rest at the previous Thomas/Hyll Memorial Chapel near Cool Out Bar and Junie's Restaurant. More about the funeral services offered is available by calling 1-340-773-0003 or 1-340-773-0002.