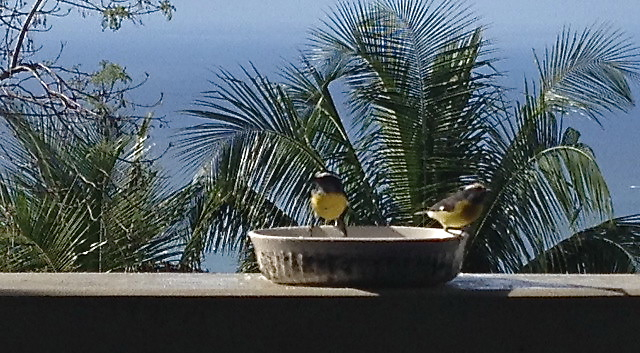 A little patience, a bit of water, and some sun block – that's about all you need to go bird watching in the Virgin Islands. However, you can add a camera and an illustrated text, and if you're on St. Thomas, you might want to call Mario Francis, founder and president of the St. Thomas Audubon Society, Inc., to be your guide.
"I know exactly where to go," Francis said.
His favorite areas include Drake's Seat and Mountain Top in central and northern St. Thomas, the University of the Virgin Islands campus on the west end, Benner Bay and Sapphire Bay on the East End and what he likes to call "the Audubon Bridge" across the major gut in Estate Nadir.
"Most people call it the Bridge to Nowhere," he observed. "But I renamed it. I use it as one of my birding porches."
Earlier this month he and some visitors from a cruise ship spotted a tri-colored heron near the bridge.
"You don't see that too often, but we did hook up on that," he said.
Less surprising was the Antillian crested humming bird they also sighted there.
In a four-hour span, from 8 a.m. to noon, Francis and the two sisters from the mainland drove to several locations and spotted 233 birds representing 42 different species, including the white winged gull, the yellow rock warbler and the smooth-billed ani.
"It was a great day," he said.
According to the VI National Park website, 144 different species live in or migrate through the Virgin Islands. They attract amateur and professional ornithologists, both local and from abroad.
Francis traces his own interest to an accidental sighting years ago while he was studying forestry in the wilds of Pennsylvania. One very cold morning he was startled to see a deep blue velvety bird glide by.
"This was the most beautiful bird or creature I have ever seen."
Like a lovesick teen, he followed it as long as possible and when it disappeared it left him obsessed. He went to a bookstore, found himself a copy of "Birds of North America" and leafed through it until he found the apparition. It was an indigo bunting.
He told a classmate about it, and the man invited him to a meeting of the local Audubon Society where he said he was elated to discover so many people who enjoyed bird-watching.
When he returned to his home in the Virgin Islands, he looked for a similar group. He joined the Virgin Islands Audubon Society which is based on St. John and later, in 1995, he founded a group on St. Thomas.
The group currently has about 15 members, Francis said, though it has been as large as 35. It conducts outings about twice a month on Sundays. Cost is $45 for visitors, $35 for residents, and school children and society members are free. An annual membership costs $40. Besides regular outings on St. Thomas, members travel to nearby islands including St. John and Tortola.
"Outdoor is where it's at," Francis said, and he tries to encourage young people to get involved with the club as an alternative to getting into trouble, and as a great way to learn about the environment. He teaches them practical skills of observing and identifying birds.
In addition to the regular trips, Francis accommodates visitors who want private tours.
"People contact me from all over the world," he said. "I don't advertise, but they find me." He already has bookings for March 5, 16 and 21.
A few years ago, Francis was on the western area of St. Thomas and saw a gray-black bird that looked very familiar.
"I have never seen it since," he said, but it haunted him. He was struck by a memory and couldn't shake the idea that this bird was like the one that first got him interested in ornithology. But it was the wrong color.
So he did his research and learned that indeed it was an indigo bunting, it was simply in the molting stage.
The bunting is listed as one of the migratory birds that frequent the Virgin Islands. Readers can learn more about them at www.nps.gov/viis/naturesceince/bird.
Information about joining the St. Thomas Audubon Society, Inc., or the next bird-watching outing, can be obtained by calling Francis at 1-340-626-4269.