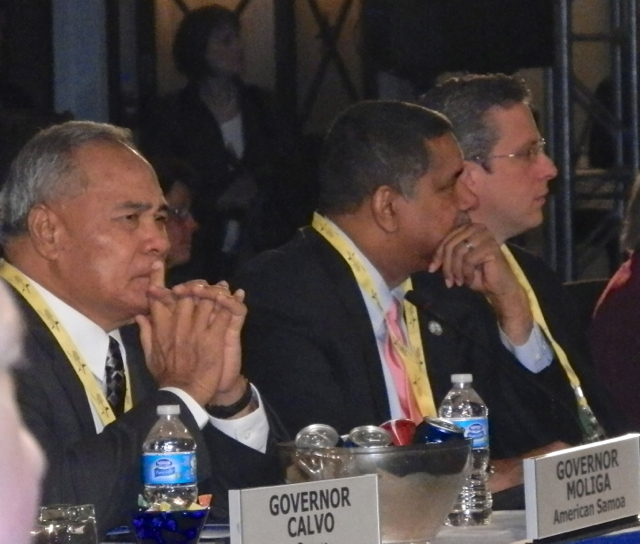 Gov. John deJongh, Jr. joined the nation's governors Saturday to kick off the 2013 National Governors Association Winter Meeting in Washington, D.C.
According to a news release from Government House, deJongh and governors from across the nation were in the capital city to meet with President Barak Obama, Vice President Joseph Biden and members of the Administration, as well as business leaders and other industry experts to discuss the issues and challenges facing states and territories.
Saturday morning's opening session was convened by NGA Chair Governor Jack Markell of Delaware who discussed his initiative, "A Better Bottom Line: Employing People with Disabilities."
The chair's initiative focuses on the employment challenges that affect individuals with intellectual and other disabilities and the roles that state and territorial governments, as well as businesses, can play in advancing employment opportunities for these individuals.
After attending the session, deJongh noted, "When government leaders and corporate managers share a vision for change, it provides a powerful incentive for an agenda of shared responsibility and action. I applaud Gov. Markell's initiative to raise awareness on the importance of employing people with disabilities and recognize the tremendous benefits towards creating solutions for companies and in terms of doing what is best for communities."
Markell indicated that one in five Americans has a disability, calling them "the largest minority in our country," and noting, "As governments, we have an important role to play in today's labor market. … In building a better bottom line, we must employ all sectors of our workforce."
Following Markell's presentation, Walgreen's President and CEO Gregory D. Wasson also provided remarks and discussed the value of employing people with disabilities as important workforce development strategy and as "good for companies' bottom line."
"You can do good while doing good business," Wasson said.
Walgreen's embraced a goal of employing 50 percent of its total workforce with people with disabilities after recently surpassing its 25-percent goal.
On Sunday morning, the governors gathered for a session on how states and territories can assist businesses in employing people with disabilities.
"NGA provides an important platform for governors to identify key priorities at the national, state and local levels and to discuss these issues in terms of a shared agenda for progress," deJongh said.
Following the opening session, deJongh met with Wasson to discuss the construction and opening of the new Walgreen's store on St. Thomas.
Between sessions, deJongh also met with leaders of the First Responder Network Authority, or "FirstNet." The meeting was held as follow-up to correspondence between the chief executive and FirstNet Board Chairman Sam Ginn to engage in a collaborative process to deploy a territorial broadband network specifically for first responders that is linked to a national apparatus.
"By embracing the FirstNet initiative, the Virgin Islands is layering upon our emergency management and public safety infrastructure a wireless broadband network that enables police, firefighters, emergency services personnel and others in public safety to effectively communicate and be linked to a national network, deJongh said. "Our involvement is in line with my administration's priority to strengthen our emergency management apparatus and our first responder protocol."
The governor has appointed Reuben Molloy, director of the Bureau of Information Technology, as the primary contact for the FirstNet implementation.
The new project complements the Territory's efforts to revamp its emergency management system, according to Government House.
"FirstNet will place an umbrella over the system you currently have in the V.I. and will revolutionize the territory's interfacing standards through the latest technology. This will be complemented by a national apparatus in all states and territories," FirstNet Board Chairman Sam Ginn said.