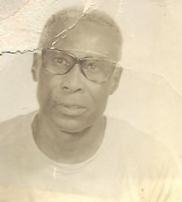 Lionel Chesterfield Davis Sr. died on Feb. 13.
He is survived by his wife, Doris Davis; children: Liston, Alicia, Alrick and Olassie Davis, Patricia Davis-Hadley and Ruth Thomas Van Holten; grandchildren: Erick Bell Sr., Derrick Bell, David Hadley, Alexander, Reginald, Lonnie,Aynnayka, Mercedes and Omar Davis, Doris Bell-Francis, Carinna Bell, Dionne Davis-Halbert, Olessa Davis-Fleury, Theresa Carter Walker and Lizette Skeete; daughter-in-law, Alma Hodge Davis; and son-in-law, Reverend Wesley Hadley.
He is also survived by great-grandchildren: Jaron Grizzle, Eric Bell Jr., Shariff, Olan, Briana, Haley, Zhana, Kashief and Haniah Davis, Kennedy Halbert, Jelissa Dalley, Brejoni, Aminah and Erinna Bell; grandson-in-law, Clive Francis; granddaughters-in-law: Kim Davis and Shevaughn Smith Davis; caretakers: Nazarine George and Roselle Brady; special family and friends: Kwame Motilewa, Francine Penn Scipio, Doris Penn, Mavis Richards, Sidney Knight, Florence Chinnery, Wakeen Harrigan, the Smalls, Davis, Johannes, Schneider and Smith families and many other relative and friends too numerous to mention.
Funeral services will begin with a viewing from 5-7 p.m. on Friday, Feb. 22, at Turnbull's Funeral Home. There will be a second viewing held from 8-9 a.m. at Turnbull's Funeral Home followed by a funeral service at 10 a.m. on Saturday, Feb. 23, at All Saints Cathedral.
All arrangements are by Turnbull's Funeral Home.