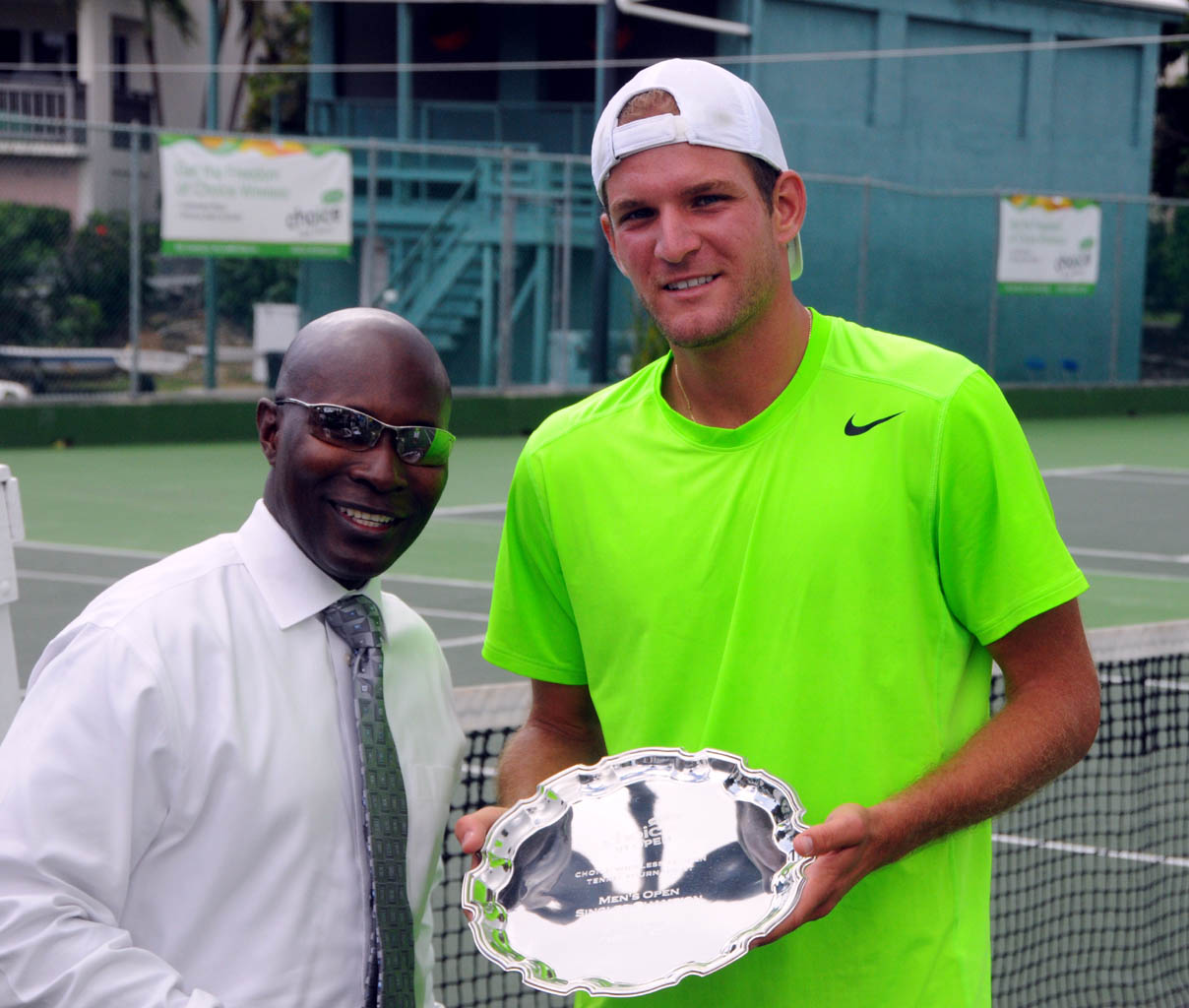 Players and spectators alike enjoyed world-class tennis competition at the Choice Wireless V.I. Open Tennis Tournament, hosted Feb. 15-18 by the St. Thomas Yacht Club. A record 115 tennis players from 12 countries, 17 U.S. states and four Caribbean islands – which included 7 ATP-ranked and a strong contingent of B division competitors – earned this tournament its reputation as the "Wimbledon of the Caribbean."
Hard work is what Philip Bester, an ATP-ranked player from Vancouver, British Columbia, and the tournament's second seed, credits for his spectacular win in Men's Open Singles (6-3, 6-2) over Slovakia's Dominik Hrbaty, who attained a career-high singles ranking of 12th in the world. He has won matches against tennis greats such as Roger Federer, Rafael Nadal, Andy Murray and Novak Djokovic.
"Dominik is certainly a high-caliber player, but he hasn't played competitively much recently," Bester said. "I'm on the verge of a comeback after an injury and have been working very hard on my game over the last couple of months. I think this gave me the confidence to go out there and play like I know how to play."
Hrbaty did earn a place in the winner's circle when he teamed up with Australia's Jaymon Crabb in Men's Open Doubles to beat Italy's Stefano Ianni and the U.S.A.'s Denis Zivkovic (6-3, 6-3).
"It's fun for me even though I'm retired," said Hrbaty. "Jaymon is solid, and I think we both played well together."
The competition was also keen in the B division.
The U.S.A.'s Paul Brown beat Tortola's Mark McDonald (6-3, 6-2) in an intense contest in Men's B Singles.
"I've played tennis since the age of 5, stopped about 15 years ago and just got back into the game last year," said Brown, who works for Choice Communications parent company ATN and represented the company at the tournament. "If I had lost the first set, I think I would have been finished because I'm not as fit as I'd like. But winning that first set gave me the encouragement to give it my all."
In Women's B Singles, it was the British Virgin Island's Rachael McDonald, who beat the U.S.A.'s Shelena Sanderson (7-6(5), 6-4) in a match that lasted nearly three hours.
"We were really evenly matched," said McDonald, who won this title two years in a row. "Shelena was a strong and aggressive player. I had to be on the defense at times. We really moved each other around the court. In all honesty, either one of us could have won. That's what made it fun."
The U.S.A.'s David Barnes and Dejuan Mcilwain triumphed over the BVI's Mark McDonald and Paul Oliver (7-5, 6-2) in Men's B Doubles.
"We make a good team together," said Mcilwain of himself and Barnes, both from Maryland. "I play backhand and he's left handed."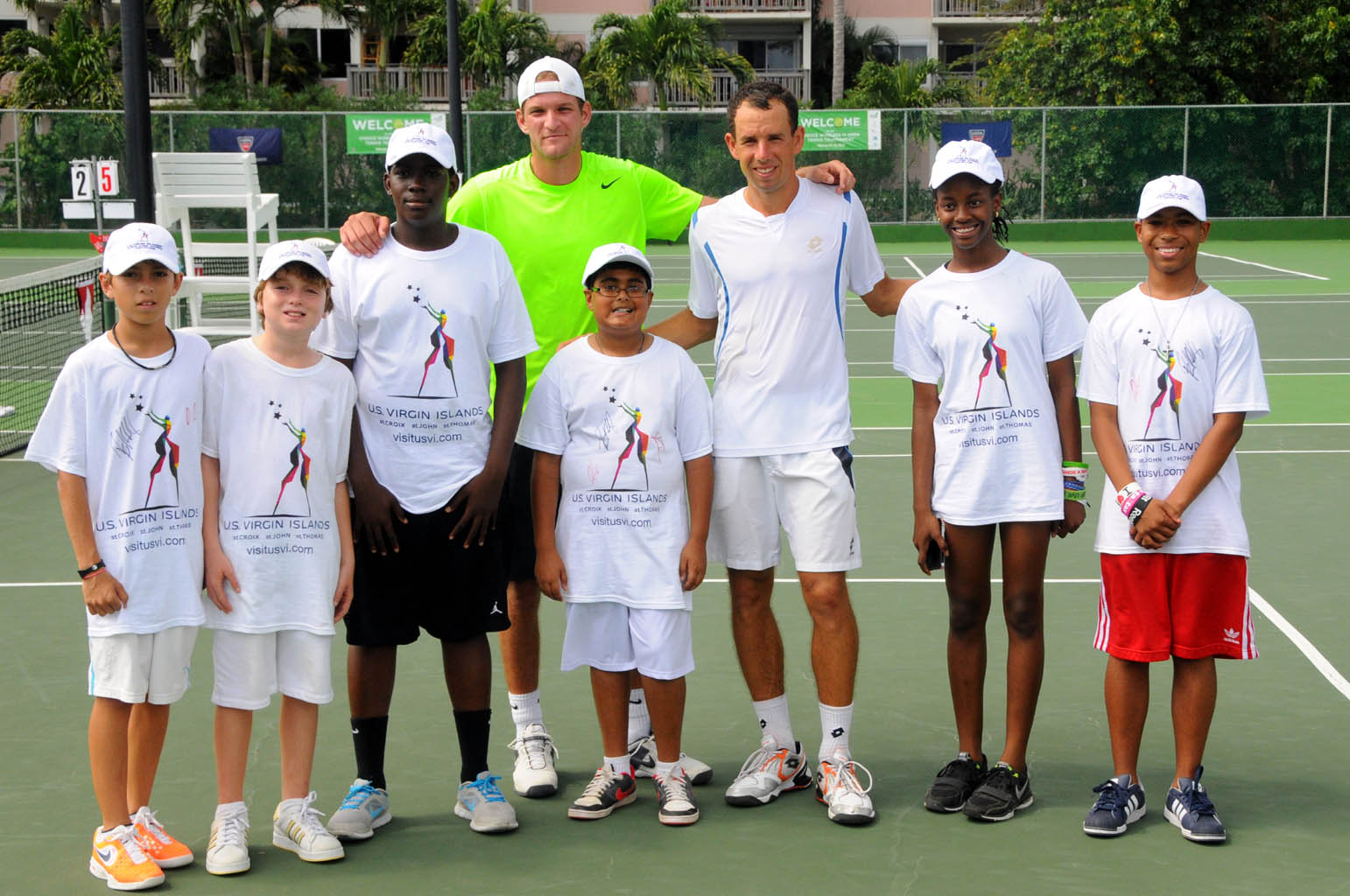 In Women's B Doubles, the U.S.A.'s Michelle Avery and Constance Foreman racked up their fifth win in the tournament's seven-year history. They beat the U.S.A.'s Hattie Grimsley and Shelena Sanderson (6-3, 6-4).
"We've been doubles partners for 30 years," said Avery. "Our secret was to come down a couple of days early and get acclimated to the climate and the courts. After all, it's snowing back home in Philadelphia."
Working hard and never giving up is what earned the USVI's Stan Myrie-G and Panama's Enrique Sanchez defeated Phillip Lucas and David Barnes for the title in Men's B Doubles 60 and Over (4-6, 7-5(6), 1-0(8)).
"It was so close, we went into a tie-breaker," said Myrie-G.
"We did our best and kept pushing," said Sanchez, whose friendship with Myrie-G dates back to when they were classmates in the 1970s.
Finally, in Mixed B Doubles, Puerto Rico's Fernando Negron and Yelitza Lopez beat the U.S.A.'s husband-and-wife team of Dion and Tamara Williams (6-4, 6-2). The Williamses met 17 years ago playing tennis.
"We played aggressively," Negron said. "We are both very strong on our serves."
Over $14,000 in prize money was awarded in addition to engraved plates.
Matches were officiated by USTA and International Tennis Federation head referee Hector Figueroa from Puerto Rico. Carlos Juarbe and Julio Colon served as USTA umpires; both have officiated at the U.S. Open. This is the only tennis tournament in the U.S. Virgin Islands sanctioned by the USTA's Caribbean District.
"Congratulations to all the winners and participants," said Tony Shepherd, CEO and general manager of Choice Wireless. "Choice Wireless is happy to be a part of bringing world-class tennis to the Virgin Islands, and we look forward to sponsoring the tournament again next year."
The Choice Wireless VI Open Tennis Tournament is sponsored by Choice Wireless, the U.S. Virgin Islands Department of Tourism, St. Thomas Yacht Club, Sugar Bay Beach Resort & Spa, Caribbean Auto Group and Coca-Cola.