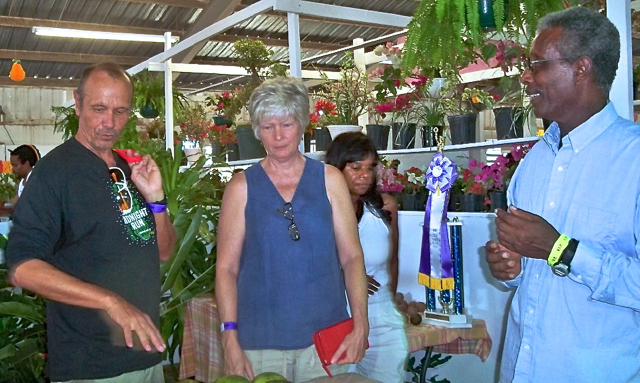 Aberra Bulbulla, tropical fruit grower, was named Crop Farmer of the Year Saturday at the opening ceremonies of the 2013 St. Croix Agriculture and Food Fair, the fifth time he has received the honor.
"I feel really good about being chosen again," Bulbulla said. "It's a pleasure to watch fruit grow. Tropical fruit is fantastic and there are thousands of different kinds."
Bulbulla said some countries have oil, gold and diamonds but the Caribbean has tropical fruit.
"Tropical fruit is an untapped resource here," said Bulbulla, who grows more than 40 different varieties of fruit.
Bulbulla has planted more than 300 tropical fruit trees on his four acres in Estate Waldberggaard.
Errol Chichester, deputy commissioner of agriculture and director of crop exhibits, said Bulbulla has a well laid out farm where he dug two wells for drip irrigation, and has grafted trees to ensure predictable production.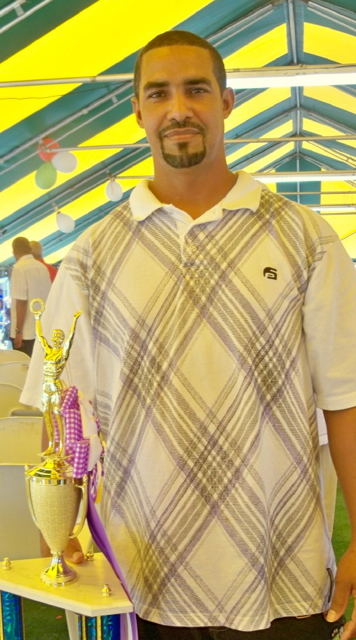 Pedro Gonzalez was named the Livestock Farmer of the Year for his prize winning swine. It was his first time ever to receive the honor. Sue Lakos, director of livestock exhibits, said Gonzalez's first love is farming but he is a "Jack of all trades," doing plumbing, electrical work, and even artificial insemination.
Gonzalez, a 38-year-old who farms 250 acres in Estate Wheel of Fortune, said he is a third generation farmer.
"I've been farming all my life," he said. "I have a passion for farming and I hope to get rich farming."
The Agriculture and Food Fairgrounds were named this year in honor of Ruth D. Lang. She served at the Department of Agriculture and at the fair for more than 30 years. She has one child, Chainie Lang, but she has been a mother-figure to many others. Lois Sanders, assistant director of 4H/FHCS at UVI and "adopted daughter" of Lang, said she has gotten a lot of support, wisdom and love from Lang.
"She's a very loving person," Sanders said. "She deserves this."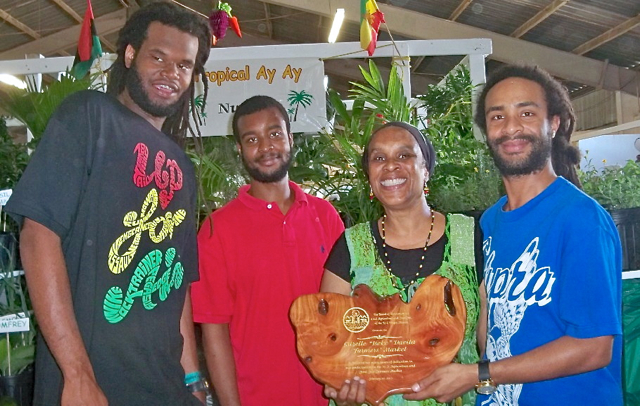 The farmers market was named for Grizelle "Isoke" Davila, the food pavilion for Corliss A. Wilson Nathaniel and the livestock pavilion for "The Thomas Family."
Agriculture Commissioner Louis Petersen gave out six presidential awards. Sarah Dahl-Smith gave out seven Educational Exhibit Sweepstakes Awards.
A memorial award was given to honor Hildred Stevens, who passed away in December. Stevens was a member of the fair food and refreshment committee.
Petersen said the theme for the fair, "Agriculture: Grow, Eat, Live," reflects the vision that the Virgin Islands would be able to grow what it eats and eat what it grows in order to improve the quality of life. He said the bigger vision is to continue to grow and to promote "Virgin Fresh" specialty crops.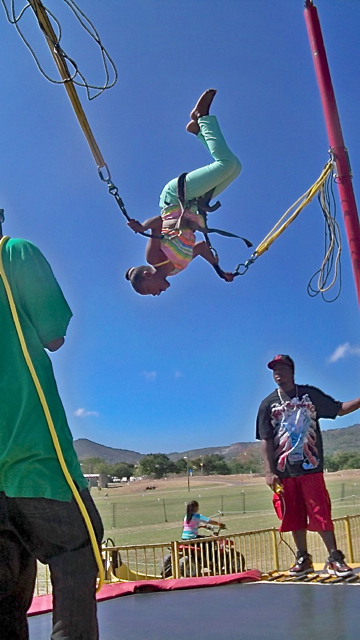 Opening ceremony speakers included Delegate to Congress Donna M. Christensen, Deputy Tourism Commissioner Brad Nugent, UVI President David Hall and Lt. Gov. Gregory Francis.
Over at the farmers market named for her, Davila and her sons were selling healthy looking palms, herbs, guava, avocado and more, all grown at her Tropical Ay Ay Nursery. Davila also sells oils and salves made with natural products she grows, and healing bath sea salts.
"I just love the fair." Davila said, who has been selling produce and working at the fair for 37 years. "I've seen the fair grow from nothing to a huge success."
She suggested people leave imported food alone.
The produce piled high in the farmers market was a feast for the eyes. Tables were filled with large, dark-purple eggplants, bright-orange pumpkins, green bell peppers and much much more.
Mahalia Drew, from Drew's Home Grown Vegetables, had a nice pile of shiny red sorrel she said was a popular item. She said her beans and lettuce were going fast too.
Dorcas Griffin had beautiful, lacy ferns and hundreds of different flowers not usually seen on island. She says she likes to grow unusual flowers.
The Hibiscus Society had a display of gorgeous hibiscus.
The livestock pavilion was named for the Thomas Family – Rodney Sr., Rodney Jr., Renisha, Romano, DeVante, and Joey Thomas. The family started presenting rabbits at the fair 20 years ago. They have been active in 4H and weeks before the fair they prepare the livestock area.
Local food is a major part of the fair, and plenty of vendors were on hand selling everything from fried chicken to chutney all along the midway and in the Corliss A. Wilson Nathaniel food pavilion.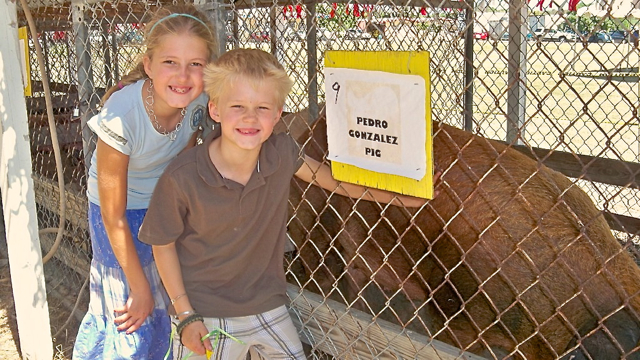 Nathaniel, a native Crucian, said she was surprised to have the pavilion named for her. She said her specialty is kallaloo. Nathaniel said she was was introduced to the fair years ago by Louise Petersen, whom she worked with until 1991. Nathaniel is still participating in the fair.
The fair has something for folks of all ages, from an abundance of food, to plenty of furry and feathered animals to admire and fun activities. For those with a little daring there is the bungee jump. Jumpers put on a harness with bungee cords attached to poles and jump and do flips on a trampoline.
Health conscious people can get free flu shots, glucose testing and blood pressure checks at the Department of Health and Frederiksted Health Care tent.
People interested in the environment can visit vendors and government agencies promoting green practices and providing information and money-saving tips. The V.I. Energy Office had solar displays and information on how to be more energy efficient.
For the youngsters there are plenty of bouncers, go-carts and four wheelers, a petting zoo and agriculture-themed activities.
The grove of trees in the center of the grounds always provides a cool spot, with huge picnic tables where folks can eat, take a break and chat with people.
Local resident Carole Wells said the fair was a good place to renew friendships with people she hasn't seen in eons.
"There was a lot of great stuff to see and do," Wells said. "And the kallaloo I had was fabulous."
The fair is hosted annually by UVI's Cooperative Extension Service, along with the V.I. Departments of Agriculture, Tourism and Health.
The Agrifest continues from 9 a.m. to 6 p.m. Sunday and Monday. The entrance fee is $6 for adults, $3 for children and $4 for senior citizens.
More information, contest details and entertainment schedules are available from the V.I. Agrifest website – www.viagrifest.org.