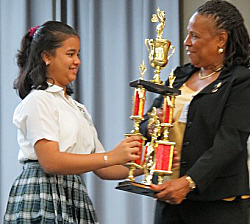 There was no word too difficult for All Saints Cathedral School's 13-year-old Roshni Lalwani, who quickly outpaced her competition Friday and left the Bertha C. Boschulte Middle School auditorium the winner of this year's St. Thomas-St. John district intermediate spelling bee.
Speaking after the competition, Lalwani said she's wanted to win the bee since the fifth grade and has continued to practice with her coach, Michelle Braley, and her family in hopes of achieving her goal.
"She does her best with everything," Roshni's father Chandru Lalwani said Friday. "Once she decides she wants to do something, she goes after it a hundred percent."
All of Roshni's hard work appeared to have paid off as she moved confidently through the rounds, spelling everything from "autobahn" to "zephyr." Roshni won in the seventh round with "gymkhana," a term used to describe a meet featuring sports contests or athletic skills.
After the competition, Braley said one of her strategies was to focus on words derived from different languages, such as gymkhana, which has East Indian roots.
"This was such an awesome experience," Lalwani said after receiving her first place trophy. "I have been wanting to compete in the bee since I was in fifth grade, and after practicing with my coach and my family, I was able to do it and I am so excited to be here and go on to the territorial bee."
Second place this year went to Nawell Jamil from Lockhart Elementary School, who went six rounds but was eliminated after misspelling "soliloquy." Nawell was still all smiles after she picked up her trophy and spoke about how much fun she had preparing for the event.
Lockhart coach Rebecca Gonsalves also had nothing but praise for her student, who she described as "dedicated and faithful."
"From all the way back in December, right up to yesterday, Nawell has given up her lunch hour to practice and we've worked after hours, talking about the words and the different strategies laid out in the spelling bee booklet," Gonsalves said. "She would even listen to the words at home on the computer—that's how dedicated she is to this."
Jamil and Lalwani, along Ty Massaquoi from Gifft Hill School, Manav Thadani from Antilles School, Shymar Bazar from Gladys A. Abraham Elementary School and Jaden Baron from Weslyan Academy, will be competing against the six top spellers from St. Croix during next month's territorial bee.