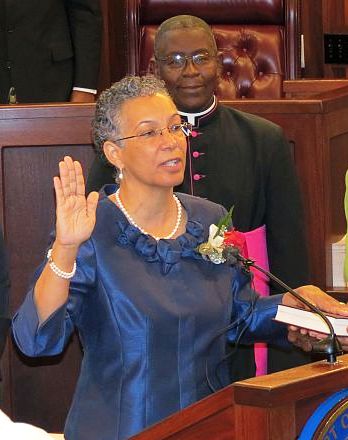 Placing their hands on the Bible in front of a packed courtroom of dignitaries, family members and other supporters on Monday, local attorneys Kathleen Mackay and Debra Smith-Watlington officially took their oaths of office as the V.I. Superior Court's newest judges.
Both were nominated last year by Gov. John deJongh Jr. and confirmed by the 29th Legislature.
Mackay will be replacing Superior Court Judge Brenda J. Hollar, while Smith-Watlington will be heading to the Family Court Division, taking over for Judge Audrey Thomas.
Monday's investiture ceremony on St. Thomas was heartfelt, with the two new judges receiving personal tributes from colleagues and family before stepping up to the podium.
Mackay has spent the last four years serving as a Superior Court magistrate and was showered with praise Monday by her colleague Judge Alan D. Smith, who described her work in the courtroom as "straightforward" with an "intellectual integrity" respected by all those who appeared before her.
Smith said that, as a magistrate, Mackay connected with the "man and woman on the street," made timely, well-organized and fair decisions, and, most of all, gave everyone a chance to be heard.
"Many entering our courtrooms need compassion, and to those that are hurting, Judge Mackay lets them know that she cares about them," Smith said, adding that he is "confident" Mackay will continue to strive for professional excellence in her new position and expect the same from her colleagues.
During her response later in the ceremony, Mackay credited much of her professionalism and training to her cousins, Winston and Derek Hodge, along with attorney Maria Tankenson-Hodge, with whom she worked for more than a decade.
"I first aspired to become an attorney at the age of 10 or 12," Mackay said. "My big cousins Winston and Derek Hodge had just returned home with their law degrees and I wanted to follow their lead."
"They were my inspiration," she said, adding that by the time she finished the eighth grade, "I had declared my ambition to become an attorney and that goal never really changed."
Mackay said after college and law school, she continued to be guided by the late Derek Hodge, a celebrated former V.I. lieutenant governor, who eventually became her business partner in the law firm of Mackay and Hodge.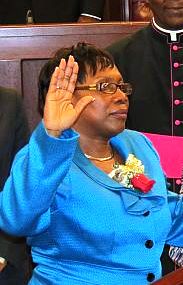 Mackay added that she was accepting her new position "not quite with excitement," but with a "somber and keen awareness of the magnitude of this appointment."
"Having been a part of the court of the last four years, I am keenly aware of the responsibilities of this job, the demands of this job and the demands and expectations of the bar, the litigants and the community," Mackay said. "I will do my very best to uphold the law in a fair, reasoned, impartial and just manner."
Personal memories also resurfaced during a speech delivered by Jeanette Smith-Barry, St. Thomas-St. John insular superintendent of schools, who was brought to the podium Monday to introduce her younger sister, Smith-Watlington.
"I count this as an extra special personal privilege because it was just over 12 years ago when I stood here in the same capacity to introduce my best friend Audrey Thomas as she was sworn in to the territorial court," Smith-Barry said, adding that her sister's recent appointment to the bench did not come as a surprise to the family or even to her sister's friends.
"Today is a day upon which our family is just beaming with pride," Smith-Barry said. "And we know this is a result of the superior service and accomplishments we have witnessed over the years from our beloved Debra. "
Smith-Barry said that her sister returned home after college to work within the local community and eventually helped to lay the foundation for the court's first steel pan – or pre-trial intervention program – which, over the years, has transformed into the world renowned Rising Stars Steel Orchestra.
Smith-Watlington also served as a law clerk, legal counsel for the V.I Housing Authority, and chief territorial public defender before her most recent appointment to the Family Court bench.
"This rise to assume one of the highest positions in the territory comes as no surprise to us in the family or to those who know her," Smith-Barry said. "Debra is a brilliant and talented individual with a passion for excellence and a heart for service."
Smith-Watlington, however, said later that she was "in disbelief" when the governor first talked with her a year ago about serving as a judge.
"I considered myself to be just an ordinary woman, doing ordinary work for ordinary people," Smith-Watlington said. "I was just using my legal knowledge and experience to help people and solve problems."
After thinking about the possibility of serving on the bench, Smith-Watlington said she then turned to her husband and children for advice on what to do.
"I knew the awesome responsibility of the job," she added Monday. But her family was supportive and excited about the new post, she said. "They understood and they were ready for this journey."
Thanking a range of individuals from her parents and siblings to her mentors and childhood teachers, Smith-Watlington said her family's support, along with her love of the community, eventually led her to accept the job on the Family Court bench.
"This village made me and I strongly believe we can help others to be high achievers if we continue to support our children and families in big ways," she said. "In order to help those we can, we must stand up, step up and answer the call."
V.I. Supreme Court Chief Justice Rhys S. Hodge administered the judges' oaths of office Monday. Featured speakers also included Lt. Gov. Gregory R. Francis and Senate President Shawn-Michael Malone.