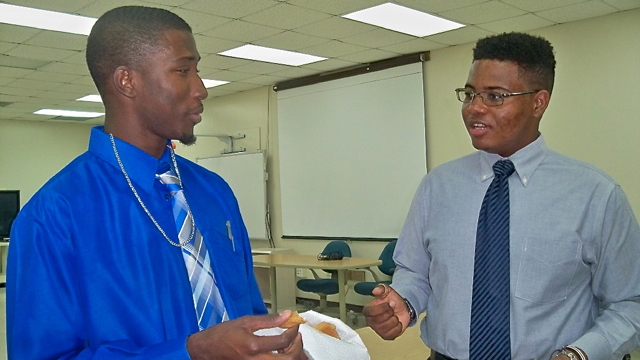 The Rotary Club of St. Croix-Harborside drove home to students the meaning of the "Four-Way Test," in its sixth annual Four Way Speech Contest.
Rotary Clubs worldwide practice what it calls the "Four-Way Test," asking the questions: Is it the truth? Is it fair to all concerned? Will it build good will and better friendships? Will it be beneficial to all concerned?
Lionel Downer, president of Harborside Rotary, said the "Four-Way Test" is everything Rotarians think, say or do.
Students were required to incorporate the "Four-Way Test," in their speeches. They were judged on content, organization and delivery, and the speech had to be five to seven minutes in length.
Kendrick Campbell, a senior at St. Croix Educational Complex, took first place.
Campbell, in a dress shirt and tie, spoke passionately Saturday about bullying. He said he was a target of bullying that began in junior high school, just because he was different and smart. He didn't use note cards, but he used hand gestures, moving around the podium gracefully while speaking articulately while asking who benefits from bullying. Campbell won a laptop computer.
Chasen Richards, a junior at Complex, got second place for his speech on bullying and won $300. Keyvil King, a junior at Manor School came in third winning $150 for her speech also on bullying.
Valmy Thomas, Awquen Irish, Deshaunn, Doward all from Manor School, and Bria James, from St. Croix Central High School, also gave speeches at the Department of Education Curriculum Center.
John Farrell, service chairman for the club and a Toastmaster, says students benefit from the contest by becoming aware of what Rotary is about.
"Having the contest gets kids, parents and the community involved," Farrell said. "And it's good for the students to start early giving speeches."
Nissa Bailey, Cyndy Washburn, and Michael Armandaris judged the speeches.
Judges gave the participants tips on public speaking following the speeches. The judges all agreed public speaking is difficult in the beginning and the more they speak in public the better they will become.
Washburn, a linguist and retired teacher, said the students all had good content, but needed to work on the organization of their speeches.
Armandaris, who had produced a video last year called "Born This Way," said he was a bit concerned that so many students chose bullying as their topic. Thomas gave a speech on dog fighting and Doward's speech was on teen pregnancy.
The prizes will be presented to the students at an upcoming regular weekly meeting of the club at Fort Christian Brew Pub. Downer said anyone interested in joining Rotary can call him at 1-340-277-7206. The Rotary motto is service above self.