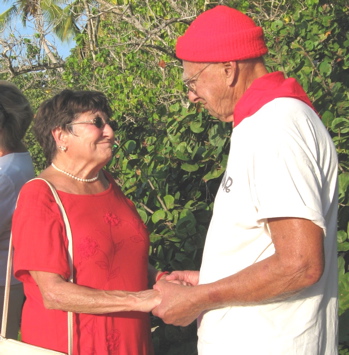 Say "I Do" again at the 11th annual Celebration of Love Valentine's Day Vow Renewal ceremony, which begins at 5 p.m. Thursday at Trunk Bay Beach on St. John.
"It's a very meaningful way to celebrate Valentine's Day, by honoring your partner and celebrating your relationship," non-denominational minister Anne Marie Porter said.
Porter has organized the event for all 11 years. She said that during those years, about 800 couples renewed their vows. Last year, 72 couples participated.
This year, she said Albion Sewer will greet arriving participants in the Trunk Bay parking lot with his steel pan music. Michael Banzhaf will welcome them to the beach with his flute music.
Every woman goes home with a rose and each couple receives a marriage vow renewal certificate.
"Suitable for framing," Porter said.
She suggested that couples coming from St. Thomas take the 4 p.m. ferry that departs Red Hook. Porter said there are plenty of taxis available at the Cruz Bay ferry dock.
More information on past events is online at www.re-marryyourmate.com/valentine.htm. Porter can be reached at 1-340-626-4658.