BOOK PICK'S FOR THE SEASON
Here is where you will find what's new at St. Thomas's well-known Dockside Bookshop at Havensight Mall. Every week you will find new titles to peruse. Look for updates of our "picks" for fiction and non-fiction. We will gladly order any books you want. E-mail dockside@islands.vi
"The Complete Bookshop"
Mon. through Friday 8:30 a.m. to 6 p.m.
Sat. – 9 a.m. to 6 p.m.
Sun. – Closed
774-4937
E-mail: dockside@islands.vi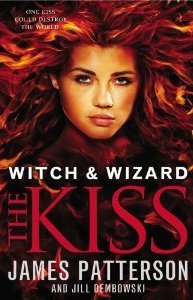 "Witch & Wizard: The Kiss," by James Patterson and Jill Dembowski, Little Brown, trade paper, $11.99
Passion has never been more dangerous. Whit and Wisty Allgood, a witch and wizard with extraordinary abilities, have defeated the ruthless dictator who long overshadowed their world. But for the first time in their lives, the powerful brother and sister find themselves at odds as Wisty is drawn to a mysterious and magical stranger named Heath. Wisty has never felt as free as she does with Heath, especially when the two of them share and test their magic together. But when a merciless Wizard King from the mountains suddenly threatens war, Wisty must make an excruciating choice. Will she unite with Whit to fight the mounting dangers that could return their world to a tyrant's domain? Or will she trust the beautiful boy who has captured her heart? One kiss could destroy the world. James Patterson's epic saga continues as the witch and wizard, who have inspired countless imaginations, must rally together before the world they fought to save collapses.
"Witch World" by Christopher Pike, trade paper, $10.99
Heading off for a weekend in Las Vegas with her friends, Jessie Ralle has only one worry: how to make it through the road trip in the same car with her ex, Jimmy Kelter—the guy who broke her heart five months ago when he dumped her for no reason. This is the guy who is finally ready to tell her why he did it because he wants her back.
But what Jessie doesn't realize is that Jimmy is the least of her problems.
In Las Vegas she meets Russ, a mesmerizing stranger who shows her how to gamble and who never seems to lose. Curious, Jessie wants to know his secret, and in response, alone with her in his hotel room, he teaches her a game that opens a door to another reality.
To Witch World.
Jessie discovers that she's stumbled into a world where some people can do the impossible and others may not even be human. For a time she fears she's lost her mind. Are there really witches? Is she one of them?
"For the Win" by Cory Doctorow, trade paper, $10.99
It's the 21st Century, and all over the world, MMORPGs are big business. Hidden away in China and elsewhere, young players are pressed into working as "gold farmers," amassing game wealth that's sold to Western players at a profitable markup. Some of these pieceworkers rebel, trying to go into business for themselves—but there's little to stop their bosses from dragging them back into servitude. Some, like young Mala in the slums of Mumbai—nicknamed "General Robotwallah" for her self-taught military skill—become enforcers for the bosses, but that only buys them so much.
In L.A., young Wei-Dong, obsessed with Asian youth culture and MMORPGs, knows the system is rigged and that young people everywhere are being exploited. Pushed too far at last, he and his Asian counterparts begin to work together to claim their rights. Under the noses of the ruling elites, they fight the bosses, the game owners and the rich speculators, outsmarting them with street-gaming skills. But soon the battle spills from the virtual world to the real one, leaving the young rebels fighting not just for their rights but for their lives…
"Tumbleweeds" by Leila Meacham, trade paper, $14.99
Recently orphaned, eleven-year-old Cathy Benson is forced to move from her academically privileged life in California to the small town of Kersey. Here in the Texas Panhandle where the sport of football reigns supreme, she is quickly taken under the unlikely wings of up-and-coming gridiron stars and classmates John Caldwell and Trey Don Hall. Like herself, they are orphans with whom she forms a friendship and an eventual love triangle that will determine the course of the rest of their lives.
Taking the three friends through their growing-up years until their high school graduations when several tragic events uproot and break them apart, the novel expands to follow their careers and futures until they reunite in Kersey at 40 years of age.
"God Don't Make No Mistakes" by Mary Monroe, trade paper, $15.00
These days, Annette Goode Davis has a full plate—literally and figuratively. Although she's trying to reconcile with her husband, Pee Wee, she's still seeing other men on the side. A woman's got to cover her bases, right? With her love life hopping, Annette should be pleased as punch. Instead, the stress has her eating everything in sight and packing on the pounds.
Meanwhile, Annette's best friend, Rhoda O'Toole, has her hands full dealing with her wild child daughter, Jade. When Jade's antics almost cost Rhoda her man, Rhoda throws her out. But Jade soon finds a way to make Rhoda regret her choice…
Annette thanks her lucky stars that her daughter, Charlotte, has her head on straight. And she's doubly blessed to have a strait-laced neighbor look after Charlotte when she's caught up in Pee Wee and Rhoda's problems. But when Annette's world is rocked by a terrible revelation, she'll discover that appearances can be very, very deceiving—and she'll have to summon every ounce of strength to protect the ones she loves.
"Prada Plan 3 Green-Eyed Monster" by Ashley Antoinette, trade paper, $15.00
Leah has been trying for years to get rid of her competition, and all her crazy scheming has finally paid off—or so she thinks. Now that YaYa is out of the picture, she's ready to step into her shoes and have the life of which she always dreamed. The scars that she earned in the fire almost seem worth it if they mean she'll finally be able to have all the money, the family, and most importantly, to have Indie's love to herself.
There's only one problem. Disaya Morgan isn't dead. She survived the fire too, and she's healing under the watchful eye of one very powerful woman who's ready to help put YaYa on top. With her newfound connections, YaYa could have Leah taken out with the snap of her fingers—but that's not good enough for her. The only way YaYa can battle the demons that are still haunting her is to finish Leah off herself. YaYa is out for blood. There can only be one winner, and these two are on a collision course that could send one of them straight to hell.
WE HAVE A NEW AND EXPANDED SALE SECTION FILLED WITH EXCITING BOOKS FOR ALL AGES INCLUDING: CHILDREN'S PICTURE BOOKS, EXERCISE, BUSINESS, HISTORY, NONFICTION, LITERATURE, FICTION AND LOTS MORE