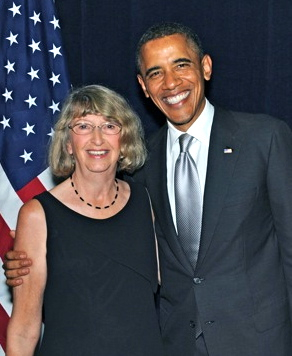 St. Thomas resident Helene Smollett got to shake hands with President Barack Obama and get a photograph with the commander in chief at a tony fundraiser in Miami last Tuesday, after winning a raffle among Virgin Islanders who gave the campaign exactly $19.17.
"It was just amazing," Smollett said, when reached by phone Monday. "It is something I will treasure always, and as a friend suggested, it is something I will write down and pass along."
Smollett is a long-time Democrat and supported the president before hearing about this contest, although as a Virgin Islander, she has not been able to vote for president since she became a St. Thomas resident 43 years ago, she said.
"I believe strongly in what the president is doing and what he stands for, and this is my way of participating in the election process," Smollett said, when asked what prompted her to make the donation.
Smollett won a ticket to the special reception, which for everyone else cost $5,000, at the Jackie Gleason Theater at the Miami Beach Filmore, featuring a concert by salsa superstar Marc Anthony. An anonymous local donor paid her air fare and hotel for two days, she said.
When she and her group arrived at the venue, they were escorted to the VIP section to mingle, then given a table right up close to where Marc Anthony would soon perform. Ironically, Anthony performed while they were being escorted to meet Obama, so they missed the concert, she said.
Afterwards, Obama spoke for about 25 minutes on the economy, jobs, immigration and healthcare, contrasting his administration's agenda with what he said Republicans would do, she said.
The contest was put on by the Obama campaign to encourage and to show appreciation to small donors.
When the contest began, Marjorie Roberts, a member of the national finance committee, told the Source she thought the $19.17 was a nice touch since the Virgin Islands was purchased by the United States in 1917.
The campaign to re-elect Obama has used this fundraising technique for months, offering dinners with the president at George Clooney's house or with Sarah Jessica Parker, but this is the first one specific to Virgin Islanders, Roberts said.
Those who want to contribute can go to: http://my.barackobama.com/usvirginislandsovfmain.
Further information can be obtained by sending email to VI4Obama@gmail.com.