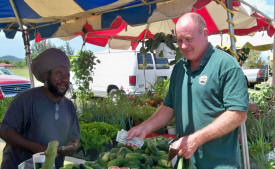 University of the Virgin Islands President David Hall, speaking Sunday at a celebration marking the 40th anniversary of the university's land grant designation, said that a main goal of a land grant college is community outreach and education. And that appears to be exactly what the university was doing Sunday afternoon with awards ceremonies, educational and agricultural displays, an open house, food and entertainment on the Albert A. Sheen Campus on St. Croix.
Two hundred or so residents were there to listen to the program outside under a tent or to purchase farm products from farmers set up around the parking lot or to go to the open house inside with tables of information about the various Cooperative Extension Service (CES) and the Agricultural Experiment Station (AES)programs.
Don Bailey, a research specialist in the aquaculture program, had one of the open house displays. He displayed some whole and filleted tilapia grown in large tanks on the campus.
"This is all about the end result and farmers being able to sell their products and make some money," Bailey said. Bailey was purchasing celery plants from Grantley Samuel's booth early in the afternoon. Samuel echoed Bailey's statement. "We need to feed ourselves and make a living at the same time," Samuel said. "If we don't farm here we will be in bad shape."
Other farmers with produce and plants for sale included Dorcas Griffin and Joan Nelson. Veronica Gordon was selling products she makes from calabash. Among those selling food were Laurie Samuel selling cakes and Laveren Bates selling fruit tarts and cookies. Lyra Tonge had her coconut sugarcakes and peanut cakes for purchase.
Sue Lakos, from the extension office, had live chickens and peeps in an educational display and Amy Hogg had cattle intestinal parasites displayed under a microscope. At the great hall workshops were held on growing vegetables and raising poultry in the backyard.
Mathilde Wilson, from the extension office, said they hope to take farmers from small gardens to making a living.
After Hall's remarks, Louis Peteresen, Jr, commissioner of Agriculture; Robert Godfrey, director of the UVI Agriculture Experiment Station; and Henry H. Smith, vice provost for UVI research and public service also spoke.
Extension awards went to Sylvia Griffin, for her consistent participation in CES outreaches; to Dale and Yvette Brown who have been organizers of workshops, educational projects and training course; to St. Croix Hiking Association whose members have volunteered on a regular basis for extension projects like Estate Adventure Nature Trail, planting of trees, and construction of bridges; to EvaMarie Gibbs-Stevens for outstanding volunteer service; Lyra Tonge for her involvement in the CES Home Economics program and Rodney and Dawn Thomas for their involvement in 4-H projects.
The College of the Virgin Islands and the University of Guam became Land Grant Institutions of higher learning,when President Richard Nixon signed into law the Education Amendments Act of June 23, 1972.
In his remarks Hall also pointed out that the University was celebrating its 50th anniversary this year.