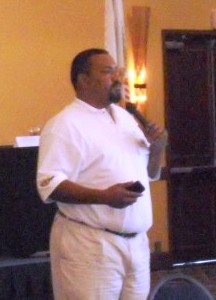 Capacity was the word of the day as around 20 speakers discussed gangs and the capacity for combating gang violence in the region at the 2012 Caribbean Anti-Gang Conference and Exhibits.
More than 400 law enforcement and government officials, educators, business owners and guests from all over the Caribbean and the United States gathered for the anti-gang conference at the Marriott Frenchman's Reef on Tuesday.
Day one of the conference brought out gang experts from many neighboring islands, several of them noting that the inability to combat gang activity comes from a lack of capacity on the part of residents in Caribbean nations.
"We can't just focus on diagnosing the problem, but diagnosing our own capacity to handle that problem," said keynote speaker Edward Maguire, criminologist and associate professor at American University.
Maguire and other speakers were concerned that Caribbean nations and territories struggle with providing the manpower, community support and equipment necessary to arrest, investigate and prosecute violent crimes.
"When diagnosing capacity, consider where you have structural weaknesses," Maguire said, stressing that implementing new strategies to change capacity is complicated.
We must start by "maintaining relationships with people in the communities," he added, noting that strong relations between police and citizens are necessary for change.
According to Alvin Atkinson, executive director of the Center for Community Safety at Winston-Salem State University, "Until the community is mobilized, you really don't have an opportunity for change."
"Assess your capacity," he said. "How can we engage these folks and get their help? The capacity is a challenge."
"Capacity is about our ability to take collective action," he added.
Maguire noted steps that residents can take to work towards improving involvement throughout the Caribbean. He touched on community mobilization, opportunity provision, social intervention and suppression.
School safety officer LaVelle Campbell noted that there have been 27 homicides in the U.S. Virgin Islands this year, stressing that the "problem is in the numbers" of residents who aren't reacting to violence in the territory.
Campbell noted that the federal government can predict the number of prison cells the United States will need by looking at how many children fail third grade.
"We have turned our backs on those who are at risk, those who no one wants to bother with," he said. "We kick them to the curb. They get their love from the streets because they aren't getting it from us."
Along with capacity, several speakers noted that socio-economic challenges like education, unemployment and poverty play a role in gang activity. However, Maguire warned those present not to lose sight of the underlying cause of continued gang activity – lack of community intervention.
"All those things come together and rob the neighborhood of capacity. But what turns it around is that there's some catalyst that wants things to change. Community is the biggest resource. If you can get people to think differently, they'll be able to make decisions for change," Alvin said
Speaker Leroy Contee, community relations coordinator for the Marine Corps Military Police Department in Hawaii, stressed the importance of involving all "potential stakeholders," including faith-based groups, school officers, counselors and merchants.
"This doesn't need to be reinventing the wheel," he joked. "Reach out to your neighbors."
Maguire also questioned methods of intervention, claiming that it's easy to send the wrong message when trying to combat gang violence.
"Sometimes when we try to solve the gang violence problem, we make it worse when we don't mean to. People think about crime problems as far bigger than they are," he said.
"The first step is understanding concentration of violence. A common mistake is that all gangs are equally violent. A small proportion of gangs are carrying out a majority of violence," he said, explaining how gang violence is often specific to certain areas. "The solutions have to match the causes."
Louis Jordan, director of National Consulting Solutions, a street gang intelligence agency, noted that prevention and intervention are roles that everyone shares. "Slow down and take your time because we're dealing with people's lives here," he said. "We have to go where they are. Start listening and not dominating what they're going to do."
"Not all gang violence problems are the same," Maguire said. "We need to understand why people are killing each other. We need to understand the causes before we can come up with a solution."
In studying these causes, Maguire said he found that gangs form networks that are interconnected which ultimately affect each other. He noted that these network ties are complex and difficult.
Several speakers hoped that islands in the region could work together to combat gang violence in all nations. Campbell noted the U.S. Virgin Islands' position in the middle of the Caribbean, which allows Virgin Islanders an opportunity to form a "network hub" of support and proactive solutions.
In an effort to better understand these complex network connections, Campbell and Basil Richards, chief inspector at the Bureau of Corrections, have undertaken efforts to put together gang profiles, learning more about what certain phrases and tattoos mean.
"This anti-gang committee and V.I. community are on the right track with an exchange between neighboring islands," said Atkinson. "We can't take this knowledge and just sit on it. Let's move forward. Now there's a sense that the situation is worse and the need is greater now, and because of that, our response has to be greater."
Jacqueline Freeman, anti-gang committee chairwoman, noted that day one of the conference "was truly a success."
"I'm happy groups are taking a proactive change," she said with a smile. "We're happy they're here."
She said the speakers explained the importance of getting everyone involved in being a part of the solution. "It's very evident that this type of behavior does exist and that residents should be involved."
"These types of activities are affecting everyone," Freeman said. "We cannot say that these things are not gang related. We really need to pull up our sleeves to rid this land of this problem."
The conference will continue Wednesday with keynote speaker Anthony Harriott in the morning followed by breakout sessions in the afternoon.