A regular Source feature, Undercurrents slips below the surface of Virgin Islands daily routines and assumptions to explore in greater depth the beauty, the mystery, the murky and the disregarded familiar. It is our bid to get to know the community more deeply.
There's a bit of a turf war brewing in the Virgin Islands, pitting farmer against conservationist, biologist against ecologist, man against beast.
At the center of the brewing controversy is the oh-so-familiar iguana, the reptile whose prehistoric appearance delights some, repels others and has inspired so many cartoons, caricatures, T-shirts and jewelry designs, that it has become an unofficial symbol for the territory.
It is also protected under the V.I. Code.
Strict vegetarians, iguanas in the wild tend to be leery of humans and can be easily shooed away, although some observers believe their close association with humans is making them a little less docile.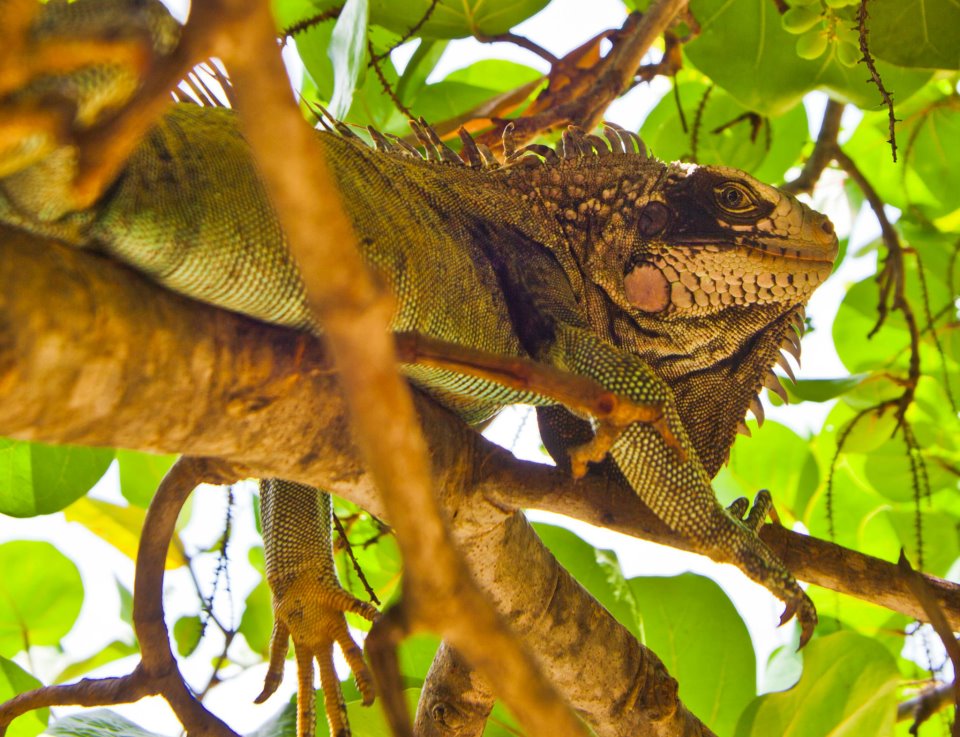 No one has definitive figures on the number of iguanas living on any of the islands, but the consensus of the experts is that they seem to be flourishing everywhere.
Rafe Boulon, chief of Resource Management for the National Park Service on St. John, said many years ago iguana sightings were special because they were so uncommon; today they're commonplace.
"They are now a nuisance species" on St. Croix, according to Dr. William Coles of the Division of Fish and Wildlife.
Errol Chichester, deputy commissioner for Agriculture, concurs. When he moved from St. Thomas to St. Croix in the mid-1980s, it was several years before he saw his first iguana in Frederiksted.
"Now you see them everywhere," Chichester said. "Over the past five to 10 years, the numbers have really exploded on St. Croix. We even see them crossing the road now like on St. Thomas."
The population explosion is territorywide, according to Carlos Robles, acting district supervisor for the University of the Virgin Islands Cooperative Extension Service. In fact, the iguanas are doing so well, that "on St. Thomas and St. Croix they are becoming real nuisances."
Robles said he fields complaints from farmers and home gardeners whose crops often fall victim to hungry iguanas. "They feed on young shoots" and will eat virtually anything that's tender, including "potatoes, tomatoes, pumpkins" and other popular garden crops.
The experts suggest the home garden itself may be contributing to the increase in the iguana population, providing a ready source of food. So are the ornamental plantings humans have scattered across the landscape.
Boulon added another possible factor linked to human development: iguana often lay their eggs in sand, including that stockpiled for construction. When the sand is moved out to various building sites across the islands, the eggs go along for the ride. Another contributing factor could be that the iguanas face relatively few predators.
A female iguana lays about 30 to 50 eggs a year, according to Renata Platenberg, reptile ecologist and wildlife biologist with Planning and Natural Resources Division of Fish and Wildlife. And she lives about 20 or 30 years. About 10 years ago the territory's mongoose population was thinned considerably by a virus, giving iguana eggs and hatchlings a temporary break from a major predator. That may be another factor.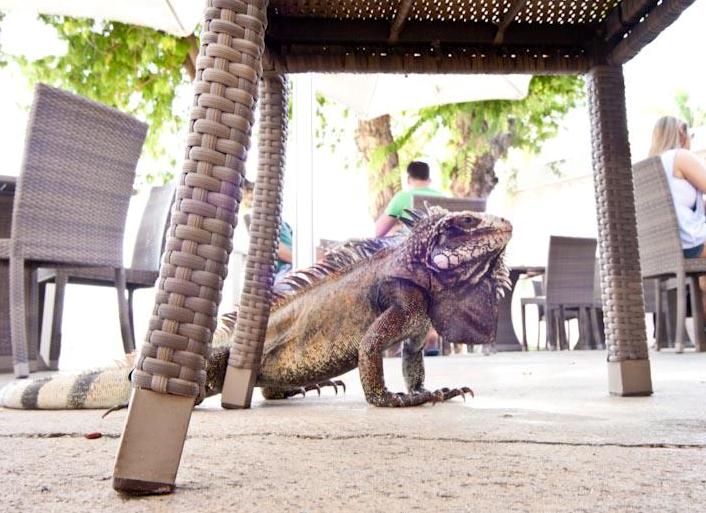 Whatever the reasons, the increase in the iguana population is not going unnoticed.
Chichester could not give a cost estimate of the agricultural damage, but said, "It's way far beyond a little deal. I would say it's significant enough to cause a dent in production."
"I can't give you the dollars," Robles said. "I know it is causing some farmers to start over" because they have lost their entire crop to iguanas. And it's taking a toll on efforts to encourage home gardening, he said.
At least two people who have planted extensive gardens for many years recently simply gave up because they were tired of feeding the iguanas, Robles said.
Chichester had similar stories. In one account, he said a resident came in to the Agriculture station on a Monday morning to buy sorrel and collard greens starters and some other seedlings. On Tuesday the man returned to purchase the same things again because the first set had already been eaten.
"Some people joke that they'll buy some for them and some for the 'guanas," Chichester said.
The standard advice for deterring iguana incursions is to put up a barrier around crops that is at least a foot and a half high, Robles said. The barrier should be made of a smooth material, like metal flashing or Plexiglas, so the reptiles can't get the traction necessary to climb over it. Of course, if there's a tree overhanging the garden, an iguana can climb that and simply drop in, so that's another consideration.
Although by policy the Extension Service does not recommend commercial products, Robles noted it has had some success with a new garden repellant called "Iguana Rid," which combines things like garlic and cayenne. Sprayed onto a plant, it is supposed to make the leaves taste bad to foraging iguana.
One thing government officials can't recommend is thinning the population.
That's because the Iguana and Agouti Act makes it illegal to kill or wound an iguana or an agouti or to offer for sale or purchase a killed or wounded animal. The act imposes a $25 fine for doing so and provides that the "implement used" will be confiscated by the Court.
The agouti made a brief appearance in the territory, brought in sometime around the middle of the 20th century to be raised for its fur, according to Coles, but it disappeared from the territory long ago. So the Act now only affects the iguana.
Some people, including Coles and Robles, think it may be time to revisit the law. Boulon said the Act was passed in the early 1970s and added, "I've never heard a good reason why they (iguanas) were protected." He said the reptiles aren't indigenous to the territory but brought into the area from South America by pre-Columbian peoples.
Robles noted that Puerto Rico recently changed its law to allow for hunting iguana in a bid to control the population there and suggested the Virgin Islands might consider a similar move.
But Platenberg, who serves as the endangered species coordinator for the Virgin Islands, said, "I don't think we have sufficient information to make that call." A university-led team started a survey of the iguana population on St. John several months ago and will return this summer to continue it, and that should help establish numbers. But for now, she said, we can't even answer the question of whether there are too many iguana in the territory.
Besides, Platenberg said, "They aren't having an impact on the natural environment." They're just competing for space with humans.