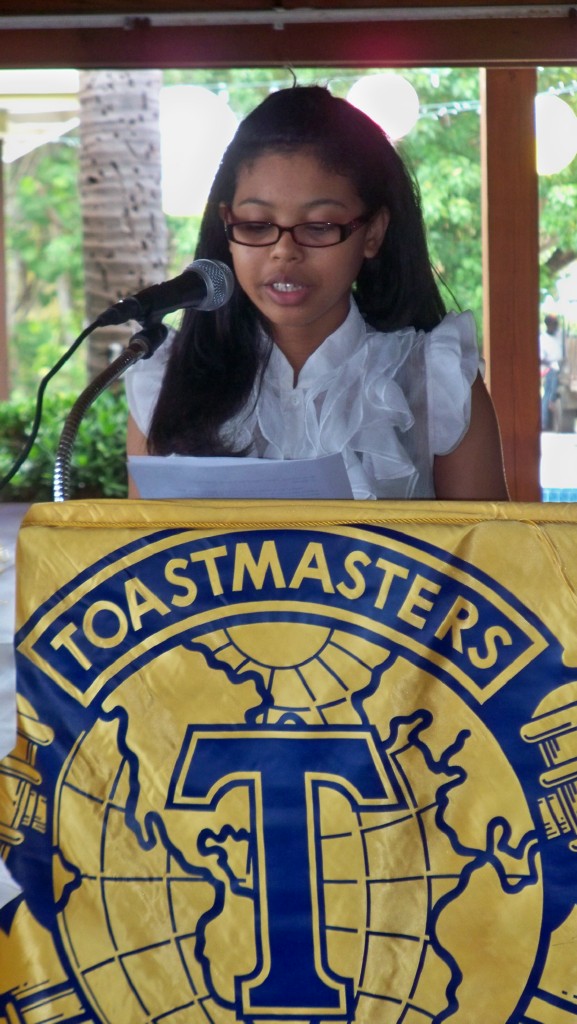 Some local elementary and junior high students have realized they need to improve their communication skills, so they are working on mastering the art of public speaking.
They are conquering their fears and building confidence through public speaking with the help of members of the St. Croix Toastmaster Club 933. Nine youngsters demonstrated their new skills Saturday giving three-minute, persuasive speeches on current events to peers, siblings and parents at the Palms at Pelican Cove.
The speeches chosen by the students were on topics such as abortion, student behavior, teen pregnancy, texting while driving and bullying.
Gabriella Passee, a 12-year-old student at Elena Christian Junior High School and program secretary, said the program has really helped her build self-confidence.
"I have learned to express myself and explain things in my own way with impromptu speaking," Passee said. She appeared calm and confident delivering a speech on gun violence.
The students gave up their Saturday mornings for the past eight weeks to learn how to give impromptu and prepared speeches as well as conduct table topics. At the Elena Christian library they honed their listening skills, elected officers, practiced leadership, conducted meetings and got a glimpse of parliamentary procedures. They also learned to think quickly on their feet.
Shadeem James, a 13 -year-old student at Elena Christian Junior High School, said he was always a talkative child, but he wanted to improve his English skills. He hopes the program will help him excel in other areas of school. His speech was on what the Toastmasters Leadership program meant to him.
The Toastmasters Youth Leadership Program took root when Gary Norman, a retired English teacher from Elena Christian Junior High School, mentioned to Abdul R. Ali, Toastmaster and local radio announcer, that students' speaking skills weren't up to par.
"We learn to speak before reading and writing," Norman said. "But we tend to overlook formal speech development that students need to be successful."
Toastmasters who took part in the program were John Farrell, Nissa Bailey, Ali and Devorath Elcock, president of the club.
"Public speaking is our passion and we want to share it with the community," Elcock said. "This is a fabulous program for students and a benefit to the community. We hope they will become ambassadors for the program." She added the program is something Toastmasters will repeat, targeting different youth organizations. Students were also from Pearl B. Larsen and Lew Muckle Elementary Schools.
The Toastmasters meet at Juan F. Luis Hospital in the third floor conference room the first and third Monday of the month beginning promptly at 6:30 p.m. and ending at 8 p.m.
Ralph C. Smedley founded Toastmasters in 1924 to train young men in public speaking and presiding over meetings. The word "toastmaster" referred to a person who proposed the toasts and introduced the speakers at a banquet. The club on St. Croix has been in existence for 28 years.