What would Father's Day on St. Thomas be without Frenchtown? Likely not near as much fun.
The annual celebration has gone on for 60-some years – nobody is quite sure, and it doesn't really seem to matter. The spirit continues undaunted.
The traditional Joseph Aubain ballpark parking lot venue was once again transformed into Father's Day Village, living up to its lively history with music, food, camaraderie. The event has been sponsored by the Committee for the Betterment of Carenage for the last 17 years.
Though fathers were the special guys of the weekend, the high point of Friday night was, of course, the traditional crowning of Miss Carenage of 2012, Christine M. Greaux.
The pretty Charlotte Amalie High School junior was crowned with her sparkling tiara handed over from Jessica Bute, Miss Carenage 2011, and placed on her brunette locks by Cheryl Francis, wife of Lt. Governor Gregory Francis. Quite a moment for a 17-year-old.
Greaux, now clad in a long green cape, was clearly very shy, but she spoke up and urged her subjects to enjoy themselves over the weekend.
Jean Greaux, CBC president, made a special presentation to Florie Magras, of the Frenchtown Community Center for her tireless work over the years, and the improvements made earlier this year when the center was officially named for the late Charles Magras, Florie Magras's nephew and stalwart Frenchtown community activist.
The venerable center is the focus of Frenchtown family life. "I can't even tell you how many weddings, anniversaries, birthdays, family reunions, Bastille Day celebrations we've had over the years," Magras said at the dedication.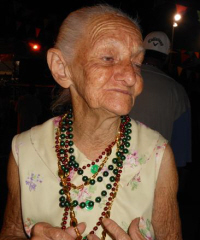 Lt. Governor Francis took Friday's celebration away from the distaff side and back to the men.
After speaking solemnly about the importance of fathers in the family and in the community, Francis asked that all the fathers in the audience step toward the stage. "Come on," he said. "Don't be shy. Step right up here."
"Now," he said, "you don't get any flowers or any chocolates. It's not Mother's Day. But you do get to have fun this weekend. Please, eat, drink, dance and enjoy yourselves."
The remark was taken seriously, and not just by the fathers. The entire community got down to the serious business of doing just what Francis ordered. Folks milled around the mini-carnival greeting one another, having a dance, a drink, a chicken leg, a salt-fish pate.
And Mardi Gras beads. What? Yes, those colorful beads. Julie and Derek Townsend were visiting with Ella Magras, a native St. Thomian transplanted to Louisiana. Turns out they are all in the same Mardi Gras troupe, but the Townsends had never been to St. Thomas.
"We came to see your celebration here in Frenchtown, where Ella is from," said Julie Townsend. She and their group got right into the spirit of things, distributing the beads to one and all.
In fact, the visitors got really into local life earlier in the day. Derek Townsend showed his swollen thumb. "I was feeding an iguana, and it bit me!" he said, albeit with a rather proud grin.
Following the ceremony, St. Croix Hartatak Band International took up the dancing beat, followed by Sweeta' Band.
On Saturday night, the festivities continue with Milo's Kings from 6:30 to 10:30 p.m., followed by the 2012 V.I. Carnival Road March Champions, Spectrum Band until 2 a.m.
Sunday at 6:30 p.m., CBC will issue prizes and awards to the winners of the annual Mother's Day Fishing Tournament which was held on May 20 and the 2012 Father's Day Fishing Tournament which took place on June 3.
The awards will be followed by Top Notch Band featuring Dr. Bernard Liburd, from 7:30 until 10:30 p.m., followed by Cool Session Brass out of Love City, St. John until 2 a.m.