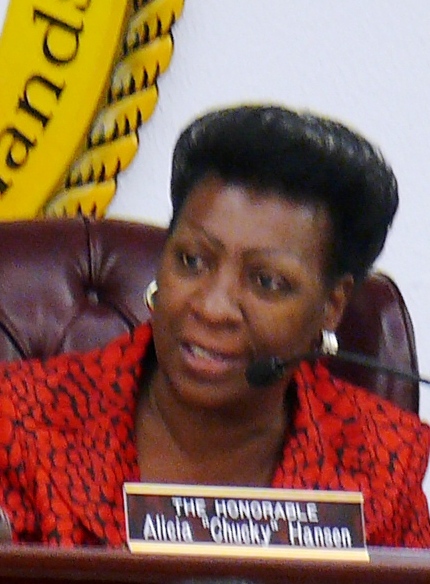 Big St. Croix festivities like Crucian Christmas Festival, V.I.-Puerto Rico Friendship week, V.I. Agrifest, Emancipation and D. Hamilton Jackson Day activities will be automatically exempt from the five-year-old V.I. noise pollution law if a bill working its way through the Senate becomes law.
Sen. Alicia "Chucky" Hansen, the bill's sponsor and chair of the Government Operations Committee hearing the bill Wednesday, said the measure was needed to ensure the law does not slow down or hinder major cultural festivals or tourist draws.
Crucian Christmas Festival President Davidson Charlemagne testified in support of the bill, saying police have been cutting off Christmas Festival shows and vendors at 3 a.m., when vendors could still be making money and many people still want to party.
"The all-night partying is what tourists are looking for," Charlemagne said.
Hansen asked legal counsel for clarification of the existing law, and Lisa Moorhead, with the Legislature's legal counsel division, said the current law appears to allow police to grant exceptions. Hansen asked Charlemagne whether getting exemptions from the police would suffice.
Charlemagne responded that St. Croix police do give special permits for Festival, but "the most you can get is like three o'clock, which is not sufficient." He asserted that St. Croix police shut down Festival at an earlier hour than St. Thomas police shut down V.I. Carnival.
Efforts to confirm with the V.I. Police Department whether there is a different policy on St. Croix than on St. Thomas were unsuccessful as of Wednesday evening.
While the bill, as currently written, only mentions St. Croix events, Charlemagne suggested it should be amended to apply equally throughout the territory, and Hansen said she would incorporate Charlemagne's suggestions in amendments for the next hearing.
The bill was held in committee due to the lack of a quorum. Present were Hansen, Sens. Terrence "Positive" Nelson and Alvin Williams. Absent were Sens. Celestino White, who is on medical leave, Ronald Russell, Janette Millin-Young and Usie Richards.