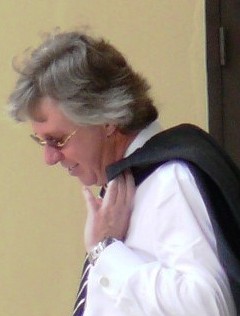 A federal judge entered judgment against Dawn Prosser on Tuesday for $214,000 her husband Jeffrey Prosser fraudulently directed his companies to give her after he filed for bankruptcy in 2006 and ordered a retrial on whether millions given to her before then were also fraudulent.
Prosser, formerly the owner of Vitelco and the two Innovative cable TV companies, has been in bankruptcy since 2006. His former companies, several homes and millions of dollars worth of personal possessions have already been seized and sold at auction over the course of the bitter, extremely protracted and contentious bankruptcy.
After a 2011 joint trial with two juries over two suits from court-appointed trustees for Prosser's personal and corporate bankruptcy estates, one jury decided Prosser himself fraudulently hid millions from his creditors by giving it to his wife. They awarded Prosser's personal creditors, represented by Chapter 7 Trustee James Carroll, $14.9 million in cash and millions more in jewelry and art.
The other jury, looking at different assets and under different jury instructions, concluded Dawn Prosser benefited from "certain transfers" of money from ICC (Prosser's former company), but that ICC as a company did not make the transfers "with actual intent to hinder, delay or defraud" creditors, and so Dawn Prosser did not have to return any money to ICC's creditors through its Chapter 11 Trustee Stan Springel.
Immediately after the two verdicts, Dawn Prosser's attorney Jeffrey Moorhead issued a press release announcing "a unanimous St. Thomas jury determined that the over $31 million in assets transferred by the ICC Companies to Dawn Prosser were transferred for fair value," and declaring the Prossers exonerated of all wrongdoing. Several area media outlets transcribed the Prosser press release, without referring to the actual court documents or the verdict against the Prossers.
Last June, Dawn Prosser filed a brief asking U.S. District Court Judge Juan Sanchez to override the jury that ruled against her and enter a different judgment "as a matter of law," citing Rule 50 of the Federal Rules of Civil Procedure. Two months later, the court rejected her motion.
Around the same time, Springel filed the same type of motion, urging Sanchez to override the jury that found other, unspecified transfers were not fraudulent, on the grounds that voluminous evidence of fraud presented at trial was never even disputed, much less refuted.
Sanchez said the law unambiguously defined any transfers made after declaring bankruptcy that are not authorized by the court or law as fraudulent, and the court did not properly instruct the jury to separate post-petition transfers.
"A trustee need only show that after the commencement of the case at issue, property of the estate was transferred and the transfer was not approved by the Bankruptcy Court or any provision of the code," Sanchez wrote in a memorandum explaining his ruling entering judgment against Dawn Prosser for $214,000 in post-petition transfers.
As for the millions Jeffrey Prosser directed the local telephone company give his wife before declaring bankruptcy, Sanchez ordered a new trial on the grounds that numerous indicators of fraud were unchallenged at trial, and no evidence was presented showing that Dawn Prosser gave any service of any kind to benefit the corporate debtors.
"At trial, Ingrid Christian established numerous transfers amounting to between $12.2 million and $31.8 million had been made by the ICC debtors on behalf of Jeffrey and/or Dawn Prosser," Sanchez wrote.
The company transferred $12.2 million in the two years before the bankruptcy, and $31.8 million since 1999, he elaborated.
While the jury found Prosser provided value to the debtors, "(Dawn) Prosser's own testimony belies this finding," Sanchez wrote. "At trial (Dawn) Prosser made clear that she did not provide any value to the ICC debtors, let alone "reasonably equivalent value" or "fair consideration." He said Dawn Prosser testified "only that she brought value to her marriage," by taking care of the household, and saying the residence had been used for corporate functions like dinners.
"The fact remains (Dawn) Prosser was never employed by the ICC debtors and never provided any services or value to the ICC debtors" Sanchez wrote, referring to the trial transcript. "The overwhelming evidence shows that while (Dawn) Prosser may have provided some value (which was likely for her husband's benefit only), she did not provide value to the ICC debtors in exchange for all of the transfers at issue in this case."
Numerous legal indicators of fraud were presented at court, such as the fact the transfers were to an insider – Jeffrey Prosser's wife – and showed no relationship to hours worked, services provided or any normal business practice, Sanchez wrote.
"Moreover, in addition to the badges of fraud … other evidence in the record suggests wrongful intent was behind the transfers," he wrote. "For example, nine days after a $56 million judgment was entered against Jeffrey Prosser, he and his wife executed a marital asset agreement…to "define their respective financial and property rights," he wrote. On another occasion, on "the date Jeffrey Prosser filed for personal bankruptcy, he transferred $480,000 to his wife," Sanchez wrote.
Saying these actions "highlight the state of mind of Jeffrey Prosser," Sanchez concluded the "overwhelming evidence indicates Trustee Springel showed several badges of fraud at trial sufficient to avoid transfers under the actual fraud provisions of the Bankruptcy Code and the applicable Virgin Islands law, only one of which (Dawn) Prosser disputes. For this reason, Trustee Springel is entitled to a new trial on these claims. "
The court has scheduled a status conference July 9 to schedule the new trial.