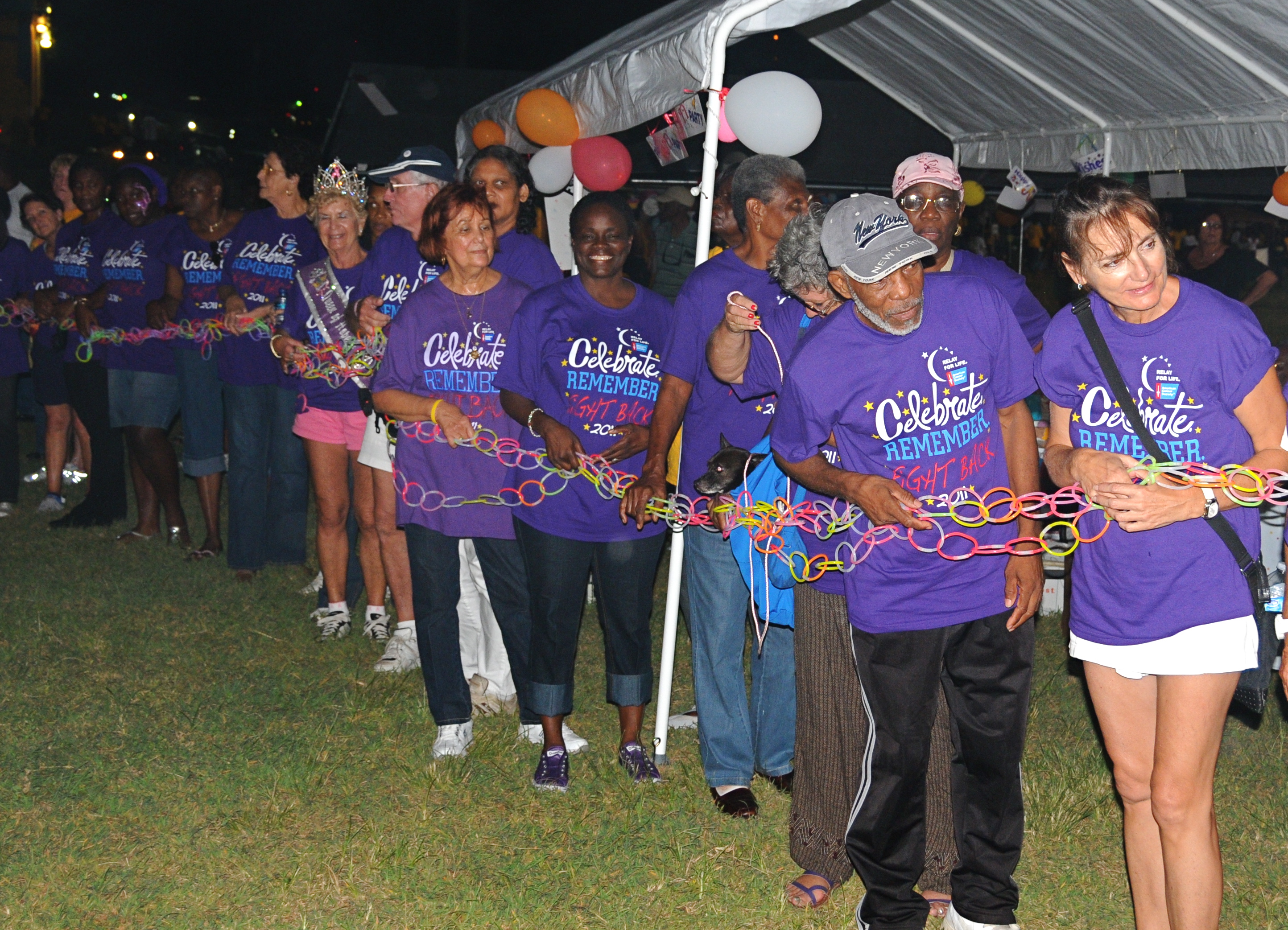 The St. Thomas-St. John Chapter of the American Cancer Society (ACS) will hold its Relay For Life 2012 on June 23 to 24 from noon on Saturday, June 23 through 6 a.m. Sunday morning, June 24 at the Charlotte Amalie High School track.
This is the eleventh annual signature event for ACS chapters throughout America and on St Thomas. What began as one man's effort in Tacoma, Washington, in 1985 has grown into a sweeping movement of people fundraising, donating, volunteering and walking or running a track for the duration of the event.
The CAHS track and infield is transformed into a Village of Hope with tents serving as teams' home-away-from-home where we celebrate, remember and fight back against cancer. Teams are comprised of fifteen members. Teams can be comprised of family members, friends, neighborhoods, church groups, schools, sports teams, government agencies and many more. Each team member commits to raising a minimum of $100 and to walking or running the track during the relay. Team registration is $150. Many teams raise significantly more than the $1650 minimum required. "Over the years, teams have raised upwards of $15,000 each; and it is thanks to teams, that we are able to raise the most significant portion of monies," said Jane DiCola, relay chair for 2012. "This year, our team goal is 100 teams and $200,000," she said.
DiCola said, "It takes a village, and I'm asking the community to reach into their hearts and pocket books in any way they can to help us reach our goal. Every dollar counts; and every dollar raised stays here, in our community."
The event begins with a welcoming program at noon. Survivors will then take to the track for the opening lap, followed by the teams who will continue to walk throughout the eighteen-hour event.
Entertainment, games and activities will be on hand for children, teens and the young at heart for the next eighteen hours. Many past favorite games will be enjoyed by visitors and teams alike. Our traditional favorites like tug-a-war, musical chairs and volleyball will all be available; and we're throwing in a few surprises too like a talent showcase, Bingo and a dominoes tournament with a 50/50 prize. Pay to Play and build up the pot for the winner and ACS.
The survivor dinner will be served in two seatings this year. The first seating is from 5:30-6:30 p.m. and the second seating is from 7-8 p.m. "Seating is limited, so we are encouraging survivors to RSVP as soon as possible," said Donna Phillip, survivor chair. "We will reserve dining on a first-come, first-serve basis." She continued, "we are committed to offering our survivors a fine dining experience, and this could not have been done without the help of our generous sponsors including International Capital Management and Company, the St. Thomas Restaurant Group, The Ritz Carlton of St Thomas and Merchants Market."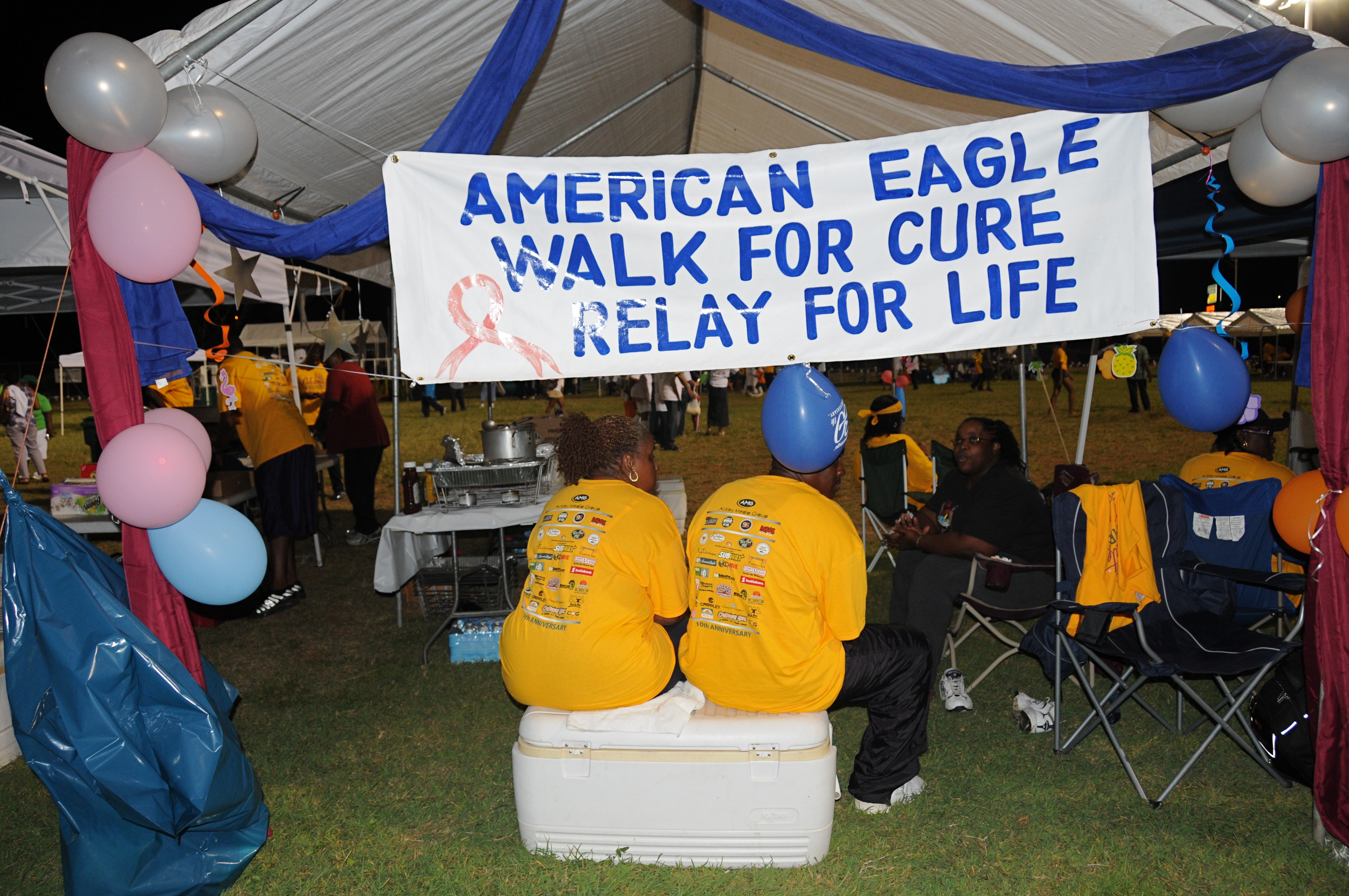 Following the dinner, honorary survivor speaker attorney Mac Davis opens the Luminary Ceremony at 9 p.m. followed by the Survivors' Victory Lap. The lights are turned off and the candles inside each luminary bag will cast a warm glow and illuminate the Relay Village. Everyone is encouraged to give a donation of at least $5 for a Luminary Bag "In Support Of" or "In Memory Of" as a tribute to somebody fighting cancer today or one who lost the fight.
Everyone is asked to honor, recognize and cheer on our survivors as they lap the field. This is the heart of every Relay for Life event; and why we relay," said Phillip. "Our registered cancer patients/survivors have doubled in number from last year. Significant monies are required for ACS to continue providing services and financial assistance to our patients."
Following the victory lap, the teams' continue to relay through the night. "Cancer doesn't sleep, and neither do we!" said Cheryl Miller, public relations chair for Relay 2012. Everyone is encouraged to visit the Health and Wellness Pavilion and discover a vast array of wellness options available to the community. Dedicated practitioners will be providing massage, reiki, reflexology and chiropractic services to name a few, for a small $5 donation for 15 minutes. Classes offered include yoga, tai chi, chi gong, R.I.P.P.E.D. and ZUMBA®
During the 18 event, all participants will enjoy a continuous flow of live entertainment, donated by talented, local musicians, singers and DJs. A new addition this year for visitors and/or teams is food and beverage on site throughout the event with mobile vendors just outside the track and vendor tents on the infield. "Many teams bring prepared food to the Relay Village, and we do expect that trend to continue, but we want to make sure that everyone can enjoy a meal should they choose," said DiCola.
"We aim to see first time visitors come back next year and the next as teams."
Relay For Life is planned and produced by volunteers. Every volunteer has willingly given his and her time and in many cases, donated monies to ensure a great weekend for the entire community.