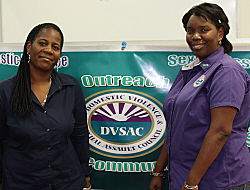 In a small classroom at the St. Croix Educational Complex, Darlene Springer and Natalie Joseph stall for time. They've been invited to the McKenzie's Way Women's Symposium to give a lecture about teen dating violence. Their slideshow is loaded and ready to go, but they have almost no audience. Only two girls have shown up to listen—the rest opted to attend the symposium's other workshops in belly dancing and cupcake making.
The women tell the girls they're going to wait a few more minutes to see if anyone else shows up, but they know it isn't likely. Who would want to talk about domestic violence when they could have cupcakes instead?
Springer and Joseph are used to this. Even under the best circumstances, their subject matter is a tough sell.
As representatives of the Virgin Islands Domestic Violence and Sexual Assault Council, it's their job to educate people about issues most prefer to ignore: spousal abuse, rape, and stalking.
"A lot of people don't think about domestic violence as a serious issue, but we need to understand that it is, and it's actually spilling out into the community," Springer says. "If you have any kind of violence or abuse that's happening in your home, in some kind of way it's going to affect you."
Springer and Joseph argue that a healthy family or relationship is essential to the health of an individual. Beyond the physical injuries suffered from spousal abuse, there are deeper psychological wounds that do not heal easily.
They say that research has found that children who suffer or witness abuse in the home are more likely to develop any number of issues, such as emotional problems, violent tendencies, or promiscuity.
Springer and Joseph make their case with a torrent of depressing statistics: one in four women suffer abuse at some point in their life; 700,000 rapes occur every year in the U.S.; 68 percent of young women who suffer rape know their attacker as a boyfriend, friend, or acquaintance.
But as strong as their argument is, it means little if people aren't willing to listen. Domestic violence occurs regularly in the territory, and often the victims do not speak out and neighbors are quick to turn a blind eye.
"I think it's about fear," Joseph says. "They're afraid, I guess, that if they say something, they'll be judged."
Joseph remembers once when she was a child, her mother got fed up of hearing their neighbor being beaten by her husband and called the police. Afterwards, the woman cursed her mother and told her it was none of her business. Joseph can't stand this mentality.
"It involves a whole community if there is violence. It involves everybody," she says. "Even if you're not the one being abused, you're hearing it and it's affecting you mentally. Your children might see it and they're thinking 'Hey, I can do that because they're doing it."
"A lot of people do not think about domestic violence as a crime. They think it is a family issue, so the family has to deal with it," Springer adds. "But it's a serious crime, because there are a lot of people who die from domestic violence."
Springer and Joseph would love to get their message to everyone in the territory, but they can't go around busting down doors. Ultimately, they can only present at venues where they've been invited, and even then, the crowd isn't always welcoming. In the years they've worked for DVSAC, Springer and Joseph have been accused of being troublemakers, home-wreckers, and even lesbians, but they keep preaching anyway.
They say that most of their work is done in the schools. They present to kids as young as kindergarten, teaching them the difference between good and bad touching. They say that by middle school, many of the kids they reach are already sexually active. By high school, they're encountering all the issues they see in abusive adult couples.
Springer says that it can be hard to get through to these kids, especially when their parents are committing or condoning violence in the home.
"Who are they going to listen to?" she asks.
Springer and Joseph say that ultimately for their message to permeate the community, everybody has to be onboard, especially men.
"If we have men on our side, I think we can push this issue farther. But it's kind of hard culturally, the way our culture is," Springer says.
She explains that when men speak out against violence towards women, they are sometimes labeled as soft, gay, or a rat. Other men accuse them of being "on the women's side."
Springer says she understands the challenges to speaking out, but thinks it takes a bigger man to take a stand.
"We need men to believe that domestic abuse is wrong," she says. "That there is no excuse for domestic violence, there is no excuse for sexual violence, there is no excuse for child abuse, that there is no excuse for bullying."
More than anything, they just want the silence to stop. Joseph offers simple advice to anyone who is the victim of or witness to abuse:
"Tell anyone who will listen to you. Tell, tell, tell."
At the symposium, no one else turns up to listen to Springer and Joseph's presentation, so they decide to get started. They're disappointed, but as they get to know the two girls in the audience, they find reason to be hopeful.
One of the girls had already been to one of their presentations and found it interesting enough to come back with a friend. It isn't a huge success, but if their message reaches even two girls, they believe it's worth it.
In a fight this hard, they'll take every little victory they can get.