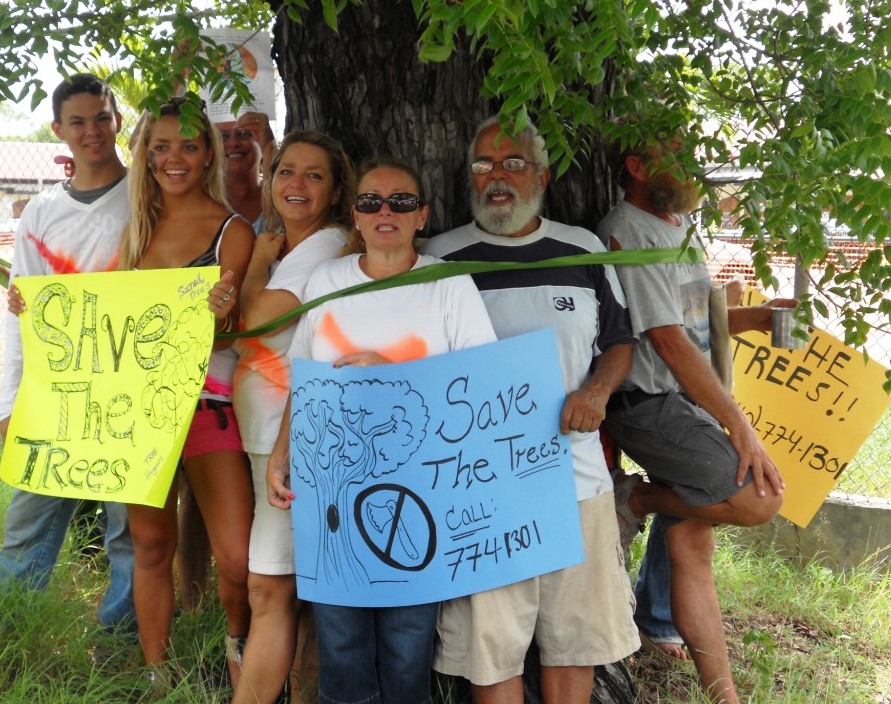 Five centuries-old mahogany trees lining the Havensight Mall entrance were condemned to death by the Department of Public Works and are scheduled to be cut down this week during the wee hours of the morning.
More than a dozen demonstrators and hundreds more pedestrians and drivers protested the tree removal in front of the Havensight Mall on Thursday afternoon until well after midnight. Public support was phenomenal as drivers honked and some even parked to help. Children cheered from the backseats as adults expressed surprise that they were not better informed.
Sandy Sturner, a Havensight stakeholder, was surprised to learn of tree-removal plans, stating that shop owners and other stakeholders were told no trees would be cut.
"We've lost so many mahogany trees on this island," Sturner said. "They keep using the same excuses. The tree roots damage the roads, but you drive through Havensight and you don't see any road damage."
Construction workers stopped to watch as car horns drowned out the noise from the bulldozer.
Sen. Craig Barshinger, who spent nearly an hour pleading with managers and engineers to put a hold on the project, said that the crew and Public Works did not expect protesters to gather the support they did from the community.
"It's just the way things are done around here, in the middle of the night when no one knows," said protestor Karen Bhandari. "But we're here now."
The exact number of trees to be removed is impossible to tell at a glance. Several healthy trees were wrongly marked for death with a giant orange X.
The trees, explained demonstration organizer Robyn Bitterwolf, are ill according to Public Works, but protesters have not been able to get any information on specific diseases.
"No one can imagine what these trees will see in their lifetime," said Bhandari. "Who are we to decide what stays and what goes?"
Others were not as supportive as they complained of traffic jams and hour-long drives to work, which ultimately decided the fate of the mahogany trees.
"We need more space for cars; that's the mentality," said demonstrator Margit Kanstrup. "We should be embarrassed."
A worker who did not want to be identified confirmed that not all of the trees scheduled to be removed are diseased, they are simply in the way of a road expansion project.
The project calls for the removal of five trees near the main entrance of the mall. The expansion will allow a smoother flow of traffic and Public Works, according to another unnamed worker, predicted that it will boost the tourism market.
"What's more important than our natural beauty?" Bitterwolf asked. "That's why [tourists] come here."
Tree removal near the Havensight and Yacht Haven Grande area is not new, and activists are typically on the losing side of this long-standing debate. In 2008, trees were removed along Long Bay Road. As promised, new trees, though not mahogany, were planted in their place.
"I want these trees to be around for my children and my children's children," said Cassandra Bitterwolf, the 16 year-old daughter of Robyn. "My mother raised me to be supportive of the environment. What are we teaching children if we destroy it?"
Calls were not returned to find out what diseases the mahogany trees have. Those gathered hoped to appeal to Public Works Commissioner Darryl Smalls, but he was not present nor was he available for comment.
Call Smalls at 776-4844 or e-mail him at darryl.smalls@dpw.vi.gov to assist in saving the trees.