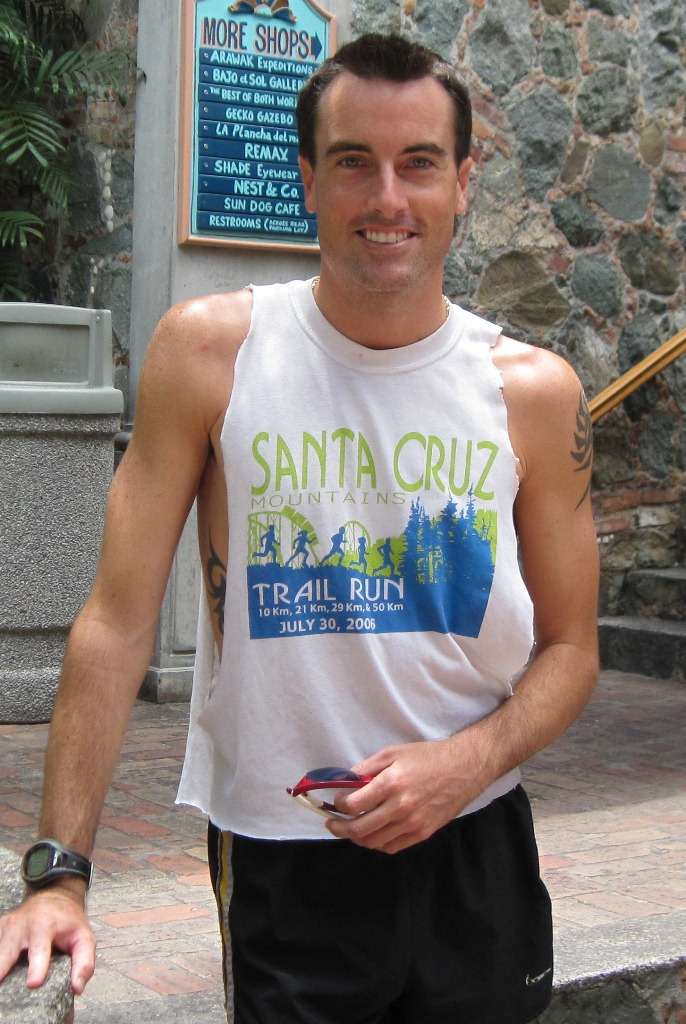 Jeremy Zuber, 31, is probably the faster runner on St. John. He's won the 8 Tuff Miles race six times, capturing third place in 2011 and 2012.
"I'd like to win two more to make it eight 8 Tuff Miles," he said.
It might be tough. As the event grows, the level of competition from the mainland increases and the field gets faster and deeper. His fastest time was 49 minutes, 23 seconds but he'd like to beat that.
And Zuber said he's finding that new priorities are cutting into his training time.
He's the front office manager at Caneel Bay Resort, in charge of resort necessities like the bell stand, the airport lounge and front desk. It's a career he loves but one that began by pure happenstance. Zuber said he was headed down the wrong path in his hometown of Des Moines, Iowa, when he was asked to leave private school. He learned perseverance at public school when he went out for basketball. He stuck it out even when things weren't going well, and his ability to run fast eventually brought him to the attention of the track and field coach.
He ran various disciplines for the rest of high school and on to William Penn University in Oskaloosa, Iowa. His track and field success led him to a scholarship at Mid America Nazarene University in Olathe, Kan., where he graduated in 2003 with a degree in computer science.
The summer before his senior year, he perused the school's bulletin board listing summer jobs. He landed one as a dishwasher in the staff dining room at Jackson Lake Lodge in Grand Teton National Park, but overslept while driving to the resort. When he arrived the human resources office was closed. He went in the next day only to find the job was taken.
While waiting in the office to see what else would materialize, staff from the park's four-diamond Jenny Lake Lodge showed up looking for a bellman because one just left.
Zuber got the job and made the most of the opportunity. He said he helped wherever he could, learning the resort's operations.
"I decided I really liked it," he said.
As his senior year in college neared its end, he got a call from the Jenny Lake manager asking him to return. It was seasonal work, but as the season drew to a close he saw an advertisement for a seasonal concierge job at Caneel Bay. He arrived in November 2003 to torrential downpours, floods and other mayhem that happened when a weather system sat over St. John for about a week. Things were chaotic at Caneel Bay, he said.
"All I imagined was sunshine and running every day," he said.
Instead of giving up and going elsewhere, his experience told him to wait it out until the sun shone for at least a week. The sun did come out and Zuber thrived at Caneel. For the next few years, he returned to Jenny Lake Lodge, heading off to get more experience at a Florida Resort in 2009. He returned to a full-time job at Caneel Bay in 2010.
"Every day is different. Every guest is different. Every situation is different. There is no monotony whatsoever," he said.
He's a busy person, spending spare time with his partner, Michelle Weisman, watching football and basketball, caring for his two cats, reading, snorkeling, and enjoying St. John.
As for his future, he's planning to stay in the hotel industry and keep on running.
"And write a book about the hotel business," he said.