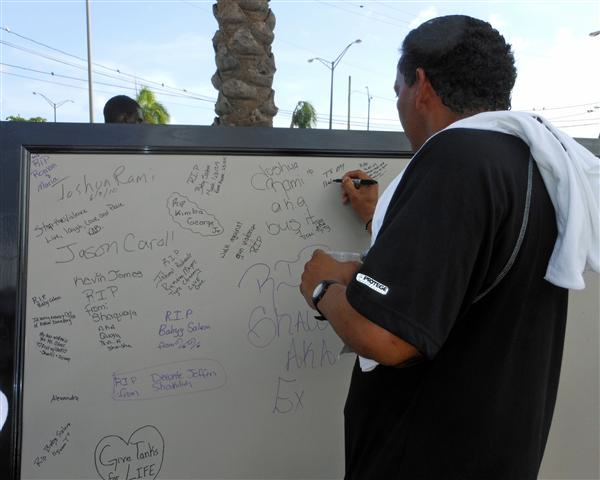 Some 600 runners charged down Veterans Drive Sunday afternoon, taking part in the ninth Walk/Run Against Gun Violence.
The two-mile course weaves through Frenchtown to Addelita Cancryn Junior High School and back.
The participants were running to honor the memory of 18-year-old University of the Virgin Islands freshman Jason Carroll, who lost his life to gun violence 12 years ago, on a nearby downtown street.
Jason was the son of Celia and James Carroll, who since their loss have the been the voice of the community in their efforts to combat gun violence. Celia Carroll felt bringing the community together to nurture one another while fighting gun violence would be her path to heal the loss.
Months after their son died, Celia Carroll started a chapter of Mothers Against Guns (MAG) in the Virgin Islands, with James' full support.
Celia and James Carroll together established the Jason Carroll Memorial Fund, which offers scholarships to high school seniors planning to attend the University of the Virgin Islands. Proceeds from the run and from sponsors help to fund a first-year, full-tuition scholarship at UVI for a Virgin Islands high school senior.
The celebration keeps growing each year, bringing more and more participants of all ages, from toddlers to senior citizens and everyone in between. This year Carol Callwood ran with her white bijou terrier, Cotton. At least 11 schools challenged each other, including Ulla Muller Elementary, Bertha C. Boschulte Middle, Charlotte Amalie High School, Joseph Gomez Elementary, Montessori, Ivanna Eudora Kean.
Other groups taking part included the Junior Firefighters, V.I. National Guard, Fintrac, First Bank and the District Court.
Music was added this year with the Seventh Day Adventists School Drum Corps greeting the runners, drumming up a storm while dressed in blue Stop the Violence T-shirts.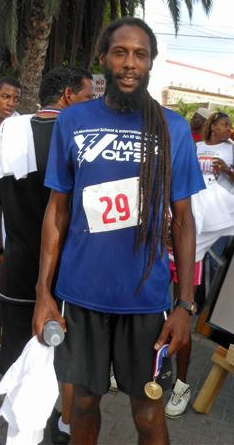 Another first this year was a memorial board made by volunteers of My Brothers Workshop, a not for profit program run by Scott Bradley to provide disadvantaged young men with developmental opportunities and training. Bradley said about six of the young men had been helping set up the race since early today.
The handsome memorial board began to fill immediately with heart-breaking messages: "RIP Baby Salem," "Stop the Violence, live, laugh, love in peace."
A grim reminder of the violence hung from the gazebo across the way, a print-out of the territory's 43 homicides in 2011.
University of the Virgin Islands professor Leroy Todman stepped away from the board.
"I just left a message to one of my former students, Stephen Hodge," Todman said. "You may remember he was a policeman killed in a shootout at his home years ago. He was a good student, a good musician, a good man."
Shane Degannes, Montessori School and International Academy nurse and athletic director, won overall. While wiping off, before the ceremony, he said, "I really shouldn't have run today. I have a cold and my wife is having fits, but I've won every race on the island this year, and this the year's last race. I don't know my time yet, but it was 11something. As long as it's 11, it's ok."
Speaking before the ceremony, Celia Carroll looked back on the first race nine years ago.
"Remember," she said, it was about 150, and then a lot of people didn't come because of that day's rain. But it didn't rain here!"
Carroll takes no credit for her unrelenting efforts to help the community in facing the gun threat.
"You know, it's God," she said. "He speaks and I volunteer to do his work. We cannot tolerate the violence. I have to tell that to the community, and look at this crowd today. They are listening."
She said the Seventh Day Drum Corps came to her to volunteer. "I didn't approach them," she said. "They came to me." With a laugh, she said God must have been listening.
Carrol began the program in Emancipation Garden by asking all the participants to take a pledge against violence, never to bring a gun to school or work or use a gun to settle a dispute, a pledge she repeats each year. Police Chief Darren Foy read a proclamation decrying the violence.
This year's scholarship recipients are two students from Charlotte Amalie High School, Khalid Mills and Denesha Babrow.
Top finishers in each of the divisions follow.
MALE 6 & Younger
D'Von Mills 34:15
Enoch Hood 37:15
Noah Klel Espeso 39:25 '
MALE 7 – 12
Isaiah Adrouey 14:12
Leodanis Matos 15:
Tymarri Lee 15:44
MALE 13 – 15
Ateniah Roacher 12:02
Lukata Samuel 12:
Andre Ripley 13:50
MALE 16 – 19
Malik Todman 13:48
Simon Lawrence Jr. 13:53
Davidson Henry 13:
MALE 20 – 29
Jamen Descartes 13:37
Mikael Doumeng 13:51
Alberto Benjamin 13:56
MALE 30 – 39
HL Freyn 13:17
Paul Adjodha 14:45
Louin Chung 16:15
MALE 40 – 49
Jason Cohen 14:04
Moses Carty 14:28
Eric Brown 14:35
MALE 50 – 59
Ted Stuart 16:51
Henry Varser 17:30
Keith Chambers 18:
MALE 60 & Older
Roi Simmonds 19:12
Neville Gonsalves 26:57
Leroy Trotman 29:30
FEMALE 6 & YOUNGER
1. Patrice Hanley 35:30
2. Jasmine Hood 37:18
3. Alia Elliot Nadal 39:06
FEMALE 7 – 12
1. Consuela Hood 17:49
2. Alexandria Midler 18:58
3. Audrey Moore 19:15
FEMALE 13 – 15
1. Akeiba Barnard 28:45
2. Thaina Garcia 28:49
3. Dinelle Cadette 28:56
FEMALE 16 – 19
1. Diandre Capdeville 19:28
2. Mikel Maccou 20:36
3. Cleola Felix 20:48
FEMALE 20 – 29
1. Ashley Benson 14:16
2. Allison Bourne Vannek 16:22
3. Kristen Tartaglia 16:59
FEMALE 30 – 39
1. Kari Burton 16:19
2. Anne Marie Hoffman 17:52
3. Rachel Miller 18:06
FEMALE 40 – 49
1. Simone Francis 16:31
2. Monica Midler 17:32
3. Monique Simon 18:01
FEMALE 50 – 59
1. Kim Bourne Vanneck 27:22
2. Ethlyn Phillip 29:52
3. Gayle Deller 32:20
FEMALE 60 & OLDER
1. Shaun Penninington 29:07
2. Maudlyn Howard 30:47
3. Rochelle Trotman 33:54
OLDEST PARTICIPANT: Luis Esquilin 37:14
YOUNGEST PARTICIPANT: Jasmine Hood 39:06