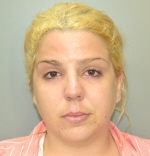 Police on St. Thomas arrested Denielle Arthur and charged her with grand larceny Saturday for stealing jewelry and trying to fence it at a cash for gold business, according to the V.I. Police Department.
Police said in a statement the 20-year-old female took several pieces of gold jewelry from a home in the Paul M. Persons Gardens apartments and traded them for cash at the Gold Center and Cash Express in Sugar Estate.
She was placed on a $35,000 bail and remanded to the custody of the Bureau of Corrections pending further court action.
The VIPD reminded businesses that they must have proper licenses to do business as a cash-for-gold trader. Recent changes to V.I. law stipulate all customers trading cash for gold must present a valid identification. A copy of the customer's identification and a photocopy of the gold traded must be immediately forwarded by the business to the VIPD in your respective district.
Businesses are required to hold the gold items for a period of ten days to allow VIPD to determine if the items were stolen. All businesses purchasing gold for cash must follow these rules.