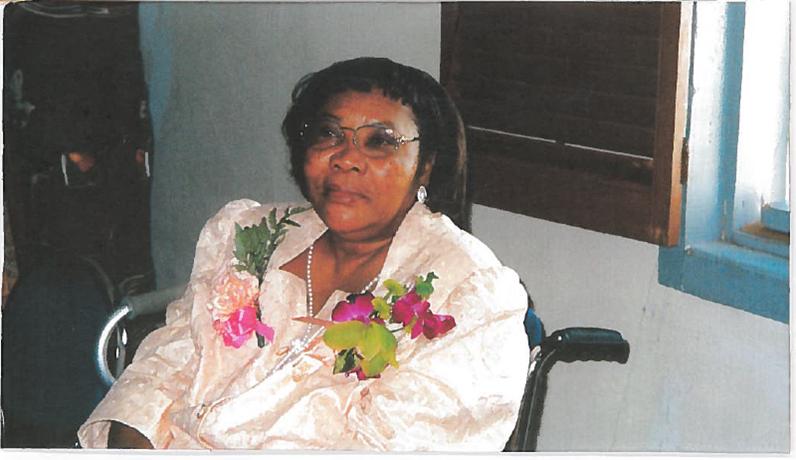 Gretta Naomi Petrus was born
Oct. 27, 1939 and died April 10, 2012.
She is survived by daughters:Alecia Thomas and Felecia Thomas; sons:
Allison "Allie" Petrus and Neal Alphonso Petrus; grandchildren:Jacqueline George, Ki-Yanna, Kelly-Marie, Ryan and Ari-Yanna Petrus; great-grandchildren: La'Coya & La'Toya Roberts and Isiah George-Thomas; daughters-in-law:Beverly and Tina Petrus; sisters:Shirley Callwood-Hodge, Pauline Callwood-Hodge, Laverne Callwood, Cheryl Callwood-Richards, Marilyn Thomas and Vivian Dawson; brothers:Danley Callwood, Junior "Top" Callwood and Melvin "Sunny" Callwood; sisters-in-law:Muriel Hodge-Callwood and Vinnetta Pinney-Callwood; and brother in-law,Henry "Trouble" Richards Sr.
She is also survived by nieces:Carmen Bowry, Jacqueline Callwood-Jacobs, Joycelyn and Nefertiri Callwood, Debra, Charmine, Nicole and Akima Hodge and Dalleeka Fredericks; nephews:Dorn and Daney Callwood, Kelvin, Delvin and Selvin Hodge, Henry Jr. and Hasheem Richards, and David Fredricks; uncles:Glandwell, Alfred, Simon and Herman Christopher; aunts:Daisy Vegas, Maria Christopher-Dawson, Rubena Christopher-Harrigan and Ishma Christopher; great uncle,Norward Percival; godchildren
Leroy James and Delrease McTavious;
great nieces and nephews: Demarcus, Ashia, Chamillia, Asiah & Kishouri G. Hodge, Kellisha Lettsome, D'Aysia Freeman, Makimba Martin, Jermery and Anesha Frazer, Kateacha Bellmany,
Chiara & Chamisha Cole, Denae' KaTeacha, Keia, Jalen and Dana Callwood, Kemoi Richards, J'Nye Thomas Sr., Murray Jr.,
J'Neil Sr., J'Keil and J'Eminee Jacobs; and great-great nieces and nephews:
Tiean Martin, Ka'Myah Lettsome, J'Nye Thomas Jr. and J'Neil Jacobs Jr.
Other survivors include
special friends:Helena Hobson, Lydia Pond, Joseph "Herbie" Carty and family, Millicent Rivera, Adolphus Maynard, Carlo Woods, Gwendolyn Donovan-Lawrence, Iris Thomas, Judith Felix, Calvin Henley, Verhona "May" Reid, Evelyn Foy, Lyda Callwood, Yira Abuain, Jevon Brooks, Elias Charleswell, Mildred Liburd and Helen Emanuel; as well as other relatives and friends too numerous to mention. pallbears:Henry Richards Jr., Dorn Callwood, Daney Callwood, Urdley Smith, Keith Richards and Ivan Hobson; honorary pallbears:Allison "Allie" Petrus, Neal Alphonso Petrus, Carlo Woods, Calvin Henley, Henry Richards Sr., Danley Callwood, Junior Callwood, Melvin Callwood, Carlton "Ital" Dowe, Leroy James, Adolphus Maynard, Gregory Charles, Andre Vegas, Gregory Charles and Herbie Carty; ushers:Cheryl Richards, Laverne Callwood, Sezilee Callwood and Lenecia Smith.
There will be a first viewing held from 5-7 p.m. on Thursday, April 19, at Davis Funeral Home. There will be a second viewing held at 9 a.m. followed by a funeral service at 10 a.m. on Friday, April 20, at Memorial Moravian Church, Norre Gade. Rev. Dr. Winelle Kirton-Roberts will officiate. Interment will be at Memorial Moravian Cemetery, Hospital Ground.
All arrangements are by Davis Funeral Home, 774-1464.