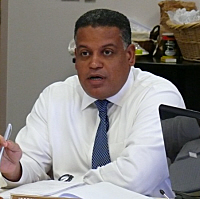 Joseph Boschulte said he's anxious to get to work at one of the territory's lead agencies for tourism, the West Indian Company. His new job as president and chief executive officer begins May 1.
WICO board chairman St. Clair Williams announced the appointment in a written statement earlier this week. The position pays $180,000.
Boschulte is replacing Edward Thomas who retired in June after 17 years as the head of WICO. Thomas was the first CEO at WICO after the Virgin Islands government acquired it. Andrea Smith, Vice President and Chief Financial Officer, has been the acting president and CEO since Thomas left.
"My objective going in is to take something that is very good and make it even better," Boschulte said. "I'll work with the staff there to refine things and polish what we have to offer."
He is leaving his job as chief financial officer at the V.I. Water and Power Authority to take the top slot at WICO.
"It's a mixed feeling for me," he said. "I enjoyed the challenge of being financial officer for WAPA." He said improvements the authority is making now will result in lower costs and improved reliability in the coming years.
Boschulte's roots are deep in St. Thomas. He is a graduate of Charlotte Amalie High School, and has a bachelor's degree in business administration for the College of William and Mary and a master's degree in business administration for the University of Virginia.
He worked many years on the mainland, including for Wachovia Securities and the Bank of America, before returning to St. Thomas in 2003.
He spent several years as Vice president of Institutional Advancement for the University of the Virgin Islands, and then was CFO for the Government Employees Retirement System. His community service included serving on the Public Services Commission before he worked for WAPA.
WICO operates and maintains the territory's largest cruise ship port and also manages the adjacent Havensight Mall, which is owned by GERS. WICO is owned by the Public Finance Authority.
Boschulte noted that St. Thomas is blessed with a deep harbor and other amenities that attract a healthy cruise ship trade. But, he said, "We can't rest on what we have today."