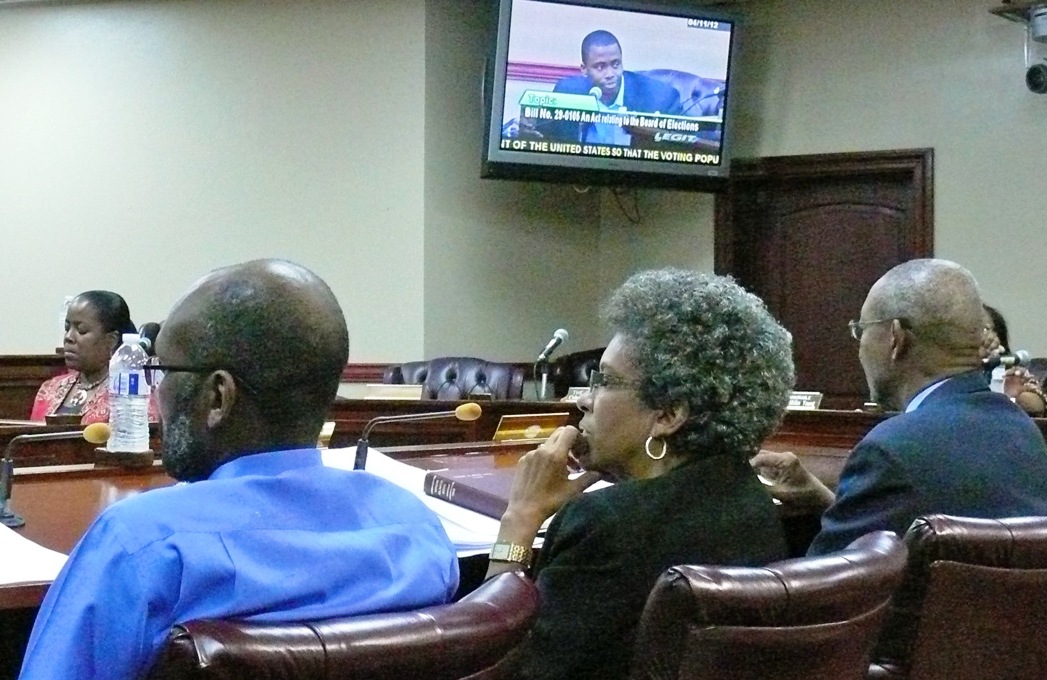 Senators will be elected to a combination of island-based and at-large seats, but still district-based seats, if a bill approved by the Government Operations Committee Wednesday becomes law.
The measure, proposed by Sens. Usie Richards and Ronald Russell, would allocate four seats to represent St. Thomas, another four for St. Croix and one for St. John. Those nine seats would be elected solely by the residents of the respective island.
Six more seats would be elected by V.I. voters at large, but three would have to be bona fide St. Croix residents and the other three bona fide St. Thomas or St. John residents.
St. Croix Board of Elections member Lisa Moorhead said she was concerned the bill might violate the legal principle of one person-one vote. "The way the bill reads, you could have four senators from St. John," said Moorhead, who is also an attorney and code reviser for the Legislature.
St. Croix Board of Elections Chairman Rupert Ross suggested the problem might be avoided by changed the wording so at-large candidates would be residents of the islands, rather than specifying districts.
Voting to send the bill on for consideration in the Rules and Judiciary Committee were Richards, Russell and Sen. Terrence "Positive" Nelson. Sen. Alicia "Chucky" Hansen voted nay. Sens. Janette Millin-Young, Alvin Williams and Celestino White were absent at the time of the vote.
The committee also approved a bill from White and Sen. Neville James, changing several aspects of election law. If enacted into law, their bill would:
– clarify the rules for using paper ballots;
– remove the requirement that candidates for office take a leave of absence from government employment during the election campaign;
– remove the role of the V.I. Attorney General as legal counsel to the boards of elections and require the boards to find independent legal counsel;
– clarify that political parties must finance and carry out their own primaries, with the V.I. Joint Boards of Elections certifying the process;
– and require voting machines be certified by the U.S. Elections Assistance Commission according to the terms of the U.S. Help America Vote Act of 2002.
A bill from Sen. Janette Millin-Young to move partisan primary elections up a month, to the first Saturday in August, also got the thumbs up from the committee. The measure is necessary to comply with the federal Military and Overseas Voter Empowerment Act, which requires absentee ballots be transmitted at least 45 days before the general election.
Bills to hold a referendum on how to elect senators and to include presidential candidates on the general election ballot as a symbolic vote were tabled indefinitely.
The items approved by the committee will now be considered and amended by the Rules and Judiciary Committee and, if approved there, ultimately voted up or down by the full Senate.