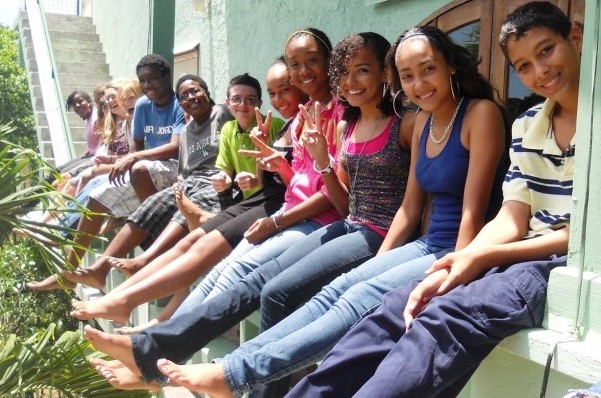 Nearly 150 students at the V.I. Montessori School and International Academy walked barefoot to classes on Tuesday in observance of One Day Without Shoes. This is the second year students at the academy have joined the movement.
On this day all over the world, supporters go barefoot to school and work, learning what it's like to walk around with unprotected feet.
Academy teacher Courtney Jenkins said it's mostly older students who are going barefoot the entire day, but the whole school is participating.
This is a significant international event, Jenkins noted. There are different levels of participation everywhere, but some groups get really involved, stepping in puddles and litter and using public restrooms, she said.
Sophomore Kayla Clendinen, vice president of the Interact Club which sponsored the event, said the project is important because it's "needed not just around the world, but right here at home."
Students were eager to get out in the community and show fellow islanders how to give back in small doses.
Eighth-graders Kiyalyn Bump and Nika Pearl-Edwards said they felt privileged to be a part of the movement.
Jenkins said, "They have this unwavering desire to help their community. It's innate, almost instinctual for them."
The school collected about 100 pairs of shoes during a month-long shoe drive before the One Day Without Shoes action. All items were donated to the local Salvation Army.
One Day Without Shoes was created by TOMS Shoes to increase awareness about illnesses and disadvantages for those who do not have shoes. The company began making simple canvas shoes and donating a pair for every pair sold.
TOMS Shoes has stations all around the world where they give shoes mostly to children, Jenkins said. The children they donate to are susceptible to countless infections from things like hookworm, debris and soil-based diseases.
Most schools also require shoes, keeping some children from attending.
"Education opens the door for so many opportunities," Jenkins said, "and children being denied the opportunity to go to school because they don't have shoes is disheartening."