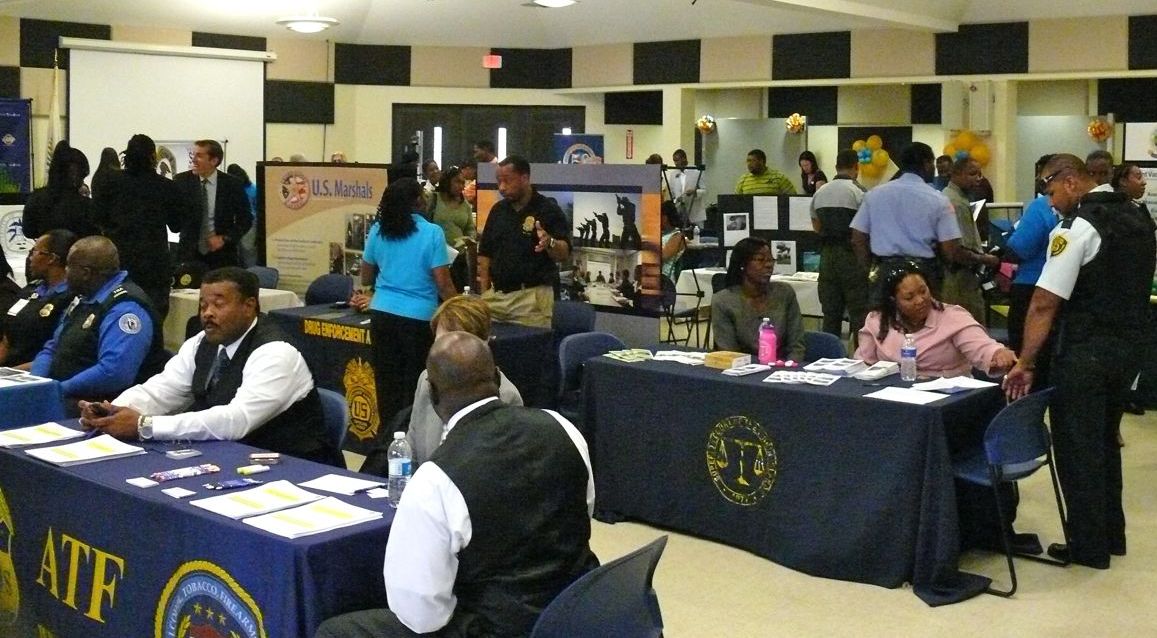 Despite government layoffs and bad employment news, the V.I. Police Department and V.I. Bureau of Corrections are hiring now and many good law and law enforcement careers await students who start planning now, students learned at the University of the Virgin Islands' Law Enforcement and Law School Career Day held Wednesday.
Another career day, with a broader range, is scheduled April 11.
Hundreds of high school and UVI students and other interested young men and women on St. Croix came out and spoke with recruiters from a dozen law schools and more than two dozen local and federal agencies at the career day.
Schools and law enforcement agencies both emphasized the importance of planning for a career, rather than simply looking for a job.
U.S. Attorney for the Virgin Islands Ronald Sharpe was there with James Latham, law enforcement coordinator with the U.S. Department of Justice, talking with attendees about potential careers in federal law enforcement.
While the U.S. Department of Justice has a hiring freeze on right now, the freeze is not absolute, so in some cases there may be openings for agents and other positions, Sharpe said. But his aim Wednesday was more to present a public face, answer questions and help educate the public about what his office does, and to try to instill in young men and women the notion that they need to begin thinking about their future careers now, even while still in high school.
"It is better to think now rather than later about the background checks you will have," Sharpe said. "You have to be careful and think about who you choose to associate with, what they are doing and how that will reflect on you later."
Going to college and getting a degree is critical to most federal law enforcement jobs, he said, so it is important to prepare now.
Local law enforcement prefers a college degree too, but a high school diploma meets the minimum requirement, said Catherine Mills, an organizer of the career day and deputy director of the Puerto Rico-U.S. Virgin Islands High Intensity Drug Trafficking Area.
The V.I. Police Department and V.I. Bureau of Corrections were also on hand, and both agencies have openings right now, despite government layoffs in other areas. Information and applications can be found at the V.I. Police Department and at the V.I. Department of Personnel websites in the related links below.
Recruiters from the New York Law School, Northeastern University School of Law, Ave Maria School and many others manned tables, answering questions about what it takes to get into law school and how to prepare.
Every school also had a representative from admissions ready to take information and sending registration packets to students, said Lurlene Barry, assistant director of admissions and financial aid at New York Law School, who coordinated all the law school participation in the career day.
Barry is heading up efforts at increasing diversity at New York Law School, and the territory represents good hunting grounds for hers and other schools – which can translate into opportunities for local students.
"V.I. students are eligible for federal loans, which makes it easier for students from here as opposed to other places in the Caribbean," Barry said.
Members of the public who are searching for a career path, who are between careers or who are open to taking their lives in a new direction are invited to attend a more general career fair from 10 a.m. until 5 p.m. April 11 in the Great Hall on UVI's St. Croix campus.
Representatives from more than 30 St. Croix employers, including the Federal Bureau of Investigation and the military will be on hand to answer questions, give advice and offer career options.
"Coming with a resume is a good idea," said UVI Counseling Supervisor Patricia Towal in a statement from UVI.
UVI English professor Dr. Alexis Walker will provide free resume reviews from 10 a.m. until 2 p.m.
Among the businesses and organizations that will be represented are Banco Popular, the U.S. Marine Corps, the U.S. Air Force, the V.I. Police Department, the V.I. Waste Management Authority, O'Neal's Transport, Lutheran Social Services, the V.I. University Center for Excellence in Developmental Disabilities, the UVI Community Engagement and Lifelong Learning Center, The Buccaneer, Marshall and Sterling Insurance, GC Investment Management, Mary Kay and BizVI.