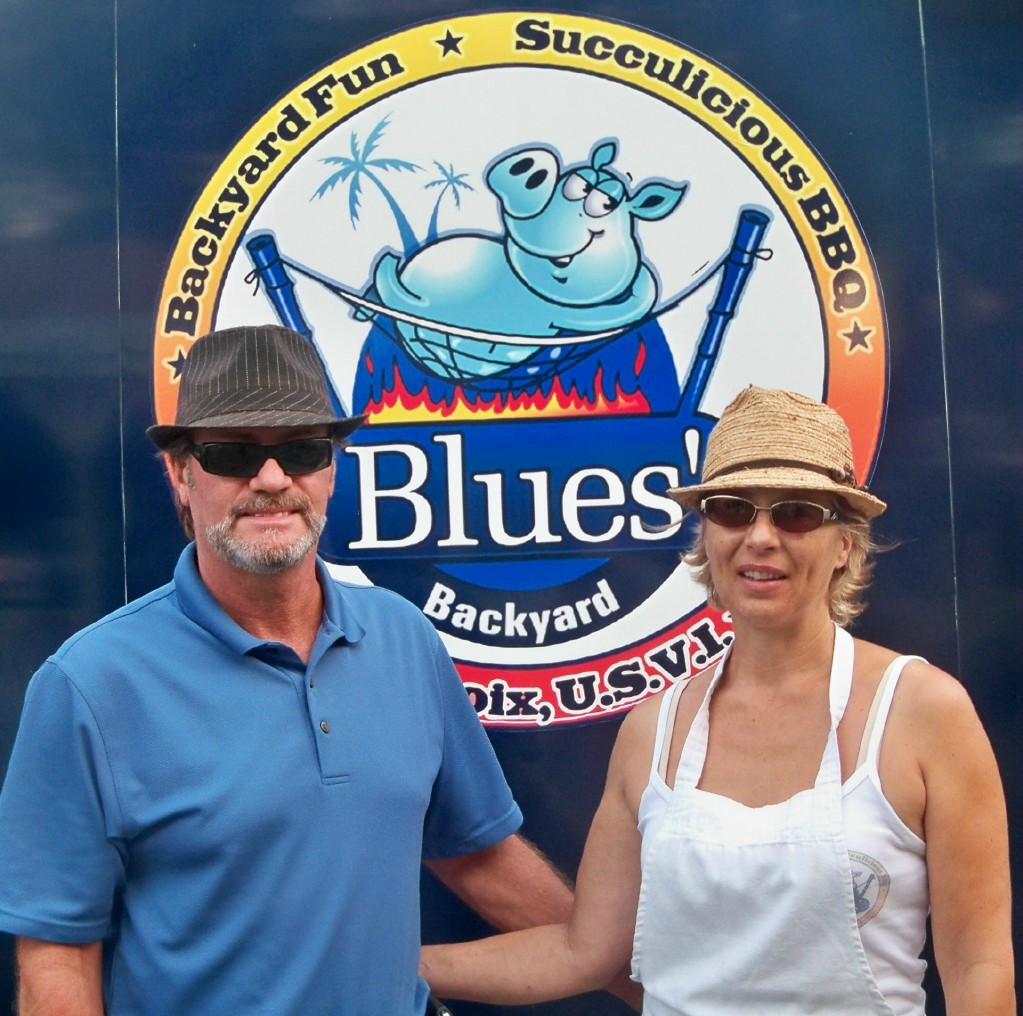 David and Kay Lineham want folks to feel like family and friends at Blues' Backyard in La Grande Princesse, family and friends hanging out in a laid-back atmosphere of down home food, and pickup games of horseshoes and bocce ball.
The couple and staff serve up slow-cooked, barbecued meats with cold brews, while smoking blues thrum from the outdoor speakers.
David, nicknamed "Porky" more than 50 years ago, grew up in New Hampshire and was taught to cook at a young age by his Italian grandmother and his mother. He says the Keating family, owners of the Poor Peoples Pub where he worked in Sanbornville, N.H., were a big influence on him. They showed him how to treat and serve customers in a family-style restaurant.
David came to St. Croix shortly after Hurricane Hugo in 1989 to work in construction, which is his passion. Kay, originally from Wisconsin, has been on St. Croix 18 years. She worked at a pharmaceutical company and Marshall and Sterling Insurance.
Although David does the barbecuing, he gives Kay the credit for keeping the business going. "She is the glue that holds it all together," he says. "She takes care of just about everything." Kay says David likes to cook and do construction work around the backyard like retaining walls, cement work and enclosures. He is in the process of building bleachers overlooking the horseshoe pit.
David and Kay keep the blues image and theme with fedoras and dark sunglasses, a la Dan Aykroyd and John Belushi's "Blues Brothers."
"It's all about creativity and the satisfaction of people you feed," David says. "I love to cook and I'm self-taught at barbecuing. With the help of friends who were like guinea pigs they let me know what they liked and wanted in barbecued meat."
The couple opened the gates of the Backyard 14 months ago on property they have had for11 years with the idea of the barbecue in mind all along.
Sarah Olsen and Charlie Hillock also serve and cook for the Linehams. The cooking and food preparation is done in a custom-made food vending trailer that was made in Florida to the Linehams specifications. Behind the trailer in a patch of shade, the smoking and cooking is done in Southern-style cookers and smokers from Tennessee and Texas with local wood.
"This is authentic," David said. "It is all done with wood and charcoal – we never use gas."
They serve barbecued, slow-cooked beef, chicken and pork along with sides such as potato salad, red beans and rice, macaroni salad, coleslaw and black-eyed pea salad. They also serve flame-broiled sausages, hot dogs and hamburgers with all sorts of toppings.
Mark Stuart, a frequent customer, says he has eaten cheeseburgers everywhere on St. Croix and Blues' has the best. The cheese burgers are a whopping half-pound and are $7 with loads of toppings.
The beef brisket is slow cooked with wood for 24 hours, making it tender and tasty with the perfect smoked flavor. The brisket is served as a platter with a side and a biscuit for $12 or on a five-inch bun, or as a Philly sandwich with grilled peppers, onions and cheese.
They also have a generous-sized tangy pulled pork platter or sandwiches. On Tuesday and Friday they serve a half of chicken cooked to a golden brown. Wednesday and Saturday, Porky's Ribs are served at $15 a platter.
David says the barbecue is always "succulicious." And Kay says their goal is to have people coming back. "I just know they will be back," Kay says. "Our prices and portions are really good and we want to try to keep it that way." She added at this point they are doing better than they expected and getting a lot of repeat customers.
"They have the best barbecue on island and they give excellent, speedy service," Stuart said. "The backyard atmosphere is great too."
They have had blues bands like Reverend Raven and the Chain Smokin' Altar Boys from the South Side of Chicago playing live in the yard, as well as the local band Blues Disciples.
David said the couple is working on plans to serve breakfast. They are open Tuesday through Friday from 11 a.m. to 7 p.m. and Saturday from 11 a.m. to 5 p.m. They will be closed Easter weekend.
Blues' Backyard is located at 32-K LaGrande Princesse directly across the street from Progressive Veterinary Hospital. Look for the fenced-in spot with the smoker grill on the roof of a shelter. For pick up orders call 514-2541.