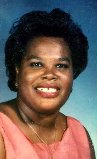 Marie B. Payne Thurland of Estate La Grande Princesse died on March 26, at the CTCA Eastern Regional Medical Center. She was 50 years old.
She is survived by her spouse, George Thurland Sr.; father, Leno Claxton; daug
hter,
Linnea Thurland; sons: George Thurland Jr. and Will Thurland II; in-laws: Will Thurland, Modesta Thurland, Gotfred Thurland Sr., Karen C. Thurland, Niels Thurland, Anne L. Thurland, Cuqui Cedeno, Johanna T. Ireland and Michael Barton; daughter-in-law, Shalimar Thurland; sisters: Pamela Cedeno, Heather Payne, Charlene Richardson, Clara Barton and Jacqueline Richardson; brothers: Robert Payne, Rudolph Payne and Kelvin Payne; and nieces: Cynthia Terry, Sylvia Horsford, Clarissa Horsford, Lashida Crosby, Lisa Horsford, Sandra Cedeno, Kelisha Payne, Symone Barton, Jasmine Payne, K'Mya Thurland, Vanessa Thurland, Karissa Thurland Perez and Melissa T. Rosario.
She is also survived by nephews: Robert Payne, Jr., Dezonie Payne, Nigel Horsford, Rayelle Payne, Malik Barton, Rineil Payne, Lyon Payne, Isaiah Desouza, Christian Barton, Chaquannie Payne, Brandon Hatcher II and Gotfred Thurland Jr; great nieces: Chyna Horsford, Shelly Terry and Kay'la Horsford; great nephews: Jahmir Harris, Joe Crosby and Joelen Crosby; aunt, Gloria Lake; uncles: Robert Taylor and Rudolph Williams; special friends: Joyce Horsford, Beulah Francois, Paul Horsford, Crefton Richardson, Ivy Henneman, Charles and Marion Barton, Andrea Jensen and Carmen Williams; cousins and other relatives: Deon Williams, Michael Simmonds, Nigel Williams, Cashey Williams, Morris Williams, Allister Williams, Agnita Hodge, Bernandine Lake, Samantha Sperry, Denise Frank and Iston Williams; as well as other relatives and rriends too numerous to mention.
There will be a viewing held at 10 a.m. followed by a funeral service at 10:30 a.m. on Tuesday, April 10, at the Holy Cross Catholic Church. Interment will follow at Kingshill Cemetery, Veterans Section.
Funeral arrangements are entrusted to James Memorial Funeral Home Inc.