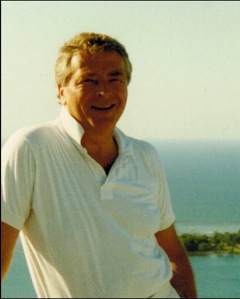 William (Bill) Wendt, age 77, of Fernandina Beach, Florida, died on the morning of March 6 at Baptist Medical Center Nassau after a brave struggle with chronic illness.
Born in Columbus, Ohio, to the late Charles and Betty Wendt, he was the eldest of two children. Mr. Wendt grew up in Columbus, was educated in the public school system there, and graduated with his Bachelor of Arts in Theater and Fine Arts from Kenyon College. Mr. Wendt married Ellen Gilliland in 1956, the same year he also enlisted in the United States Air Force, where he served until 1959. The young couple moved to Manhattan, New York, and then to Yonkers, in 1963, to start a family. They raised their three daughters, Laura, Emily and Leah, in Grand View-on-Hudson, NY. In 1973, Mrs. Wendt passed away. Mr. Wendt relocated his family to Manchester-by-the-Sea, an ocean-side town in Massachusetts, in 1974. Mr. Wendt met Linda Currier, whom he married in 1976.
A veteran of the advertising field, Mr. Wendt was the director of marketing for the Zayre Corporation. In 1990, he and his wife relocated to Charleston, S.C., where he founded his own marketing and advertising agency. In 1993, following his love of the sea and a fondness for relaxed Caribbean living, Mr. and Mrs. Wendt, doing what many dream to do but never dare, moved to the tropical island of St. Croix.
Mr. Wendt was, at his heart, a voracious reader, a searching intellect and a lover of an off-the-beaten-path adventure. A former actor with an inextinguishable flair for the dramatic moment, Mr. Wendt found great joy in reading to the children of St. Croix during storytelling hour at the local public schools, for which he earned the beloved moniker "Reader Bill."
In 2006, for health reasons and to be closer to his family, Mr. and Mrs. Wendt moved to Fernandina Beach, Florida, where the love of his wife, sister, children, grandchildren, his dear friends Anne McMillen and Dino Dinatali, and his devotion to his beloved Red Sox, lifted his spirits while his health waned.
Mr. Wendt leaves behind his wife of 35 years, Linda Wendt; his three daughters: Laura Ellen Wendt, Emily Wendt and Leah Wendt Bonanno; his only sister, Christine (Wissy) Wendt; his five grandchildren: Shane William Mario, Cole Francis Mario, Alexander Charles Bonanno, Claudia Joy Bonanno and Alicia Christine Bonanno; and many cherished friends and family.