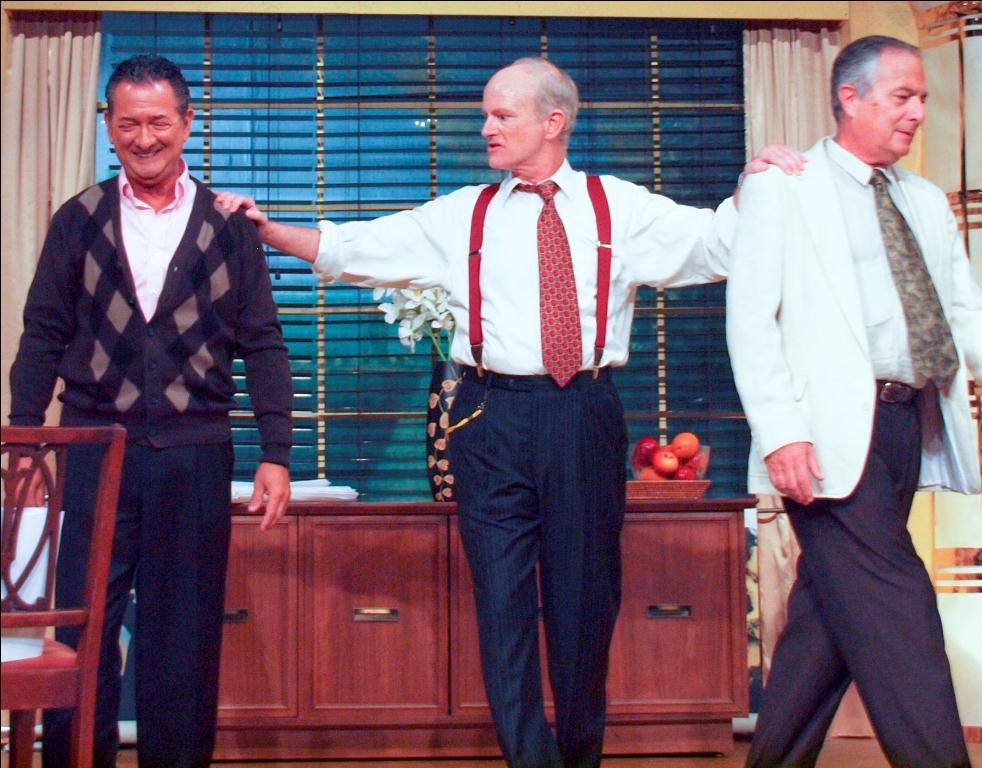 The comedy "Moonlight and Magnolias" continues at Caribbean Community Theatre this weekend with shows at 8 p.m. on Friday and Saturday, March 30 and 31 and a matinee at 4 p.m. on Sunday, April 1. There are also two performances scheduled for 8 p.m. on Friday and Saturday, April 6 and 7.
Playwright Ron Hutchinson has set his clever play in the office of legendary producer David O. Selznick during a week when his production of "Gone with the Wind" is in deep trouble. George Cukor has been fired as director. The script is unworkable. Selznick has suspended shooting and is paying the cast and crew $50,000 a day until he can come up with a new screenplay. He pulls director Victor Fleming off the set of "Wizard of Oz," hires screenwriter Ben Hecht, and locks himself, Fleming and Hecht in his office, with bananas and peanuts their only sustenance, until they can come up with a complete rewrite.
Charles Braslow plays Selznick, the innovative producer who married MGM chief Louis B. Mayer's daughter, but then struck out on his own. Bruce Spector takes on the role of Hecht, the former journalist turned screenwriter and Jewish activist. Fleming, the only director to have two films – "Gone with the Wind" and "The Wizard of Oz" – in the top ten of the American Film Institute's list of the Greatest American Movies of All Time, is played by Fred Handleman. Rounding out the cast is Annie Barry, who plays Selznick's long-suffering secretary, Miss Poppenghul.
All performances will be held at the Caribbean Community Theatre, in the Business World building at No. 18 Estate Orange Grove (behind the Golden Rock Shopping Center) in Christiansted. Tickets are sold at the box office at CCT prior to each performance: $20 for adults; $18 for senior citizens (age 65+); $15 for full-time college students with ID; and $10 for students/children under age 18. Purchase your tickets in advance online at

www.tinyurl.com/cct-calendar
. The box office opens for ticket sales at 7:15 p.m. on show nights and at 3:15 p.m. for the Sunday matinée; arrive early for best seating. This production is not recommended for children under age 13.
Moonlight and Magnolias
is jointly supported by a grant from the Virgin Islands Council on the Arts and the National Endowment for the Arts. Visit our Web site:

www.cct.vi