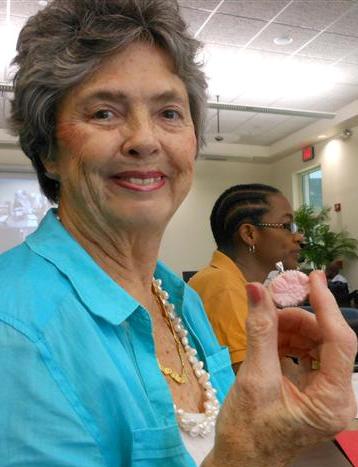 While the St. Thomas and St. Croix cruise markets are very different, professionals at the Tourism Department's four-day forum this week agreed both districts should focus on better coordinating ground transportation and local activities with cruise ship schedules. Retailers and craftsmen also voice transportation concerns.
Jack Pickle, president of the St. Croix Hotel and Restaurant Association, said that by knowing who is doing what and where on the island, leaders can coordinate destinations for five or six hour cruise visits.
The goal of day trips is to entice cruise passengers to return for a longer stay, to tell their friends and become repeat visitors, Pickle said.
Several speakers – including Allen Chastanet of the Caribbean Hotel & Tourism Association and Basil Springer, a Barbadian business consultant – emphasized that St. Thomas had a "mature" and bustling business, but had to work on its infrastructure and its coordination of services to grow and make the most from cruise arrivals.
On St. Thomas, with five cruise ships coming in on many days, "the question becomes the capacity to absorb that business," Chastanet said.
"It is impossible for you to continue to grow and see an increased amount of expenditure if you do not change," he said, noting that if transporting all the passengers around the island is difficult now, it will be worse with more volume. "If you try to force more people through the funnel, eventually people will start revolting," Chastanet said.
Springer, a consultant with the Caribbean Business Enterprise Trust, said St. Thomas needs to work to keep its business and get the most revenue out of every visitor, while St. Croix needs to be prepared to serve larger ships and work on making the island inviting.
Ground transportation is difficult in both districts, with taxis routinely unavailable for hotel guests when cruise ships are preparing to leave. Lack of reliability and availability, and unusually high per-passenger prices are also obstacles to taxi service.
"The U.S. Virgin Islands has the highest taxi rates of all our Caribbean neighbors," said V.I. Hotel and Tourism Association President Lisa Hamilton. When "it costs more to take a taxi to Coral World than it does to get into the facility, then we are upside down in our model," she said.
St. Thomas retailers Abe Tarapini of Diamonds International and Ram Mapper of Bliss Jewelers in Havensight Mall both agreed their biggest challenges come from their main clients, the cruise industry.
They said one of the main deterrents to more cruise ship passengers is local traffic. "We need water taxi service," Tarapini said, addressing a long-time sore subject.
Florida Caribbean Cruise Association Vice President Michael Ronan and others suggested some provision to allow water taxis to ferry passengers from point to point, raising concerns from local taxi and tour operators.
"I know you guys are promoting water taxis … but you can do other things first," said Bruce Flamon, owner of Flamon's Taxi and Island Tours, suggesting staggering cruise departure times and keeping downtown Charlotte Amalie open later as ways of spreading out the peak taxi-demand time and reducing the pressure on available transportation when cruise passengers are returning to their ships.
Bringing in more airlift is a difficult proposition in the current market, according to several of the speakers. Many airlines are cutting back on flights due to high fuel costs and lower levels of tourism.
"The entire Caribbean is losing airlift," Chastanet said, noting that several airlines are struggling with reorganizations and consolidations.
Springer agreed. "We also recognize airlines are losing money all over the world," which has prompted them to cut back on more expensive and less full flights, he said. "We need to find ways to fill those seats and correct that situation."
Business owners, local artists and other public and private sector stakeholders advanced ideas to boost the local markets.
St. Thomas entrepreneur Cheryl Miller decried the lack of government support for local craftspeople. "We need a place like Vendor's Plaza of our own, and we need to get the government, the Department of Licensing and Consumer Affairs, to give people a break on renewing licenses."
Ivanne Farr, owner of Rare Earth Studio and director of the 2011 Caribbean Islands Foundation, sponsor of Pure Caribbean, a program to integrate local creative assets from in unique marketing approach, revealed some interesting statistics. Based on the V.I. Bureau of Economic Research 2010 figures, she said a third of a billion dollars of selected tourism is imported – $247.2 million jewelry and $34.3 million watches.
Farr says with education, training and marketing, at least $35 to $52 million can be retained here. Farr hopes a solution will materialize later this year, when her program Pure Caribbean finds a home where qualified local artists can sell their work.
This is the kind of idea that Miller and other local artists said they are looking for.
Along with the new concepts, representatives from all islands lamented the crime, the poor lighting and on St. Thomas they noted the absence of life on Main Street after dark. These perennial and chronic issues were raised by different stakeholders.
Springer said, "In the context of St. Croix, Frederiksted needs to be renovated and there has to be preparation for larger ships, which means increasing the berthing capacity" at the pier."
The island also needs "more sprucing up" before cruise ships arrive, he said. "Trash pickup is something that needs to be taken care of in terms of providing a fresh arrival scene for tourists. That means collecting the trash as early as possible," and making sure that trash and debris are not visible on the ground, he said.
On Wednesday and Thursday, the forum will meet at the UVI video conference center on St. Croix at the Melvin Evans Center Room 401; and on St. John at the UVI facility at The Marketplace shopping center.
The four-day symposium, teleconferenced to both campuses of the continues Wednesday with discussions on the gambling industry, research and data collection, sports tourism and hotel development.
Thursday the talks conclude with discussion of geotourism, niche markets, technology, activities and attractions. See "Tourism Plans Public Strategy Sessions" in related links below for times of sessions.
The sessions will live stream at www.usvitourismplan.com and later video of the meetings will be available on the same site.