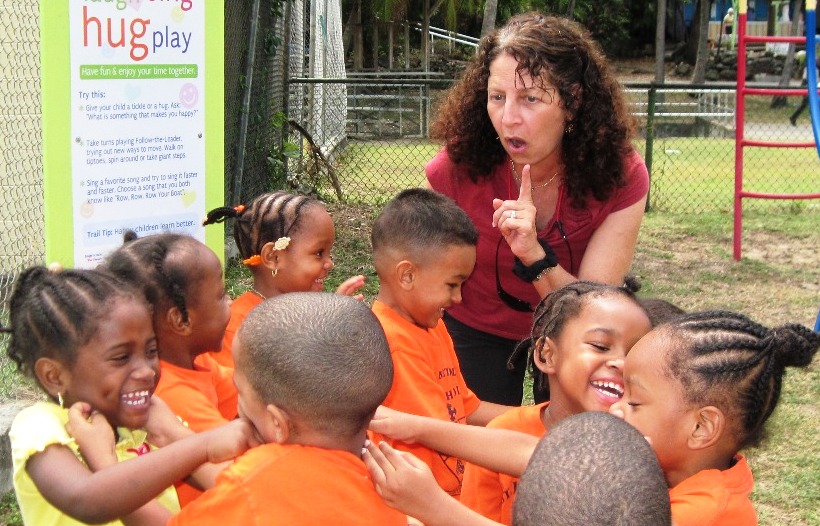 With the snip of the pink and blue ribbons, the new Born Learning trail signs at the playground next to the V.I. National Park Visitors Center were officially unveiled Tuesday.
The Born Learning trail signs are posted on the playground's perimeter. They encourage children and parents to do things like jump, explore, hug and tickle while enjoying the playground equipment. Born Learning is a national program that helps create early learning opportunities for children.
"It's a way to engage kids' minds when they're off the computer," said Park Superintendent Mark Hardgrove.
The signs are the result of an effort spearheaded by the Family Connection program at Community Foundation of the Virgin Islands.
Hardgrove explained that the children's playground adjacent to the ball field has been there for 40 years. The park put in the playground, which is controlled by the Housing, Parks and Recreation Department, to forge a connection between the park and the St. John community.
He said that the playground and surrounding area is monitored 24 hours a day by a security camera to ensure that the area is safe for youths and others.
This is the sixth permanent Born Learning trail sign installed by the Community Foundation. According to its director, Dee Brown, four are on St. Thomas and one is on St. Croix. The organization also has three portable sets of signs that can be used as the need arises.
At the opening ceremony, Family Connection director Ellie Hirsh explained that the program focuses on finding ways to get children ready for kindergarten and having them read by third grade.
The signs were funded, along with other group programs, to the tune of $5,000 by the Westin Resort and Villas.
"It's an opportunity for us to give back to the community," said Westin human resources manager Joe Paoli before the ribbon cutting.